Reviewed By: Conor Hockett on April, 12th 2017
Note: Our in-depth review of the Fitbit Alta HR has been updated to include information on heart rate accuracy, Cardio Fitness Score, and the change in bands from the original Alta.
While the Fitbit Alta HR is a revamped version of the original Alta, don't judge the company's newest tracker solely on whether its upgrades warrant a $20 price increase. The Alta HR ($149.95) deserves more attention than that.
It's important to remember how solid the Alta is when evaluating its successor. Its attractive design, tap-sensitive display, and all-day activity monitoring gave the Alta HR a solid foundation to build upon. By adding heart rate technology, implementing more advanced sleep tracking features, and improving battery life, the Alta HR makes a compelling case as the one of the best fitness trackers on the market.
Here's why:
Fitbit Alta HR Review: Features
Heart Rate
As its name suggests, the most notable difference between the Alta HR and the original Alta is an optical heart rate sensor. Fitbit's newest device features PurePulse technology, which tracks heart rate continuously throughout the day. The company markets the Alta HR as the world's slimmest heart rate tracker.
For those looking to compare the Alta HR vs. the Fitbit Charge 2, there is a slight difference in how the two devices utilize their heart rate tech. Both devices track your heart rate at five-second intervals throughout the day, but once you manually start a workout, the Charge 2 increases that rate to every second. This might make all the difference for fitness fanatics who want more accurate heart rate readings without the discomfort of a chest strap.
In terms of heart rate performance, the Alta HR delivers results that are pretty close to the Charge 2. I tested it against the Moov HR Burn to see how Fitbit's latest tracker compared to one of the newest chest straps on the market.
Most wrist-based heart rate monitors struggle during high-intensity workouts — especially exercises like interval training, where your heart rate fluctuates quickly — but the Alta HR performed better than most. The device couldn't keep up with my rapidly ascending heart rate during my last two intervals, but its readings during the first three were nearly spot on.
This wasn't much of a surprise. Chest straps remain the most reliable option for high-intensity training. But if you prefer a wrist-worn device, and want to stay within a reasonable budget, the Mio Slice is your best option for heart rate tracking.
Activity Tracking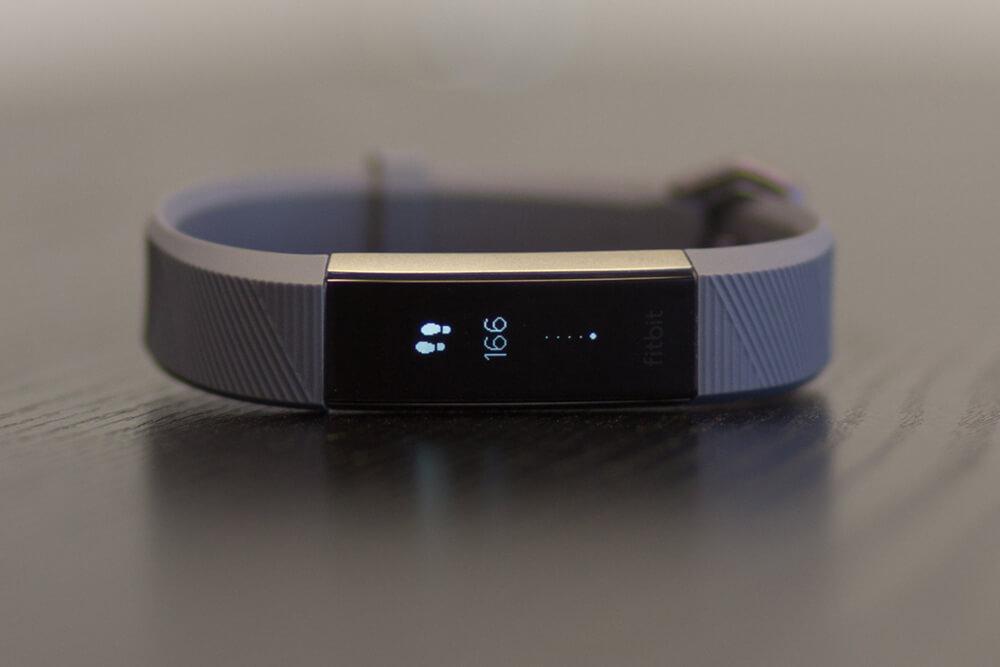 Aside from floors climbed, the Alta HR tracks the same activity stats as the Fitbit Charge 2. Companies often reduce the size of their devices by removing sensors, so less hardware is one tradeoff of the Alta HR's design. Monitoring changes in altitude is helpful, but an altimeter isn't a necessity on a fitness tracker.
Guiding breathing sessions, which the Charge 2 offers through its Relax feature, also didn't make it onto the Alta HR. But unless you're specifically looking for a wearable with meditation features, that's hardly a dealbreaker.
Neither the Alta HR nor the Charge 2 have built-in GPS — they calculate distance based off your step count — but both devices display resting heart rate as a separate stat on your wrist. That's a nice bonus for serious athletes.
Fitbit still very much promotes the 10,000 step goal, but users have the option to personalize their "main goal" around other metrics on the Alta HR. The app gives you the option to choose between steps, distance, calories, and active minutes.
Automatic Exercise Detection
Automatic exercise detection comes in handy if you forget to manually start a workout or begin one unintentionally, but it has significant holes as the Alta HR's sole exercise tracking feature.
Fitbit claims that its fitness devices recognize most high-movement activities, but that description might not cover the activities you like to do. The Alta HR registers exercises like biking, walking, running, and basically any activity that incorporates consistent movement, but other workouts are very hit-or-miss.
As an example, let's look at my latest week with the device. The Alta HR recognized the 91 minutes of basketball I played on Wednesday, but the three weightlifting and yoga sessions I did on Monday, Tuesday, and Thursday weren't picked up.
I encountered the same problem during my testing period with the Samsung Gear Fit 2, but that device also has side buttons to manually start a workout. The Alta HR doesn't include any on-band controls, so the user is left at the mercy of Fitbit's automatic exercise detection.
Cardio Fitness Score
Like the Charge 2, the Alta HR provides users with a Cardio Fitness Score. This score is an estimate of your VO2 max, which Fitbit describes as the amount of oxygen your body can use during exercise. The company estimates this number based on your resting heart rate and data within your profile, such as age, gender, and weight.
Users can view their Cardio Fitness Score by swiping left on the resting heart rate graph within the app. This information is not available through your tracker. Fitbit's dashboard also doesn't save a history of your Cardio Fitness score, so if you want to compare results over time, you must do so manually.
Your Cardio Fitness Score appears as a range of values, such as 45-49, unless you use GPS for runs. Since the Alta HR doesn't have built-in GPS, you won't receive a single value while using this device.
Based on your Cardio Fitness Score, Fitbit generates a Cardio Fitness Level to show how fit you are compared to other people in a similar age range and of the same gender. These metrics don't provide as much insight or motivation as Mio's Personal Activity Intelligence, but they do offer something beyond standard activity tracking.
Sleep Tracking
The Charge 2 and the Fitbit Blaze are set to receive the company's new sleeping features soon, but Fitbit picked the perfect tracker to debut its advanced metrics. The Alta HR builds on the app's previous analysis of sleep quality to include feedback on your sleep stages. Users can now view how much time they spent awake, in light sleep, in deep sleep, and in the REM phase.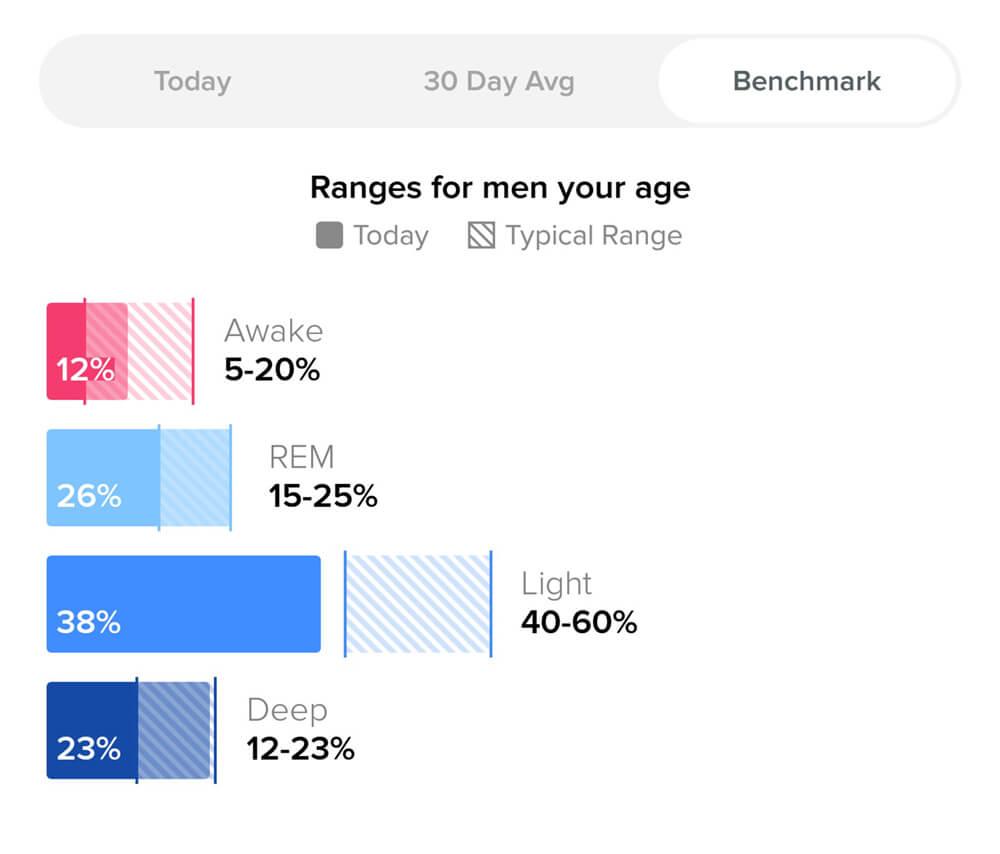 There's also a great breakdown of how your sleep quality on a specific night compares to the averages of people in your age group. This information is found under the Benchmark tab. The app also tracks your 30-day averages and lets you set a sleep schedule and a time spent asleep goal.
Fitbit Alta HR Review: Design
Display
Not much has changed design-wise from the original Alta. Like its predecessor, the Alta HR has a slender OLED display and a monochrome screen. It doesn't have any side buttons, so users navigate by tapping the screen.
The device responded best to taps just above the company's name — which runs along the bottom of display — but a solid tap anywhere, even on parts of the band, lit up the screen.
There's not a lot of customizable options, but users do have several clock faces to choose from within the app. You can place heart rate or daily goal progress alongside the time and choose between a horizontal or vertical display.
Band
As you might expect from such a compact device, the Alta HR feels extremely slim and comfortable on your wrist. Because the tracker itself isn't as bulky, the device doesn't butt against your wrist bone and expose the green LEDs nearly as often as larger devices like the Fitbit Surge.
The Alta HR features interchangeable bands, which come in a variety of colors, sizes, and materials. The device itself ships with an elastomer strap, but leather and stainless steel replacement bands are also available. Owners of the original Alta also get the added bonus of not having to buy new accessories — the same bands will work with the Alta HR.
However, Alta users may not want to use their old straps after trying out the Alta HR's. The latter has a much more secure wristband, which features a buckle and an additional loop to hold the excess strap in place. The original device has a push-in mechanism with no loop to secure the connection. Many Alta users have had issues with their bands coming unhooked and even falling off without their knowledge, so the Alta HR's strap is a welcome upgrade.
Water-Resistance
While Fitbit makes some of the most functional fitness trackers on the market, water-resistance is one area where the company struggles to keep up with the competition. The Alta HR is no exception.
Outside of the Fitbit Flex 2 — which is swimproof — the Alta is the company's only wrist-worn device suitable for use in the shower. Considering how similar the Alta HR is to its predecessor, it's pretty disappointing that Fitbit couldn't carry over the same water-resistance. Being merely splashproof hurts the Alta HR's case as an all-day device.
And while it's true that incorporating heart rate tech into the Alta HR's design makes water-resistance more complicated, a comparable device like the Polar A360 manages to do both successfully.
Fitbit Alta HR Review: Software
Fitbit's App
To date, no other app rivals Fitbit's platform. Instead of regurgitating the same data that's available on your tracker, Fitbit's app supplements your activity stats with graphs, daily and weekly breakdowns, and other information regarding that specific metric. The dashboard also offers tools to help you address other aspects of fitness, such as water intake and weight management.
There are resources within the app that go beyond the numbers as well. Users can start challenges with family or friends, participate in guided workouts with Fitstar, or connect and compete against other members of the Fitbit community.
All of these features are available alongside the extensive device settings, which you manage through your tracker's icon in the upper right corner. Users have the ability to customize what stats appear on their Fitbit, manage notifications, and even dictate how they want their device to measure heart rate.
Notifications
The Alta HR supports basic notifications — calls, texts, and calendar events — which is about all you can hope for from such a compact tracker. These alerts appeared in line with my phone and were relatively easy to read, despite the smaller display.
Text notifications only remain visible on your tracker for one minute, but the signaling vibration definitely gets your attention. After the tracker displays who sent the text message, it runs vertically up the screen, albeit in a condensed form. There's a character limit to how many words appear on-screen, but the tracker usually shows enough to indicate whether or not you need your phone. The Alta HR doesn't offer a way to answer calls or messages.
Like most other Fitbit trackers, the Alta HR also sends reminders to move. These alerts come 50 minutes into each hour that you don't walk at least 250 steps. They can be disabled through the Fitbit app or the company's online dashboard.
Fitbit Alta HR Review: Battery Life
Fitbit added features to the Alta HR, but still managed to boost its battery life. It lasts up to seven days on a single charge, which is longer than any of the company's other wrist-worn devices. That timeframe is even more impressive when you consider that the Alta HR measures your heart rate throughout the day. It might not have the 25-day battery life of the Withings Steel HR, but it will get the job done.
The Alta HR charges through a magnetic clip, which connects to any USB port. It typically took an hour to an hour and a half to fully recharge.
Fitbit Alta HR Review: Worth It Or Not?
For the average user, the Alta HR and the Charge 2 represent two of the best available fitness tracking options. Making a choice between them comes down to what you value more — features or design. The Alta HR has a slimmer fit, looks better, and feels more comfortable. On the other hand, the Charge 2 offers multi-sport profiles, has on-band controls for exercise, and includes more specific fitness metrics.
Whether you choose the Alta HR or not, Fitbit certainly hit a homerun with its newest tracker.