Reviewed By: Conor Hockett on April, 3rd 2017
Note: Our extensive review of the Fitbit Charge 2 has been updated to include sections about Cardio Fitness Score, the silent alarm, how to restart the device, and the Charge 2's lack of built-in GPS.
The Fitbit Charge 2 managed to improve its software, add more features, and get a facelift — all while remaining affordable. Its $149.95 price tag aside, the Charge 2's functionality and usability set a new standard for Fitbit. Poor water-resistance and a lack of built-in GPS are the Charge 2's only real flaws, but they're barely holding it back from being the most complete fitness tracker on the market.
Related: Does the Fitbit Alta HR set a new company standard? Read the full review here
Fitbit Charge 2 Features
Activity Tracking
Even when a device is designed for self-improvement, it's easy to lose faith in technology when it works improperly. It was refreshing to have a fitness tracker like the Charge 2 to keep me in line with my goals.
Nearly every device measures steps these days, but the Charge 2's accuracy across multiple platforms is what sets it apart. Unlike the delayed, unreliable numbers I got from the Moto 360 Sport, the Charge 2 provides real-time feedback and doesn't get thrown off by fidgeting.
Along with steps, the Charge 2 also tracks calories burned, distance covered, heart rate, floors climbed, active minutes, and hourly activity. All of these statistics are accessible in the device's menu or the app.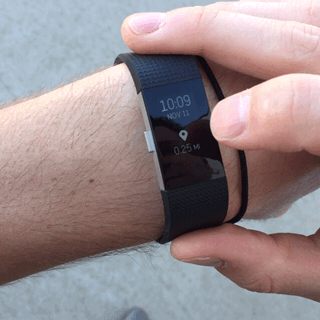 In many ways, the Charge 2 is part mom and part accountability partner. Along with reminders to move (more on these later), the device also includes a SmartTrack feature. This helpful add-on logs workout data even when you forget to record a certain exercise. If you're someone that charts goals and takes progress seriously, this feature is invaluable.
Cardio Fitness Score
Activity tracking is great motivational tool for exercise, but the numbers don't necessarily provide an accurate representation of your fitness level. That's where Fitbit's Cardio Fitness Score comes in.
This feature gives you a better idea of your overall fitness level by showing where you stand compared to people of the same age and gender. According the app, your individual score is an estimate of your VO2 max, which is the amount of oxygen your body can use during exercise.
The Charge 2 estimates this number based on your resting heart rate while sleeping and your user profile. For a more precise score, Fitbit recommends running on a flat surface outside for at least 10 minutes while wearing your device.
Workout Options
While the Charge 2 includes modes for running, weightlifting, biking, interval training, and more, I struggle to label it a multi-sport tracker because the workouts are so uniform. No matter which activity you choose, all the device does is start a timer to track your activity. There is different data available following specific exercises, but in terms of workout versatility, the Charge 2 falls short of the Garmin Fenix 3 HR.
With that said, the feedback you get from this Fitbit is detailed and informative. Depending on the workout you perform, the resulting statistics include measurements of time, distance, speed, steps taken, and a comprehensive breakdown of both calories burned and heart rate.
Specific sport options might be limited, but there is a wide range of available exercises. Not only does this motivate you to expand your routine, but it also lets you evaluate your most efficient workout and how certain exercises affect your body.
Unfortunately, the lack of built-in GPS hinders activities like running and biking. Fitbit tries to make up for this deficiency by giving the Charge 2 "Connected GPS," but it's just not same. This "feature" shows real-time stats and a post-workout map through your phone, but if you're running or biking and need to check your route, you have no choice but to use the GPS on your phone.
Considering the Fitbit Surge — which has a similarly sized display and came out last year — has built-in GPS, its exclusion from the Charge 2 is a big blow.
Sleep Tracking
While it doesn't offer the advanced sleep tracking technology of the Jawbone UP3, the Charge 2 still provides useful insight into the quality of your sleep.
Whenever you wear it to bed, the device automatically analyzes your sleeping patterns and gives visual feedback the following morning. The Charge 2 tracks your sleep schedule, time spent asleep, and overall sleep quality. It also maps out the specific times you were restless, awake, and asleep in a graph. You can even set a sleep goal beforehand to hold yourself accountable.
Automatic sleep tracking might seem like a small detail, but it pays dividends. I forgot to enable Bluetooth on my phone before falling asleep one night, but the Charge 2 still stored my data and immediately uploaded it to the app once I turned Bluetooth back on the next morning. Any convenience, no matter how small, increases value.
Another useful add-on is the silent alarm. Instead of being jerked awake by your least favorite sound in the world, the Charge 2 vibrates to wake you up more peacefully. I'm a deep sleeper, but the vibrations were strong enough to quickly wake me, yet didn't disturb my partner.
Managing the alarm is simple enough through the app, but once it's enabled, you can also set or disable an alarm through the device. Based on your wake-up time, the app also offers additional settings — such as a bedtime reminder and goals for time asleep — to help guide your sleep schedule.
Unless you're trying to identify specific problem areas within your sleep cycle, the Charge 2 provides all the information you need to improve sleep quality.
Relax
Fitbit joins the mindfulness trend in wearable technology with its "Relax" feature, which is unique to the Charge 2. Similar to the Breathe app available on the Apple Watch 2, "Relax" uses visual and written cues to steer you through breathing exercises.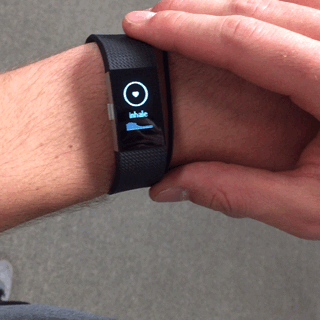 "Relax" is the only feature that doesn't relay data back to the app, but it's intuitive enough to design these breathing activities based on your heart rate readings. Graphs and shapes move in relation to your breathing patterns on the screen, which you follow to complete the exercise. Lasting between two to three minutes, the activities aren't life-altering, but they did reduce tension and improve focus in small bursts.
Water-Resistance, Kind Of
Poor water-resistance is the biggest downside to owning a Charge 2. It's built to withstand rain and splashes from washing your hands, but the device isn't suitable for showers or swimming.
These limitations hamper its case against other fitness trackers on the market. Competitors like the Garmin Vivosmart HR are water-resistant down to 50 meters (just over 164 feet), while even the Fitbit Flex 2 — which was released a month after the Charge 2 — is water-resistant down to 100 meters. Granted, the Flex 2 doesn't have a display, but if the technology was already in-house, why not push the Charge 2's release date a little longer to apply it?
There's enough upside to make the Charge 2 a top-tier fitness tracker, but if Fitbit doesn't make future devices with displays more water-resistant, the company risks falling woefully behind the competition.
Fitbit Charge 2 Software
App
Fitbit's app might be the most comprehensive one I've seen on the market for any wearable device. It supports multiple Fitbits, but there's extensive, customizable options for each model. Users can start challenges, formulate goals, set alarms, connect with friends, and do even more through the dashboard.
In terms of data, the app displays everything the Charge 2 does and more. Along with activity tracking and specific workout stats, it also provides a detailed breakdown of sleep tracking, meals, weight, and water intake. Each subcategory expands to include even more information like graphs, daily comparisons, and goal progress.
The only thing easier than navigating and using the app was setup. Unlike other wearable devices like Kapture, Bluetooth connected seamlessly, and all of the software worked how it was supposed to. Everything within the app is so user-friendly that self-improvement actually becomes fun. The importance of this can't be overstated.
So, in case you couldn't tell, I LOVE THE APP. It's fantastic.
Notifications
Depending on how you use the Charge 2, its notifications could be helpful or maddeningly defective.
First, the good.
Most fitness trackers are effective because they increase physical awareness and hold you accountable. The Charge 2 takes these ideas a step further by incorporating reminders to move and fitness progress reports throughout the day.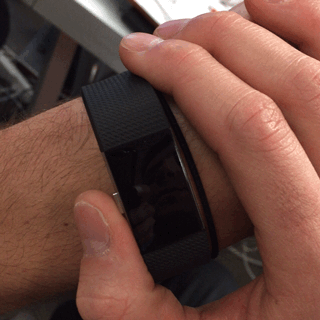 Disclaimer: You don't have to hulk smash the button to activate the device. I just got a little carried away.
Small vibrations accompany these messages as they display across the screen each hour that you're short of your goals. Their frequency might sound annoying, but it's actually the exact opposite. After taking a prompted walk or stretch every so often, I always felt rejuvenated and more focused.
On the other hand, the Charge 2's phone notifications were a huge flop. Fitbit's website claims that the device displays call, text, and calendar alerts reliably enough to keep your phone out of sight, but this wasn't the case at all.
I routinely had full text and phone conversations without a single notification registering on the screen. In fact, during my three-week test of the Charge 2, two alerts came through on the device. TWO.
Luckily, I wasn't looking for smartwatch-type features from my fitness tracker, but people hoping to sever the connection between their phone and hand won't get much help from this device.
If you're running into trouble with notifications like I was, try restarting the device. This isn't as easy as you might think, so follow these steps:
Plug your device into the USB charging cable
Once the battery icon appears on the display, press and hold the side button for four seconds
When the device vibrates and the Fitbit logo appears, it has restarted
Unplug the Charge 2 from the cable
Fitbit Charge 2 Battery Life
Battery life on the Charge 2 is even more impressive than advertised. Fitbit's website says the device can last up to five days on a single charge, but mine routinely lasted upwards of a week. It died a little faster on the first charge straight out of the box, but that's to be expected. From then on, I hardly ever had to worry about charging it.
When the Charge 2 does finally run out of juice, it takes just over an hour to fully recharge. The device charges magnetically through a clip that plugs into any USB port. Current battery life is always available through the "devices" tab in the app's dashboard.
Fitbit Charge 2 Design
Display
If the Fitbit Charge HR underwent a full makeover, it would emerge as the Charge 2. The Charge 2 features a much larger OLED screen, has a slimmer design, and shows multiple readings at once. It's still not a colored display, but the contrast of white letters on a black screen is clearly visible in any light.
Users navigate through the device's menu by pushing a button on the left side of the screen. Categories aren't labeled, but they're pretty easy to figure out. Once you find the desired grouping, such as workout options, you scroll through different exercises by tapping on the screen. The display is pretty responsive, but you'll occasionally have to tap more than once.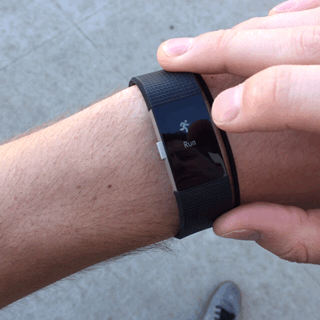 Overall Fit
The biggest difference between the Charge HR and the Charge 2 is the overall fit. The newer model is infinitely more comfortable. I struggled to even stretch with the Charge HR on because it was so bulky and restrictive that I lost full range of motion in my left wrist. In comparison, I have no problem sleeping with the Charge 2.
Interchangeable accessory bands also enhance the Charge 2's appeal. A variety of elastomer colors are available, but it's also possible to wear more expensive leather straps. I stuck with the rubber bands, and I found them comfortable and adaptable to multiple wrist sizes.
Worth It, Or Not?
It's hard to argue against the upgraded features, software, and design of the Fitbit Charge 2. Couple those attributes with its more than reasonable price tag, and you're looking at one of the best fitness trackers on the market. Water-resistance and lack of built-in GPS keep it from standing alone, but there's no denying that the Charge 2 is an impressive device worthy of your investment.