Reviewed By: Rebecca Paredes on February, 17th 2017
When I first hear the word Garmin, I think back to that big, clunky GPS device I used to have suction cupped to my window before smart phones had maps. The Garmin Vivosmart HR is a far cry from those old, clunky days — it's a sleek, powerful activity tracker that I'm happy to wear on my wrist. If you are an active individual who is always on the go, then the Garmin Vivosmart HR is for you.
Garmin Vivosmart HR Features
Smart Notifications
The Vivosmart HR's smart notifications are by far my favorite features. I have to admit, I am addicted to my phone — but when I wear my Vivosmart HR, I become a little less attached, which makes it easier to stay in the moment.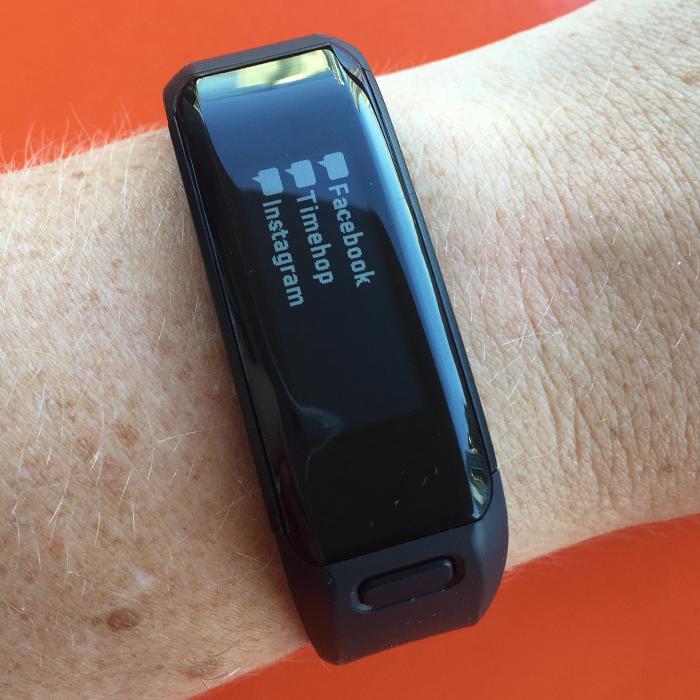 We all know that feeling when you hear or see your phone buzz, and you get the urge to check it. When you do, you realize it is only an alert that someone liked your Instagram post — nothing important. With smart notifications enabled, I can take a quick glance at my wrist and see what notification is listed. If it is something important, I know to go to my phone and take care of it immediately. If it just an Instagram like or a Snapchat notification, I can go along my day, and check my phone when I have more time.
This feature has come in handy on more than one occasion. Not only am I less anxious when I leave my phone in my purse during dinners with friends (I am trying to be one of the few who doesn't have their phone sitting on the table), but it has been super handy when I am at the beach. The other day, I was in the middle of a beach volleyball game, and my friend texted me to ask where we were so he could come meet up with us. I took a quick look at my screen, asked another friend to call him, and never had to leave the volleyball court.
The only negative with the smart notifications feature is that every once in awhile, it just stopped working. I tried to troubleshoot, and still couldn't get it to work. On a few occasions, I just left the device alone, and it started working again after a day or so.
Heart Rate Tracking
On the Garmin Vivosmart HR's screen, you not only see your current heart rate, but also your average resting heart rate. This is convenient at the gym, where it's easy to glance down and check on my heart rate in comparison to my resting rate. If it's close, I am obviously not working hard enough.
The heart rate tracking feature unexpectedly came in handy when I was sick. On a Saturday afternoon, my stomach started to hurt, and I debated whether to take it easy for the rest of the day. I decided to look at my heartbeat. It was over 80 beats per minute, which didn't make sense because I had been sitting on a couch watching TV for the past two hours. Since my resting heart rate is usually around 68 beats per minute, I could tell my body was fighting something off. My Vivosmart confirmed what I knew about not feeling well, and helped convince me to stay in and sleep.
Step Count
Step count is accurate and reliable with the Vivosmart HR. On one of the first days I was wearing the device, I compared my steps on the Garmin Connect App with my iPhone's Health App. They were only a few steps off from each other, which made total sense because I often walk around my office without my phone, and I don't have it with me at the gym. My only wish is that this device also had GPS tracking so I could see where I was running and earning my steps.
Garmin Vivosmart HR Software
The App
The Garmin Connect app has some great features — and some not-so-great ones. The visual elements are great: the app is designed with bright colors and user intuitive icons, which match what is on your wrist and give you the ability to dig in deeper to each section.
However, one of the app's least intuitive features is the leaderboard with your friends. With other apps, as soon as you are connected as friends, you automatically show off your step count on the leaderboard. But in order to show your steps on the Garmin Connect leaderboard, you have to go in to your privacy settings and select that you want to share your data with your connections.
Once you do that, your steps from that day moving forward will share on the leaderboard — but it won't add the steps you may have taken before you changed your settings.
Notifications
Smart notifications are a great feature on the Garmin Vivosmart HR, but I also love how easy they are to navigate on the device's operating system. Not only does the activity tracker allow you to see every notification you get from your phone, but it also allows you to read them straight from your wrist. When you receive a notification, it stays on the screen for a few seconds and goes away.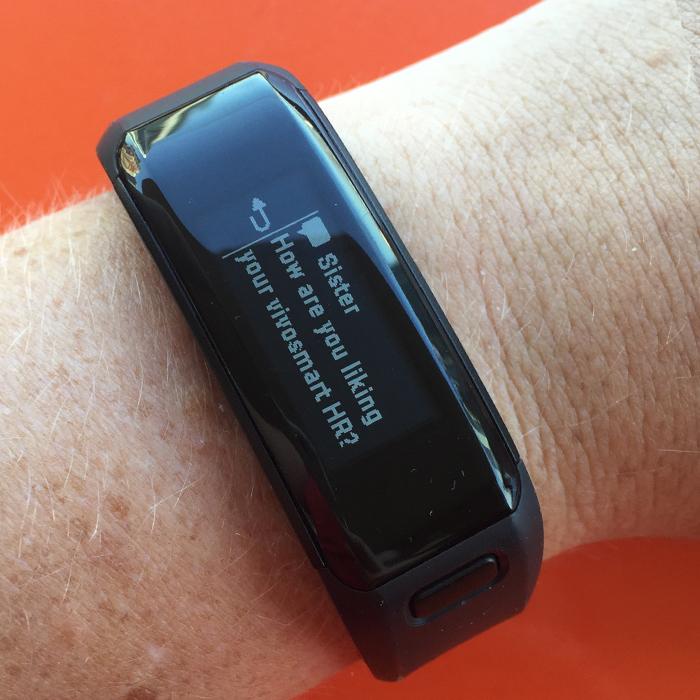 What if you missed that notification? You can easily scroll to the notification section on your device. From there, you can read or clear the notification. Did someone text you? You can read the entire text on your screen. Your Vivosmart HR stores up to seven different notifications at once. After you have read them, you can clear the notification from your device. Otherwise, as new notifications come in, some of the older ones will no longer be visible.
Display
You have options with your display, depending on your preferences. The Garmin Vivosmart HR can deliver your notifications, time, step count, etc. in two orientations: vertically or horizontally. How you decide to read your display is totally up to you. I chose vertical, so when I turn my wrist to check the time, I can easily read the screen. But no matter which direction you choose, all smart notifications from your phone display horizontally (which makes total sense — otherwise, you would only be able to fit one word per line.)
Here's another cool feature on the display: you can dig into more details. Let's say that you are looking at the weather on your wrist. If you click again on the screen, you then get a four day forecast.
Keep in mind that the display won't let you know when you need to update the software on your device. The only way you can find this out is by clicking a button at the bottom of the screen.
The device's weather and music features are only available when the Connect app is open on your phone. If you're like me and clean out your open applications all the time, this can be difficult to remember to do.
But overall, this is an intuitive device with a clean display.
Garmin Vivosmart HR Battery Life
The battery on the Vivosmart HR is said to lasts about five days, and so far, that has been right on the money. When your activity tracker is running low on battery, it will show an empty battery icon on the bottom of your screen. One thing I like about this feature is that it gives you plenty of warning. You can get through the rest of your day just fine with a lower battery — then, when you get home, you can place it on the charger before bed without missing any of your steps. The charger itself is a little bit tricky to figure out how to attach, but once it is connected, the device charges quickly!
I keep the notification alerts on on my device, but other users find that annoying. If that is the case, you can easily turn off push notifications to extend the life of your battery.
Garmin Vivosmart HR Design
The Vivosmart HR was actually a lot more comfortable than I expected, especially because it was designed with wrists of all sizes in mind. There are 14 notches for you to adjust your band. If it's feeling tight for any reason, just loosen it a notch.
Along with being comfortable, Vivosmart HR's design is super sleek. When you look down on it, the tracker looks smooth and simple. When you look at it from the side, it's a little bulky because of the heart rate monitor, which juts out from the back of the device and stays close to your skin. If you wear it too tightly, your wrist will show some weird indents.
The overall design of the device is refreshingly user friendly. Time and date is the default view, and from there — depending on which way you swipe — you are able to scroll through different features like heart rate, notifications, weather, music controls, distance, calories, stairs, steps, and more. Within the app, you can turn off some of the features, which will keep them from displaying on your device if they are not frequently used.
Compared to other devices, the Garmin Vivosmart HR looks good on any wrist. Unlike the Apple Watch or Fitbit Surge, which are big, square, and prominent on your wrist, the Vivosmart HR is thin enough that it isn't super noticeable — but it's wide enough to give you all the information you need. I happily wear this everyday, and it works in perfectly with almost my entire wardrobe (although I leave it at home when I wear that little black dress).