Reviewed By: Conor Hockett on April, 26th 2017
MyKronoz doesn't have the brand recognition of an Apple or Samsung, but the Swiss-based company has been making solid smartwatches for several years now. One of its more versatile devices — the ZeSport — rivals many of the top smartwatches on paper, but it costs much less at $199.90.
The ZeSport has all the makings of an affordable smartwatch alternative, but plenty of devices have failed to live up to their image once they're out of the box. We have tested the watch's multi-sport modes, activity tracking, built-in GPS, proprietary operating system, and more over the past few weeks to see exactly how the ZeSport stacks up. Here's everything you need to know.
MyKronoz ZeSport: Features
Multi-Sport Modes
While the ZeSport only offers six multi-sport modes — running, trail running, indoor running, walking, hiking, and cycling — they are still the highlight of this watch. Unlike many devices with sport modes, the ZeSport actually provides activity-specific data, such as cadence, speed, and pace for running workouts. This data isn't as extensive as what you get from the Garmin Vivoactive HR, but the feedback at least goes beyond standard activity stats.
It's hard to view the optical heart rate sensor as anything more than a throw-in feature on this device. Users can get on-the-spot readings from the watch at any time, but disappointingly, the ZeSport doesn't measure heart rate continuously throughout the day. You have the option to track your heart rate at intervals during a workout, but only if you enable the sensor before you get moving.
Built-in GPS is always a convenient feature, and the ZeSport's was pretty accurate. The watch really struggled to acquire a signal indoors, but the minute I stepped outside, it quickly located my position. When I was out in the open, I routinely found a signal within 10-20 seconds of enabling GPS, which is around how long it takes the Polar M600.
Activity Tracking
The ZeSport keeps basic activity stats, which include steps, distance, calories burned, and activity minutes. Similar to the Apple Watch 2, the device tracks your goal progress within colorful activity rings. Unfortunately, the ZeSport doesn't offer the same level of accuracy as Apple's latest smartwatch.
MyKronoz's multi-sport device provides real-time feedback on steps and has built-in GPS to support its distance measurements, but those are the only readings users should take at face value. Activity minutes and calories burned seemed off most of the time. On more than one occasion, the ZeSport recorded activity minutes while I sat calmly at my desk at work. As much as I wish doing nothing counted as exercise, that's just not reality.
MyKronoz doesn't offer insight into how the ZeSport tracks activity minutes, but if it's anything like Fitbit's active minutes, the lack of continuous heart rate technology really hurts the ZeSport's accuracy. Heart rate data often factors into calories burned estimates as well, so the watch lags behind its competitors in terms of measuring overall activity.
Sleep Tracking
These days, pretty much every good fitness wearable includes automatic sleep tracking, but I had a few misgivings about the results I got from the ZeSport. The watch recorded sleep when I was still awake — which other devices have done — but there's no way to delete these false recordings from your sleep log. Instead, the app only lets you change when you fell asleep or woke up.
As you can see from the app breakdown, the watch organizes your sleep into three phases: how much time you spent awake, in light sleep, and in deep sleep. Devices like the Fitbit Alta HR and Fitbit Blaze estimate your sleep stages based on movement and heart rate data, but since the ZeSport doesn't measure heart rate at intervals throughout the day, it's safe to assume that its sleep tracking isn't as accurate as other devices.
Calls From The Wrist
The ZeSport offers plenty of cool extras like music control, a camera remote, and a phone locator, but I got the most use out of its built-in microphone and speaker. These tools allow users to answer and make phone calls right on their wrist. The watch doesn't have its own cellular connection like the LG Watch Sport, though, so your phone still needs to be in Bluetooth range.
People on the other end of my calls said I sounded a bit muffled, but the sound coming out of the ZeSport was surprisingly sharp. I'd argue that the quality was as clear as a call on my phone. Unfortunately, you can't use the microphone for voice-to-text in the same fashion.
MyKronoz ZeSport: Design
Display
In terms of its display, the ZeSport rivals some of the more expensive GPS smartwatches on the market. It features an impressive 1.3-inch color touchscreen, which appears more vibrant than its 240 x 240 screen resolution suggests. There are a variety of watch faces available for the ZeSport, and each one displays a different collection of activity stats and sensor readings.
While it has larger dimensions and appears significantly bulkier than the Samsung Gear S3, the ZeSport is actually more comfortable. That's partly due to its aluminum case, which doesn't sit as heavily as the Gear S3's stainless steel frame on the wrist.
Users can navigate exclusively through touchscreen commands once the display turns on, but it's more efficient to utilize the buttons — which sit on each side of the bezel — for certain tasks. The top button gives you quick access to the device's sport modes, while the bottom button returns you to the home screen and lets you turn the watch on and off.
Similar to the Gear S3, the ZeSport arranges its apps within an organized circle. There are three screens of available icons, which house most of the watch's features. Users can access these menus by swiping left from the home screen. Swiping down from the home screen reveals another menu of more advanced settings.
Band
The ZeSport's elastomer band plays a big part in its overall comfort. It is thick and secure, but the strap goes largely unnoticed because it doesn't cause any problems. For such a big watch, it's also fairly easy to sleep with. The device doesn't have interchangeable bands, but the one you receive with the watch should be sufficient for most users.
Water-Resistance
MyKronoz's user guide (IP66) and product sheet (IP67) list conflicting water ratings for the ZeSport, but either way, the watch isn't suitable for use in the shower or pool. Smartwatches with color touchscreen displays tend to have poorer water-resistance than others, but as a multi-sport device, it's reasonable to hope for better protection. Being merely splashproof omits quite a few exercises from the watch's list of possible workouts.
MyKronoz ZeSport: Software
Operating System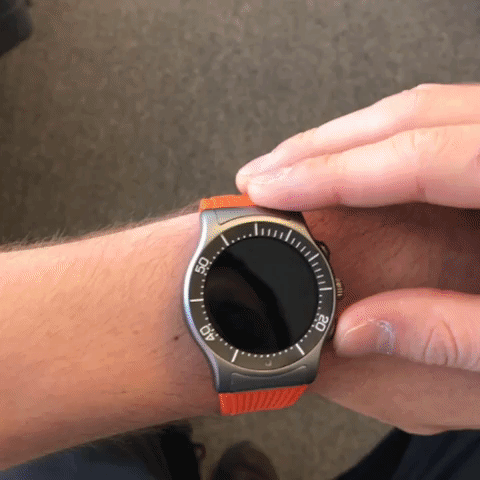 As more and more smartwatch manufacturers opt for Android Wear 2.0, it's nice to see MyKronoz take the time to develop its own operating system. It's smooth, intuitive, and doesn't have any major flaws beyond its limited number of apps. Fred Boutin, the company's CPO, told WearableZone that MyKronoz decided to create its own OS because it allows the company to handle updates independently and incorporate the most important features on their smartwatches.
ZeSport App
As opposed to Fitbit's app — which lets users add as many trackers and watches as they want within the same dashboard — MyKronoz has a separate app for each of its devices. The ZeSport platform has tabs for daily activity stats, workouts, reminders, and settings, but overall, it's pretty bare bones. Aside from letting you manage your notification settings and view more advanced metrics from your workout, there's little you can do that isn't available on the watch itself.
Notifications
The ZeSport provides the type of notification support you'd expect from a smartwatch, but the watch's delivery system has major flaws.
Texts, emails, and social media alerts appeared on the watch just seconds after they registered on my phone, but they came in droves. For some reason, the device's standard settings made two additional alerts accompany every single notification. For example, I would receive a phone call — and then two more notifications telling me I had gotten a phone call. It was unbelievably annoying.
I figured out how to disable some of these notifications, but it took me a few days of playing around with the long list of system app settings. It's an inconvenience you can certainly do without.
When notifications materialize on the device, they display along the bottom of the screen for 15 seconds before disappearing into a holding area, which you access by swiping right. Unfortunately, these messages don't register as being read if you look at them on just your phone or just your watch. You have to address them on both devices individually.
MyKronoz ZeSport: Battery Life
Battery life on the ZeSport is pretty poor. It maxed out at around 1.5 days of usage, and that number decreased quickly when I used the heart rate sensor, activated a sport mode, or managed a lot of notifications. When I enabled GPS, the watch lasted anywhere from six to seven hours.
The watch comes with a magnetic charging station and takes around an hour and a half to fully recharge.
MyKronoz ZeSport: Worth It Or Not?
While the ZeSport has some significant flaws with its activity tracking, notification support, and water-resistance, it still offers value based on the $199.90 price tag. If you favor more features and industry-leading accuracy over a budget smartwatch, you should stick with the Samsung Gear S3, Apple Watch 2, or Garmin Vivoactive HR. But if you're looking for a starter device that introduces you to a lot of features, the ZeSport is an appealing option.