Reviewed By: Logan Strain on May, 2nd 2017
Is it better for a smartwatch to be a jack of all trades, or a master of one? The New Balance RunIQ Smartwatch, the first from the athletic apparel company, implies that you don't have to choose between the two.
It targets a large, but well-defined niche by declaring that it's "a smartwatch for runners, made by runners." But as an Android Wear 2.0 smartwatch, you also have access to a broad range of smartwatch features. So, you can use it for day-to-day tasks, even if you don't have your sneakers laced up.
While the concept is intriguing, the execution is lackluster. I expect most runners will be happier looking elsewhere if they want a full smartwatch that can also keep track of their running stats.
New Balance RunIQ: Features
Since this is a running watch, it comes with the standard package of tracking sensors, including an accelerometer, gyroscope, GPS sensor, and heart rate monitor.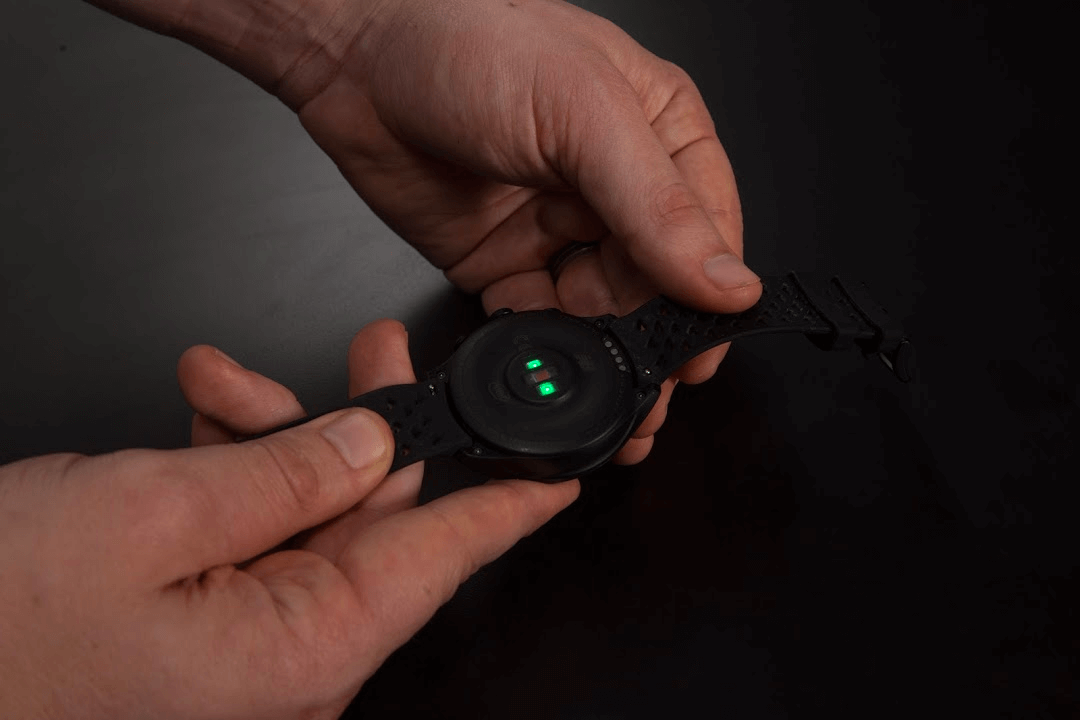 When I tested the heart rate monitor against the Suunto chest strap heart rate monitor, it proved to be fairly accurate. On a 3.2 mile run, the watch recorded my average heart rate at 167 BPM and my max heart rate at 192 BPM.
My Suunto chest strap recorded an average heart rate of 173 BPM and a max heart rate of 185 BPM.
That's a bit off, but it's way more accurate than other fitness trackers with an optical heart rate monitor that I've tried, such as the Fitbit Blaze.
However, the core software feature is the included RunIQ running app. While you're running, it provides you with four tracking views: your distance and time, your heart rate and range, your cadence, and your lap speed. The feature wasn't isn't mind-blowing, but it's pretty neat.
It's worth noting, however, that since this is a Android Wear watch, you have access to the catalog of apps in the Google Play store. So, you can download any running app you want, such as Runkeeper or Runtastic. They don't have all the same features as the RunIQ app, such as the ability to flip through the four screens, but they can provide you with many of the same stats.
In addition to those four views, there's a tab you can pull down to access music controls on your watch. The RunIQ includes 4GB of storage, so you can download your music files and listen to your tunes through Google Play Music and leave your phone at home during your runs. However, the Google Play Music syncing only works when the device is connected to an Android (not iPhone) smartphone.
If you prefer to take you phone with you and stream your music, the watch's music controls can also make skipping tracks easier. I was able to control my tunes while streaming music through Slacker.
New Balance RunIQ: Design
It looks like New Balance was trying to go for a "sporty" look, but the end product is underwhelming — and very, very black throughout.
Like a lot of trackers, the New Balance RunIQ is bulky, measuring 14mm thick. It looked fine on me, but it might look mammoth if your wrist runs on the thin side. It has a round watch face with tick marks around the bezel and three buttons on one side. The top button launches the running app, the middle larger button (which features a tiny New Balance logo) acts as a "home" and "back" button, and the bottom button marks laps while you're running. It comes with a perforated silicon band that is comfortable on runs and through days of use.
The 39-inch, 400 × 400-pixel, AMOLED display was nice and bright. I could clearly make out the display even in bright, full sunlight.
However, the overall effect doesn't inspire more than a shrug. If you want something that disappears on your wrist, the New Balance RunIQ might be a good choice. But it's not especially beautiful, and if you use it, your coworkers probably won't notice it enough to ask what you're wearing.
New Balance Run IQ: Software
The New Balance RunIQ was originally launched with Android Wear 1.5, but when I reviewed the device, it had upgraded to Android Wear 2.0. The new version makes Android Wear even more robust and gives you access to a platform that is backed by a huge community of software developers. The number of Android Wear apps is huge, and you can do everything from scheduling your day to calling an Uber right on your wrist.
New Balance doesn't offer its own fitness or running phone app. Instead, they partnered with Strava. When you record a run on your watch, your stats are synced with the Strava app on your phone.
The Strava app, fortunately, works well, and it neatly organizes run information. You can see your route map, route time, average pace, and elevation gain. All stats are available to basic Strava users except for two: your "Suffering Score," which is a metric basic on how hard your heart works during the run, and pace analysis. Those require a premium membership to Strava for $7.99 a month.
It would have been nice if New Balance had given users at least a few months free with the purchase of the watch, but sadly, that's not the case.
New Balance RunIQ: Battery Life
Battery life is the Achilles heel of the New Balance RunIQ. It gets a measly 24 hours tops when you're using it regularly, and typically a bit less. After enjoying the downright luxurious two-to-three day battery life from the Samsung Gear S3, it was disheartening to have to go back to throwing the watch on its charger daily — and in some instances, more than once a day.
The battery life gets worse when you go for a run. New Balance says that using the heart rate monitor and GPS sensor drops the battery life down to five hours, though some users have reported it's more like four and a half hours. When you consider that the average marathon pace is roughly four hours and 20 minutes for men, it's arguable that this watch is barely suitable for people who are willing to go that distance or longer — which is an odd problem to have for a watch that's "made for runners."
New Balance RunIQ: Bottom Line
New Balance RunIQ calls itself "a smartwatch for runners made by runners," but a more accurate tagline would be "a pretty good, if not especially stylish, Android Wear watch with a decent, custom running app and terrible battery life." Of course, that might not fit as easily on the side of the box.
Everything about this watch is either pretty good, bland, or frustrating. Taken together, that's not enough to justify the $299.99 price tag. Maybe a year ago, this would have been an impressive, cool watch to have. But in a year that's seeing the release of exciting sports smartwatches like the Huawei Watch 2 Sport or the LG Sport smartwatch, runners can do better.