Reviewed By: Logan Strain on February, 17th 2017
The Samsung Gear S3, the Korean company's latest smartwatch, has to accomplish two things. First, it has to prove that it has meaningfully improved over the earlier Gear S2. There's no reason to launch a brand new device if you're just going to rest on your laurels, after all. Second, it has to prove that it can go toe-to-toe with the 125 gram gorilla in the room: the Apple Watch Series 2.
As part of their never-ending quest to be the consumer electronics leader, Apple brought their A game in improving the second iteration of their smartwatch. Samsung has to do likewise if they expect anyone to favor their similarly-priced Gear S3.
So how does the successor stack up?
Samsung Gear S3 Features
Like other smartwatches, you can control the Samsung Gear S3 through voice commands, buttons, and tapping and swiping on the multi-touch display. But it also maintains one of the standout features of the Samsung Gear S2: the rotating bezel. That adds up to four different ways to interact with the watch, which is more than any other watch. That might sound excessive, but it gives users the option of using the watch in a way that feels comfortable and intuitive for them.
The bezel is a particularly inspired innovation. It lets you speed through menus and interact with apps in ways that aren't possible with other smartwatches. There are subtle features of the bezel, such as the way it locks in place with each increment you twist it, that make it a more fluid and tactile way to use the smartwatch. By itself, it overcomes many of the interaction limitations that are inherent with such a small touchscreen.
Samsung's voice recognition system, S Voice, is another story. If you're accustomed to either Siri or OK Google, it will feel a little clunky. It misheard me more frequently than I'm used to when using either of those systems. And even when it did hear me, unusual spellings tripped it up. For example, my wife's nickname is spelled "Kimi" in my contact list. But when I asked S Voice to "Call Kimi," it failed to dial her up because it wasn't spelled "Kimmy." OK Google on my phone, however, has never had a problem figuring out who I'm talking about when I give the same voice command.
I was also slightly disappointed that the program doesn't read back answers when I perform a search. When I ask OK Google or Siri a question, like "Who is the president of Nicaragua," they read me back the answer (Daniel Ortega). But S Voice isn't as chatty: it simply displays the answer in text.
If you want to finally act out your Dick Tracy fantasies, you can call someone and actually talk to them through your phone. It was super convenient when I needed to make a quick call while driving, and the voice is surprisingly clear on both ends of the line. But a word of warning: until smartwatches become as common as smartphones, chatting with someone in public by talking into your wrist will make you look like a giant dweeb.
Mostly, the whole experience is intuitive. Though it comes with an instruction booklet, I was able to pair it with my phone, organize the widgets, and start downloading and using apps without glancing at the instructions.
Unlike the Apple Watch Series 2, the Samsung Gear S3 can't go for a dip in the pool for an extended period of time. It is water-resistant, however. According to Samsung, it's safe to dunk it down to 1.5 meters of water for up to 30 minutes. That means you can take into the shower (a fact I confirmed). But don't expect to use it to track your 100 meter backstroke time.
Samsung Gear S3 Software
The Gear S3, in the spirit of Apple-like dedication to controlling its software, uses Samsung's own Tizen operating system. In fairness, that comes with a set of advantages. The OS is fast and responsive, sometimes even faster and more responsive than my Samsung Galaxy S7 smartphone. Dismissing a notification, loading an app, or scrolling through information always feels smooth and intuitive.
But it also comes with one major drawback: relatively few apps. App developers rush to create cool new features for the Apple Watch or Android Wear, but the still-small audience for the Samsung Gear isn't nearly as tempting. If you've ever browsed the bounty of apps for other watches, you're going to feel a little deflated by the options on the Samsung Gear S3.
The upside is that the few apps that are available are excellent.
Samsung Gear S3 Apps
A surprise standout Samsung Gear S3 app is Samsung S Health. It uses many of the included sensors, like the heart rate monitor, GPS sensor, and altimeter, to perform classic fitness tracking functions. You can choose from a huge variety of different activities to get fit, such as running, cycling, or even yoga. It includes guided workouts, and you can choose to have the watch shout encouragement at you, if you need some extra guidance in your journey to health. Within the S Health app, you can check your sleep schedule to see how much shut-eye you're getting, and you can quickly log how much water and cups of coffee you have through the day.
Other apps add a touch of convenience to the apps that already exist on your phone. Why order an Uber on your smartphone when you can summon one by tapping on your Gear S3? Why set reminders on your phone when you can save a few seconds by performing the same function on your smartwatch? Why check the weather on your phone when your wrist displays the week's forecast?
There are also a few games, but it's obvious that game creators are still struggling to figure out how to develop on this new platform. With the possible exception of the puzzle game Rolling Hams, most feel gimmicky.
The watchfaces, both free and paid, are abundant. Whether you want something that imitates an analog watch, or a futuristic display that feeds you whatever information you want along with the time, you're bound to find something that's worthy of showing off.
Samsung Gear S3 Battery Life
The bigger 380mAh battery allows you to squeeze three full days of life out of the watch before it needs more juice (two if you find yourself fiddling with it throughout the day). That kind of sustained use outperforms the pervious Samsung Gear S2. And it definitely knocks out the Apple Watch, which can't go longer than a day before needing to be recharged.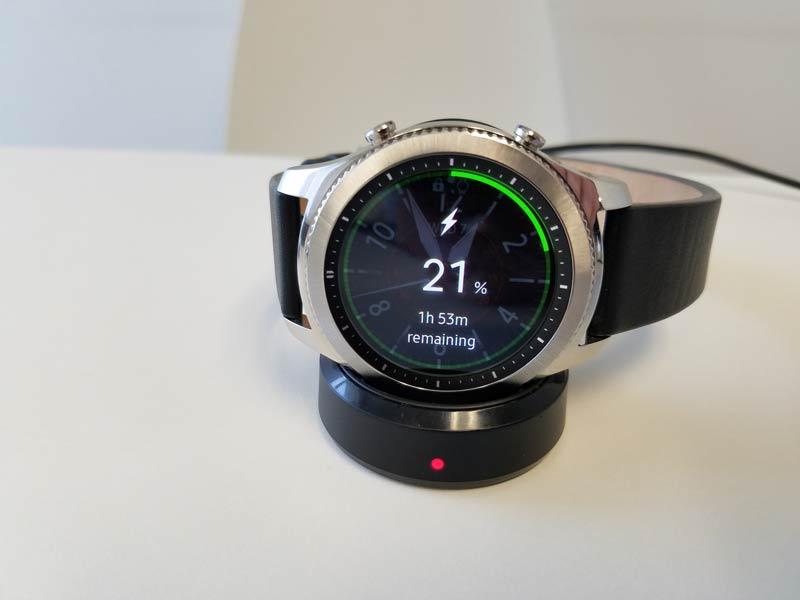 The watch automatically turns off the display, and turns back on whenever you touch it or flip your wrist to look at it. You have the option of leaving the screen on constantly, but that naturally causes the battery to drain much faster. When starved for power, you can set it in "power saving mode." This allows you extend the life of the watch further, but it basically turns the Gear S3 into a simple watch with a black-and-white display. If you want to use your apps, you're going to have to find a power outlet.
It comes with a wireless recharging station. It's easy to place it on the dock and let it charge back up to a full battery in roughly an hour and a half.
Samsung Gear S3 Design
The smartwatch offers two different designs, both of which are better than the Gear S2. The first is the "Classic," which is modeled after analog dress watches. The second is the "Frontier," which sports a more modern, sleek design.
The Samsung Gear S3 classic looks nice, but doesn't have a lot of personality. A few of Samsung's competitors have released much more distinctive devices. The Apple Watch, for example, has square display and slight, futuristic curves that make it unmistakable. The Garmin Fenix 3 HR has a burlier appearance thanks to its dark steel bezel and visible bolts.
The Gear S3, on the other hand, has a silver bezel and case, simple lug ends, and an old-school dial ring. Replace the miraculously miniature computer and sensors with gears and an analog watchface, and it looks like something you could pick up at Macy's for fifty bucks. (In fairness, however, that might be the point.)
However, if you want to class up your Gear S3, you can replace the included watch bands with something more fancy.
The watch itself is bulky and sports a 1.3 inch display, which is a hair bigger than the 1.2 inch display of the S2.
The 360 x 360 AMOLED display is always clear and bright, even in direct sunlight. The colors are sharp and crisp — so much so that even videos on the Xenozu app look pretty good. It's not as sharp as a modern smartphone display, but it's within striking distance of that quality.
The Post Phone Era
For me, the ultimate test of a full-featured smartwatch is a "phone in pocket" test. That is, how often do you perform a task or function on your watch, simply because it's faster and more convenient than pulling out the phone your pocket?
By that standard, the Samsung Gear S3 proves its worth. When listening to music on my phone, I flipped through songs on the watch and adjusted the volume using the rotating bezel. When in need of a distraction, I found myself reflexively flipping through news headlines using the Gear's Flipboard app. When I needed to fire off a quick text message, I just used the Gear's voice commands (once I figured out how to get around its kinks).
In terms of speed, style, and just plain usefulness, the Samsung Gear S3 is an unquestionable upgrade from the Gear S2. It still retains some features that make it stand out from all other smartwatches, such as the rotating bezel. But it does have some noteworthy drawbacks when compared to the Apple Watch Series 2 — chiefly, it isn't waterproof, it has sub par voice recognition, and it hosts fewer apps.
Despite that, the Gear S3 is advanced enough to feel like you can see the role smartwatches might play in our lives. They aren't smartphone replacements — they're smartphone companions. They make some smartphone functions feel more natural and seamless, allowing us to enjoy the convenience of the connected age without being glued to our phones all the time. If that's where these devices are headed, then the Samsung Gear S3 is a firm stride toward that glorious post-phone era.