Logan Strain March 1st, 2017
The Huawei Watch 2 was hyped to the heavens during the run-up to its release at Mobile World Congress. But when people finally got a chance to take a look at the Android Wear 2.0 device, reviews were mixed.
Depending on whose opinion you trust, the Huawei Watch 2 is either the perfect showcase for the newest Android Wear update or a last-gen smartwatch that doesn't bring anything new to the table.
The big hype and split criticism of the Huawei Watch 2 brings to mind the other big release of 2017: the Apple Watch 2. Now that the newest incarnation of the Apple Watch has a serious Android Wear 2.0 competitor, it's time to ask: is the Huawei Watch 2 or the Apple Watch 2 better?
Here's what you should know before you purchase either of these cutting-edge smartwatches.
Huawei Watch 2 vs. Apple Watch 2: Features
Both watches offer the full suite of sensors common to modern smartwatches, including a heart rate monitor, Bluetooth, Wi-Fi, accelerometer, NFC, and GPS. However, if you prefer a fast, phone-free connection on your watch, then you should take a close look at the Huawei Watch 2.
It can connect to the 4G network, allowing you to use apps that send and receive data and leave your phone at home. (But, please note that 4G isn't available for the Huawei Watch 2 Classic line.)
The watches have a similar variety of app selections. The App Store offers seemingly endless choices of Apple Watch apps, including apps to track your health, map your location, use social networks, take photographs, increase your productivity, and perform many other functions.
But the Huawei Watch 2, which uses Android Wear apps, also offers an impressive app library. There are thousands to choose from, and third party developers add more each day. In 2017, the number of Android Wear and Apple Watch apps feels just as overwhelming as the number of smartphone apps. Since the watches operate on the two most well-developed wearable platforms, it would be tough to choose one over the other on the basis of app availability alone.
In terms of water resistance, the Apple Watch 2 is superior. It's able to sink to 50 meters, which means it's safe to take into the pool. There are even swimming apps that allow you to track your workouts, though Apple doesn't recommend using it to go diving.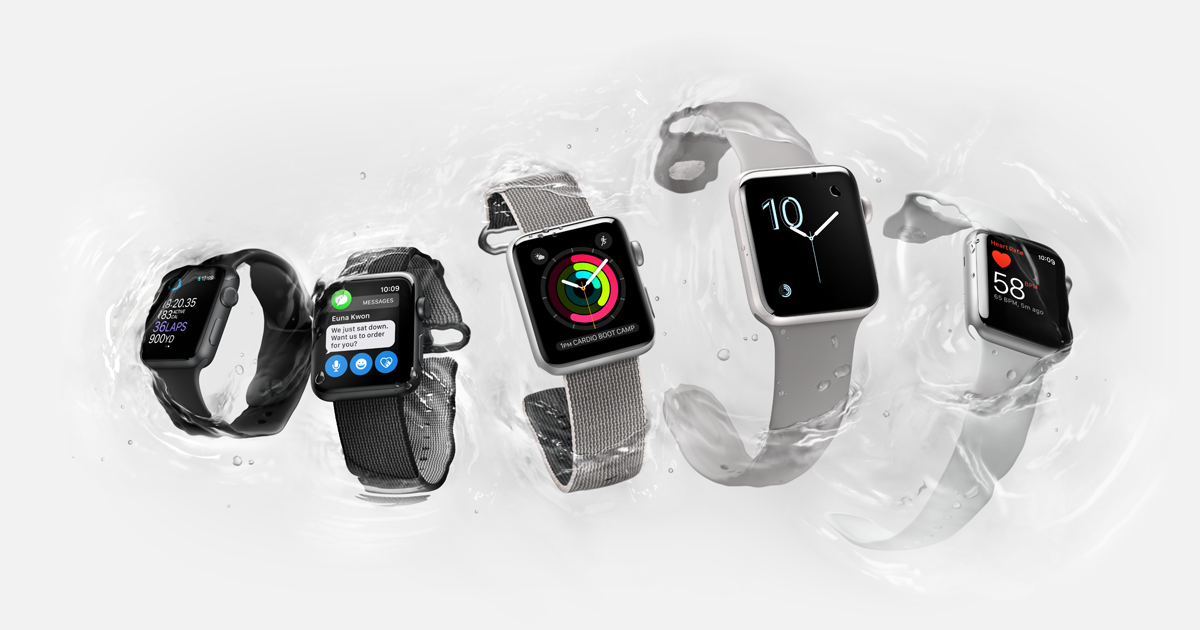 The Huawei Watch 2 is merely water resistant. It can go down to 1.5 meters for up to 30 minutes. So you can keep it on for a quick shower, but you shouldn't jump into the pool with it.
Huawei Watch 2 vs. Apple Watch 2: Design
With its rounded corners and square face, the Apple Watch 2 is instantly recognizable as an Apple product. Even non-gadget geeks know what it is at a glance. Some people prefer the square design because it's more smartphone-like. That makes it more suited for functions that are traditionally performed on a smartphone, such a viewing photos.
The Huawei Watch 2 has a traditional round watch face and a sporty design, which is a departure from the classical watch design of its predecessor. It also features second and minute markers that surround the bezel. That also enters new territory, since the original Huawei watch just had a minimalist, brass-colored body.
As a nod to an increasing push for customizable wearables, both watches feature interchangeable bands. If you want to upgrade to a higher-quality latex band or a classier leather band for day-to-day wear, you have that option.
The Huawei Watch 2 sports a 1.2-inch AMOLED display with a resolution of 390x390, resulting in a pixel density of 326ppi. The 42mm Apple Watch 2 features a 1.65-inch AMOLED display with a resolution of 390x312 pixels, which calculates to a pixel density of 303ppi pixel density. Though technically the Huawei Watch 2 has more real estate on its screen, the two watches are almost identical in display quality.
Both watches have multitouch screens, but the Apple Watch has an edge in the form of Force Touch. Lightly tapping on the screen can result in a different interaction than pressing firmly on the screen. This feature, exclusive to the Apple Watch 2, can make using certain apps easier and more interactive.
Of course, Apple also has the advantage of offering Siri, Apple's natural language personal assistant. If you are already accustomed to using Siri on your iPhone and want that feature on your smartwatch, that alone might be a reason to prefer the Apple Watch 2.
The Huawei Watch 2's personal assistant is Google Assistant. Like Siri, it can respond to voice commands and engage in two-way conversations. If you have used Google Home, then you're already familiar with how Google Assisant works.
Huawei Watch 2 vs. Apple Watch 2: Hardware
The Apple Watch 2 uses its own in-house Apple S2 chipset, which runs at a processing speed of 780 MHz. When combined with the watch's 512MB RAM, the Apple Watch 2 has earned a reputation for a smooth, responsive user experience.
However, the Huawei Watch 2 actually sports superior power. It uses Qualcomm's Snapdragon 2100 chipset. That gives it more processing speed (1.1GHz), but a little more RAM (768MB).
But that doesn't necessarily mean that Apple Watch 2 underperforms. Apple's dedication to building most components in Cupertino leads to a tight integration between hardware and software, which causes the smooth functionality that Apple fans rave about.
The Apple Watch 2's power comes at the cost of battery life. Most people have to charge it daily. The Huawei Watch 2, however, can last two to three days on a single charge.
Huawei Watch 2 vs. Apple Watch 2: The Bottom Line
The year is still young, but both of these watches are serious contenders for the title of "Best Smartwatch of 2017." Which one you will like best will depend on your style and functionality preferences.
If you like a simple-but-futuristic aesthetic, want raw processing power, want to swim with your wach, prefer a square display over a round one, or just want something that seamlessly integrates with your iPhone, then the Apple Watch 2 is the best choice for you.
But if you like a smartwatch that looks more like a common sports watch, want something that lasts a few days without having to charge it, want a 4G connection, or prefer your wearable to run on an open source platform, then the Huawei Watch 2 will give you everything you need.