Conor Hockett February 17th, 2017
When Google launched Android Wear 2.0 alongside the LG Watch Sport and LG Watch Style over a week ago, the company also announced which existing Android Wear watches would be eligible for an update.
Nearly 20 smartwatches were selected to receive Android Wear 2.0 over the coming weeks, but don't expect them to support all of the new features. A lot of the updated functionality requires specific sensors that some devices just won't support.
WearableZone experimented with one of the eligible watches — the Moto 360 Sport — to see how Android Wear 2.0 impacts existing models.
It's important to note that individual manufacturers are responsible for implementing Android Wear 2.0 on their devices, so each watch will update on its own timeline. Some devices might also update in incremental stages.
With that in mind, here's what to expect from Android Wear 2.0 and how the Moto 360 sport has changed from the updates so far.
This post will be updated as more features become available on the device.
Android Wear 2.0: Google Assistant
With the growing popularity of voice-enabled systems, it's no surprise to see Google Assistant on Android Wear devices. Users can access this feature through any screen by saying "OK Google" or by holding down the home screen button. Being able to set alarms, check the weather, or call someone without touching the display is a convenient extra.
While the 360 Sport doesn't have the push button functionality yet, users do have access to Google Assistant through any screen. Not having to cycle through a couple menus to find the microphone saves a lot of time.
Android Wear 2.0: Fitness Apps And The Google Play Store
By incorporating the Google Play Store into the watch, some Android Wear models can morph into stand-alone devices. Users can download apps directly onto any watch through the store, but if the device has a cellular connection, you can also use the apps and make calls without a phone.
Google Fit, the main fitness app available on most Android Wear watches, also got an upgrade through the update. It now tracks activity stats such as distance, calories burned, and heart rate, as well as weightlifting data from exercises like squats or push ups.
Because Moto Body serves as the 360 Sport's main fitness app, it's unclear if Google Fit will replace it.
Android Wear 2.0: Notifications And Messaging
How notifications appear and the way you respond to messages have both changed with Android Wear 2.0. Notifications display with smaller icons than before, and you have the option to click on the alert to expand it.
Once users open a message, they can dictate, type, or handwrite their answer. This functionality is available on apps like Google Messenger, Facebook Messenger, Hangouts, and more.
These changes will be a huge relief for Moto 360 Sport users. Notification alerts take up almost a third of the home screen, so the entire display ends up looking cluttered. Reducing the size of these alerts should make it easier to navigate through different screens and view activity stats.
Android Wear 2.0: Watch Faces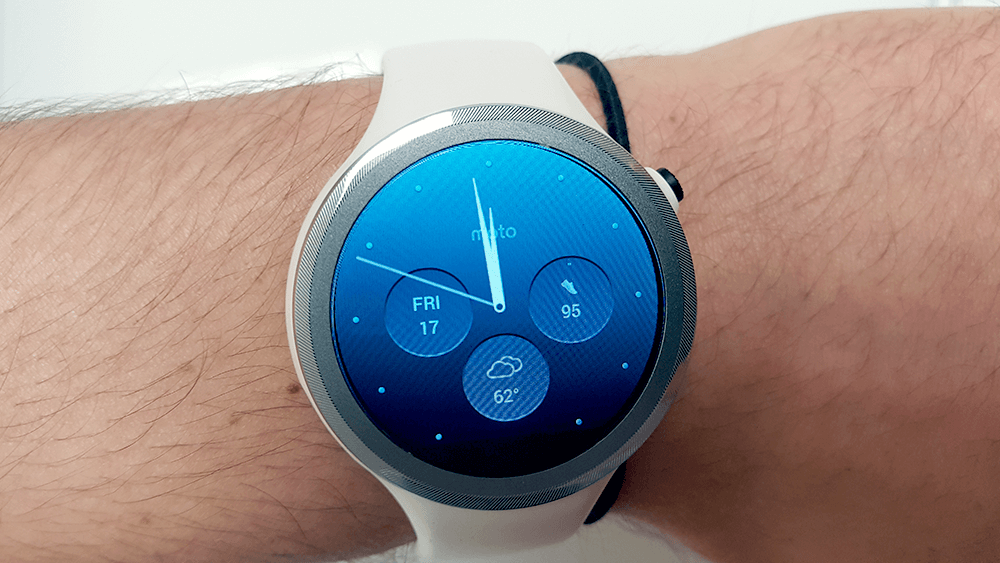 Android Wear 2.0 now lets you view feedback from your favorite apps through a personalized watch face. For instance, users can customize different faces for their time at work, the gym, and at home, and then line them up to easily cycle between them.
The coolest part about this integration is that you can actually interact with the apps through your watch face. You can make a call or call an Uber just by clicking on the corresponding icon.
Android Wear 2.0: Android Pay
Google makes up some ground on Apple and Samsung with its own contactless payment system, Android Pay. Currently, the LG Watch Sport is the only model with NFC that supports Android Pay, but this feature is available for any Android Wear 2.0 smartwatch through the Play Store. Android Pay requires you to set up a passcode, which you must re-enter each time you take off the watch for safety reasons.
What features are you most excited to use with Android Wear 2.0? Share your thoughts in the comments below.