Logan Strain October 12th, 2016
You already use your Fitbit to count steps, but how good is it at counting pool laps? Are Fitbits waterproof enough to wear while you practice your backstroke?
Right now, there is only one model that is genuinely waterproof: the Fitbit Flex 2. This fitness tracker, in addition to being able to withstand getting totally soaked, can track your swimming stats. If you want a Fitbit that doesn't mind taking a dip, then the Fitbit Flex 2 is the one to get.
Fitbit also lists the Fitbit Alta as "showerproof."
But for every other model, Fitbits are not waterproof. Instead, Fitbits are water-resistant. Calling something "water-resistant" instead of "waterproof" sounds nitpicky, but there's an important difference between the two.
What's The Difference Between Waterproof And Water-Resistant?
According to Fitbit's help site, your Fitbit probably won't have any issues if it rains on you, you get into a sweaty workout, or if you get some damp dirt splashed on your wrist during a mud run. However, it's not designed to be submerged in water. That means that it's a bad idea to go swimming with your Fitbit, where deep pool depths and aggressive strokes might cause water to seep into the electronics.
Fitbits And ATM (Atmosphere)
On wearable forums, you might notice people reporting that they constantly wear their Fitbit, even while showering or swimming, and never see any problems. In fact, Fitbit itself used to measure the water resistance of its devices in ATM, or atmospheres. This is a measure of water pressure. A device that is water-resistant up to 1 ATM can theoretically be submerged up to 10 meters, or around 30 feet.
Fitbit once claimed on its site that the Fitbit Surge is water-resistant up to 5 ATM, and the Fitbit Charge and Fitbit Charge HR are water-resistant to 1 ATM. It appears that the company has since removed this information, but it's still visible on an archived version of the help page. The old page emphasized that Fitbits "can withstand accidental submersion, but should be removed from water promptly."
So, why did Fitbit remove that information?
The company was probably concerned that it was misleading. Someone might search "is the Fitbit Flex waterproof" or "is the Fitbit Charge waterproof" and see that it's water-resistant down to 10 meters. This might encourage Fitbit wearers to take it into the pool, even though they specifically warn against doing that.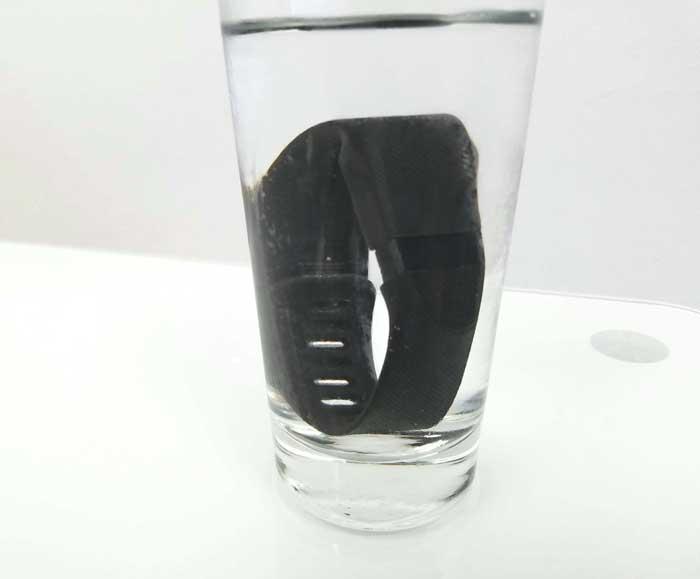 This is a bad idea
Fitbit may also also be concerned about people wearing their devices constantly. Some Fitbit users have reported that wearing the device for long periods of time caused a rash to form on their wrist. The company even conducted a voluntary recall of the Fitbit Force back in 2014, after a small percentage of users reported skin irritation.
It's a good idea to remove your device occasionally to give your skin an opportunity to breathe.
Waterproofing The Fitbit
If you have your heart set on a waterproof Fitbit, you have two options. First, you can buy a Fitbit from Waterfi. This service coats Fitbits and other electronics with a substance which completely seals it from water, allowing you take your Fitbit down to 210 feet. However, the waterproofing process seals the altimeter, which measures how high you are any any given time. This makes the "floors climbed" tracking feature inaccurate.
Your other option is to simply stick it in a waterproof case. Unfortunately, a Fitbit waterproof case designed specifically for the device doesn't exist, but you can use any container that is built to seal shut and keep water out. A waterproof armband for a phone works well. A waterproof bag, or even a cheap Ziploc bag, could also protect the Fitbit. But if you do that, you'd have to keep it in your pocket rather than wear it on your arm.
Drying Your Wet Fitbit
What happens if your Fitbit gets knocked in the pool, you forgot your Fitbit in your pants and ran it through the wash? Is it ruined because it went for a dip?
There's still a chance that you can help it recover, even if it seems like it won't turn on. Fitbit offers different drying advice for the Fitbit Zip, Fitbit One, and Fitbit Ultra. But they all boil down to three main steps.
Stick the device in a bowl of rice. This will help soak out the water.
Let it rest for at least 24 hours.
Remove from the rice and plug it it in.
If it starts charging, that means your Fitbit is probably saved.
Silica Gel
While rice works (and households usually have it on hand), silica gel actually works better. Silica gel is a highly absorbent material that is typically found in new products, like shoes or bags. Silica gel bags also usually keep vitamins or pain relievers dry.
If you happen to happen to have several silica gel bags on hand, throw them into a plastic bag along with your wet Fitbit. After leaving it alone for a few days (72 hours should be plenty), it should be completely dried out.
Are Fitbits Waterproof?
There's only one waterproof Fitbit: the Fitbit Flex 2. For every other Fitbit device, you should be careful around water.
While your Fitbit can get some moisture on it without being fazed, you shouldn't press your luck. If you leave it submerged for too long, you might wind up with a nice-looking, but otherwise useless black band you can wear.