Heidi Redlitz May 13th, 2016
Wearables for babies — are they necessary, or have they gone one (baby) step too far? If you're a new parent, you're the first generation to ask that question. After all, your parents raised you without any digital devices, and look how you turned out — just fine!
Wearable technology can protect your child and and ease the constant anxiety you feel about making sure they're OK. If you want to take every precaution to keep your family safe, then baby wearables are an inevitable part of the digital parenting age.
If you're considering wearables for your baby, check out these eight cool devices. You might finally get some peace of mind knowing that you have extra parental backup!
Baby Wearables For New Parents
1. Sproutling Smart Baby Monitor
Sproutling's wearable band is the mother of all baby monitors. It measures infant vitals — like your baby's heart rate, skin temperature, motion, and body position — and relays that data to your smartphone or tablet.
It also analyzes your baby's vitals to predict when they'll wake up, and how they'll feel when they do. And finally, the Sproutling Baby Monitor includes sensors that automatically adjust room temperature and levels of humidity, sound, and light to help your baby get the best possible sleep.
Sproutling's wearable band straps around your baby's ankle. It comes with a wireless charger and three bands so that the device can grow with your baby. Unfortunately, Sproutling is sold out, but you can still sign up for the waiting list!
2. Owlet Smart Baby Monitor
The Owlet Baby Monitor is a smart sock that uses an infant pulse oximeter to monitor your baby's breathing and heart rate — and alert you in case your baby stops breathing.
While the smart sock relays your baby's vital signs to your iOS device, you don't need WiFi or a smartphone to use it. The device connects directly to the base station that comes with the device, so you can still get alerts if you and your baby are in a house (maybe Grandma's?) without WiFi.
The Owlet Baby Monitor comes with a base station, sock electronics, charging cords, and three sock sizes to fit your child up to 18 months.
Right now, Owlet only works with iOS devices. But on June 6, it will also be available for Android devices!
3. Mimo Smart Baby Monitor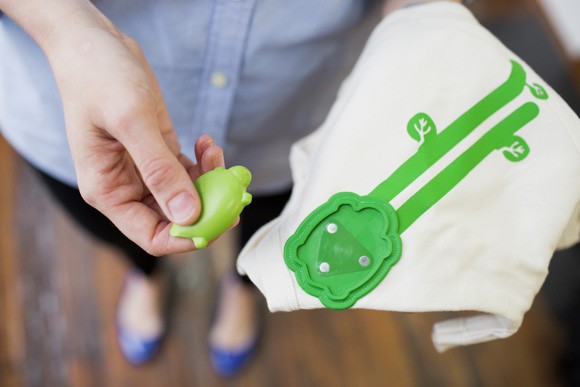 This all-in-one baby monitor and app contains two parts:
A stretchy, washable cotton onesie with two breathing sensors and a removable movement sensor.
A charging station that streams data — like breathing patterns, skin temperature, sleep activity, and body position — to Android or iOS devices used by you and your baby's caregivers.
Mimo is the first baby wearable to send alerts and nightly reports of your baby's sleep activity. It also captures and streams sound to your phone so you can listen from another room.
Mimo Home Price: From $199.99, mimobaby.com
4. Angelcare AC1200 Smart Baby Monitor
Angelcare, a leading producer of baby monitors, has created its first all-in-one smartphone monitor. The AC1200 has two components: a sensor pad that sits under your child's mattress and monitors their movements, and an HD infrared camera with a two-way walkie-talkie, built-in nursery light, and ambient sound mode.
The AC1200's distinguishing feature is its mattress sensor. If your child stops moving for more than 20 seconds, the device will sound an alarm. Plus, like other smart baby monitors, it relays video and audio data to your Android or iOS device.
5. Withings Home Smart Security Camera
Withings' smart security camera records audio and video in HD. It includes infrared vision and two-way, push-to-talk functionality — so you can talk to your child and record their activity, night or day. The Withings Home also sends audio and motion alerts, uses LED light sequences to soothe and entertain your baby, and even alerts you if it senses dangerous levels of indoor air pollution.
Withings Home Price: $199.95, withings.com
6. Kinsa Smart Thermometer
The Kinsa digital smart thermometer fits in a smartphone's headphone jack. In less than 10 seconds, it will give you an accurate reading of your baby's temperature.
This FDA-approved thermometer measures temperature in three ways: from the mouth, under the arm, and from ... you can guess the third one. Its temperature reading is displayed on a smartphone app that can also be saved to any family member's app profile.
7. Pacif-i Smart Thermometer
This smart pacifier has a built-in thermometer that gets regular readings of the baby's temperature, and then streams those results to an Android or iOS device. Pacif-i is suitable for babies 0 to 3 years old.
The Pacif-i is currently only available in Europe, but it's waiting for approval in the US. We'll let you know when it hits the US market!
Pacif-i Price: 39 Euros, pacif-i.o
8. Garmin Babycam
The Garmin Babycam syncs with your Garmin navigation device to give you a live feed of your baby as you drive. The babycam includes night vision so you can still see your child in dark or low-light conditions.
Plus, because busy parents sometimes forget about their most precious cargo in the backseat, the Babycam alerts you to check for passengers before you get out of the car.
Garmin Babycam Price: $199.99, garmin.com
Protect Your Child With Baby Wearables
You'd do anything to keep your family healthy, happy, and safe. Since wearable devices can protect your baby from harm, why not shop around for a wearable that suits you?
Life's crazy enough as a new parent. It can't hurt to get a little help from baby wearables!