Logan Strain March 9th, 2017
Golfers have long used wearable technology in order to improve their game. In fact, people who love to hit the links on Sundays are some of the most enthusiastic early adopters of the modern wave of wearable technology.
That means there are plenty of wearable golf watches that replace the old golf pencil, provide tons of data about individual courses, and collect data about your performance.
Want to only buy the cream of the crop for your time on the fairway? If you want to upgrade your game with some wearable tech, get one of these GPS golf watches.
Garmin Approach S6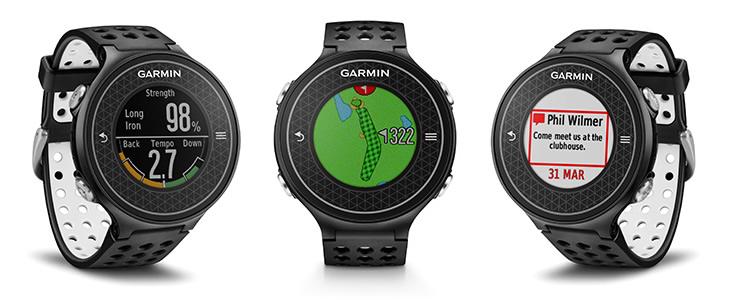 Looking for something to show off to other golfers? The Garmin Approach S6 is your best option. This GPS golf watch includes maps of 40,000 courses from all over the world — so you're able to get a readout of every fairway and sandtrap you face, regardless of where you like to haul your clubs. Unlike most other watches, it also includes a full color map right on the watch itself, so you never need to pull out your phone in order to get your bearings.
Like all Garmin devices, it also connects you to Garmin Connect, which can help you run the numbers of each round. This integration makes the Approach S6 perfect for anyone who wants to improve their game by unleashing their inner data geek. All those features will cost you, though: the Garmin Approach S6 has a suggested retail price of $389.
GolfBuddy WT5 Golf GPS Watch
If the Approach is a little rich for your blood, there are cheaper options. For example, the GolfBuddy WT5 Golf GPS Watch usually sells for a much more affordable $149.99. The display is black and white, but it still gives you tons of tools to track your game.
It comes preloaded with over 38,000 global courses. It also includes features to make tracking your game easier, such as automatic course/hole recognition, shot distance measurement, and a digital scorecard.
SkyCaddie Golf GPS Watch
The SkyCaddie is another highly affordable option, retailing for just $129. This one doesn't have maps, but it still includes basic features like shot distance measurement and digital scoring. The SkyCaddie is a good GPS golf watch if you want the most basic features at a rock-bottom price.
Bushnell NEO XS Golf GPS Rangefinder Watch
Bushnell offers a solid option in the entry-level GPS golf watch category. Don't expect any bells or whistles for the $169.99 price, but it has the basic features you need to keep track of your game. It automatically recognizes the course that you're on, calculates the distance of your shot, and even calculates distances of hazards. According to Bushnell, you can also play three full rounds without needing to charge it.
TomTom Golfer 2
This sequel to the popular TomTom Golfer gives you a ton of stats for a reasonable price. It includes an automatic shot detection and automatic scoring, making it possible to track a game while rarely touching your watch. It also has Greenview graphics for the 40,000+ available courses to help golfers understand the right approach and hazard locations.
For those dedicated to improvement, the TomTom Golfer 2 also has a post-game shot analysis system to help you identify ways you can improve your strategy when you strap on your cleats. It currently retails on TomTom's website for $199.99.
Hole19 For Apple Watch And Android Wear
You technically don't need to buy a specialty golf GPS watch in order to collect golfing data on your wrist. If you have an Apple Watch or Android Wear watch, you can download the Hole19 app for all your golf tracking needs.
Sure, it comes with everything to help you track individual games. But it also comes with social features that make it easier to connect with your golf buddies, a course discovery feature to help you learn about the best courses in almost any area, and golf statistics analysis. Here's the best part: the app is free for Apple Watch and Android Wear devices.
Golf Navi Watch For The Samsung Gear S3
If you have the Samsung Gear S2 or Samsung Gear S3, you can also track your games with the Golf Navi app. It provides distance to the green (including elevation), high-resolution maps, and real-time score management. Users can customize the statistics feature so they can only see the stats that matter most to them. Plus, the app can track an astounding 60,000 courses all over the world, so it's virtually guaranteed to have your favorite links.