Logan Strain June 17th, 2016
For every hype, there is an equal and opposite anti-hype. GoPro, the once-revolutionary way to capture your most incredible sports stunts in perfect detail, is grappling with that law of hype physics right now. While early adopters loved its portability and and ease of use, there have been some grumbles about the value of the most famous action camera brand. Things are getting so rough for the company, angry investors who claim that they were mislead are in the process of filing a class action lawsuit.
Fortunately for lovers of high-res video of kite surfing, there are options. If you want to record every second of your adventures without giving any money to GoPro, here are your best options.
1) Xiaomi YI
Xiaomi devices are famous for their affordability. People who want to stick with more prestigious brand names tend to shun them, but bargain hunters who want to record 1080p video at up to 120 fps should check out the Xiaomi YI. It has extensive recording options, including time-lapse mode, timed video, and timed photo. It even has all the bells and whistles you'd demand in a more expensive camera, such as WiFi and Bluetooth connectivity, and microSD support up to 64GB.
2) Contour ROAM3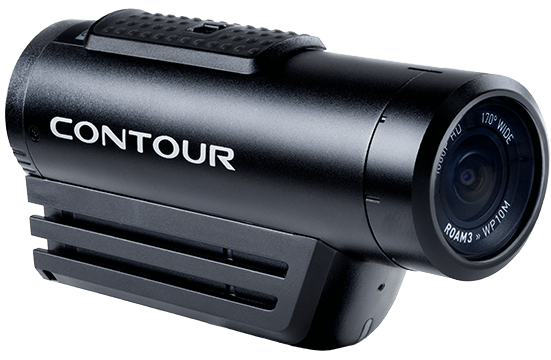 The Contour ROAM3 isn't as compact as other action cameras. However, it has everything you need to create sharp videos of your travels in one aluminum-encased package.
Some of the cooler features include a lockable, slide-to-record switch that makes it effortless to start filming on the go. The lens automatically rotates to keep your shot level, even across bumpy roads. If you're aiming for extra precision, it also has a laser level you can use to perfectly frame your shot. Bonus: without an extra case, it's waterproof up to 30 feet. It shoots 1080p video up to 120 fps. If you're planning on extra recording, you can insert a MicroSD card up to 32 GB.
If you buy the Contour ROAM3, you have two options. The first is the camera only option, which is exactly what it sounds like. The second is a "starter bundle," which includes the camera, charging, kit, and flex strap mount.
3) Drift Ghost S Action Camera
This is the most expensive item on the list, but you get a truly high-end camera for the price.
The torpedo-shaped camera comes with a two inch LCD screen and wide-angle lens that gives you 160 degree field of view. By itself, it's waterproof to nine feet, but you can buy an optional housing that allows you to take it down the dark depths of 196 feet. It's not exactly a spy camera, but it feels remarkably small and lightweight, even if you mount it to your helmet.
The Drift Ghost S even comes with some cool scene modes that make it easier to get high-quality footage. You can select Normal, Vivid, or Low Light. Normal is simply regular video. Vivid allows you film scenes in more saturated colors without any need for post-production color manipulation. And Low Light helps you capture scenes even at dawn or dusk.
4) Garmin Virb Elite
If you want an alternative to the GoPro because you think GoPro is a little expensive, then the Garmin Virb Elite is not for you. It's roughly the same price as the high-end models, but has just as good (or even better) features. Like you would expect with a quality action camera, it films in 1080p and boats an impressive 146 degree field of view. You can check out what what you filmed before you transfer it to your computer on the camera's 1.4 inch chroma display.
The downside? It doesn't have have a zoom or live streaming feature. Also, you'll need a waterproof case if you plan to get it wet.
5) Mobius Action Camera
If you want to get one of the most compact, tiny cameras on the market, then buy a Mobius.
This little guy (measuring 4.8 x 3.3 x 0.9 inches) records 1080p at 30 fps. It's too small to include a display screen, and uses a simple four-color LED light to indicate camera modes. It includes a time-lapse mode that allows you to easily take time-lapse videos. However, the battery only lasts long enough to give you 80 minutes of continues footage. If you want to record longer than that, you'll have to hook it up to the charging cable.
6) Sony AS50
Sony sells a handful of cameras, but if you want one that rivals even the best GoPro models, then check out the Sony AS50. The camera is a high-tech, vertile powerhouse, featuring videos in 1080p up to 120 fps, 11.1 MP Exmor R sensor with Zeiss 170-degree lens, and SteadyShot image stabilization. The 4K time-lapse feature allows you to take beautiful, high-definition time lapse videos. The microSD slot, microHDMI port, microphone, and a microUSB channel lets you easily expand on the camera's features. The rechargeable battery gives you 150 minutes of continuous filming.
It even comes with a case that makes the camera shockproof and waterproof down to 60 meters. The LCD screen on the side isn't in color, but it still makes it easy for you switch camera modes on the go. Bonus: a tripod mount is included in the Sony AS50.
Sony has a great portfolio of action cameras and you should find a great GoPro alternative among them, but if you are looking for an all-around decent action camera, the Sony AS20 is the one. In terms of specifications, it features a 11.1 MP Exmor R sensor with Zeiss 170-degree lens and SteadyShot image stabilization. The camera shoots videos in 1080p up to 120 fps, and there's also support for 4K time-lapse videos.
7) HTC Re
The HTC Re is a decent camera, but honestly, you should buy it if you're more interested in convenience than quality. The video quality is just a notch above modern smartphones, but filming is as easy as picking it up. It also doesn't have all the video features you might find with a GoPro, but it does have a simple to use slo-mo feature. You can activate it just by pressing a button on the front of the camera.
Despite its odd, periscope-like design, it is well connected. You can control the HTC Re with a smartphone app through WiFi or Bluetooth. It also has a 5-pin microUSB, microSD slot, and a hole for mounting on a tripod.