Logan Strain October 19th, 2016
If you pre-ordered the Apple Watch 2, then you've already received your newest Cupertino-minted miracle and started playing around with it. But now comes the hard part: figuring out which of the thousands of apps are worth your time.
To help you choose, we narrowed down some of the apps that truly impressed us. These selections will make your life easier, keep you healthy, or just help you have fun — and squeeze the most value from your smartwatch.
Here are some of the coolest Apple Watch 2 apps you can install right now.
Best Apple Watch 2 Utility Apps
Camera Remote
Are you still taking selfies by outstretching your arm? Or worse: a selfie stick?
You're living the dark ages. The included Camera Remote app makes it easy to get a shot. Simply set your phone up, strike your mark, and use your watch to capture the photo. You can even check the picture on your watch after you take it.
Pro tip: use the prongs of your iPhone charger as a stand for your phone.
Cozi Family Organizer
Running a family household can make you feel like an executive assistant to a Fortune 500 CEO. There are million things to remember and no possible way to remember them all — unless you happen to be one of those savants who can memorize the first thousand digits of pi. For us non-savants, getting organized is the only path to domestic sanity. That's where the Cozi Family Organizer comes in.
The watch app syncs with the iPhone app to help you understand your upcoming appointments, access your shopping lists, and check off items on your to-do list.
1Password
Do you have a hard time remembering all the codes and passwords in your life? Among your social media logins, your PINs, and your lock combinations, there's really no way to store every single code in your head. The 1Password app can help you store all of your information directly on your wrist. Just record all of your passwords, codes, and combinations, and you can access them them at any time with just one pin.
Find Near Me
The Apple Watch 2 makes it even easier to explore new areas. Find Near Me gives you the lay of the land just by tapping a button. You'll see if there are nearby ATMs, banks, bars, spas, and attractions. . If you you want to narrow your search, you can find more options through Siri. To get more details, tap on the result to get the contact information or reviews.
Just Press Record
Even if you don't think you'll need this app, you might consider downloading it just in case. You'll never know when an audio recording of a conversation will come in handy. With Just Press Record, you just tap a button, and the app starts recording through your Apple Watch. Tap again to stop recording, and it sends the audio to your phone. It even includes an automatically generated transcript. The transcript is off sometimes, and it doesn't include punctuation, but it's nice to have a rough idea of what was being said.
Imagine never being able to hear "I never said that" from your spouse ever again.
Best Apple Watch 2 Health And Wellness Apps
Map My Run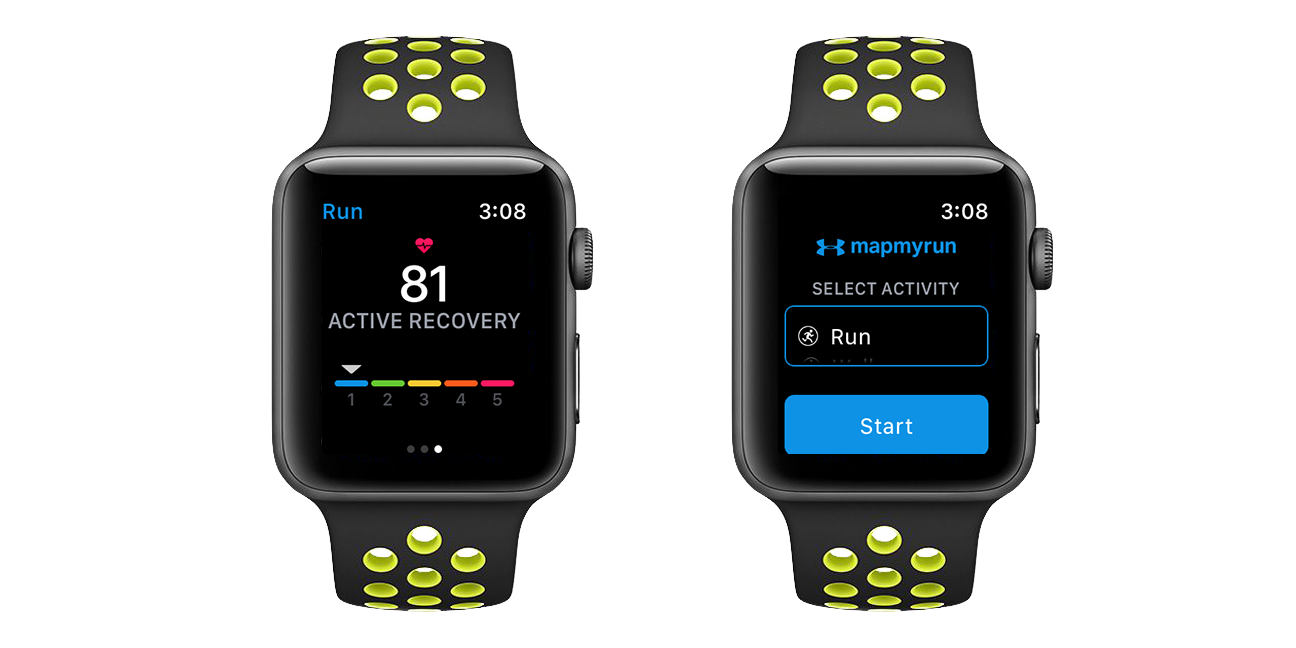 The popular running app from Under Armor makes its leap to the Apple Watch. During a run, you can check your running time, heart rate, and VO2 max. You can even get a quick snapshot of your past runs. If you already use Map My Run to track your running routes, but wished that you could leave your phone at home when you get your cardio on, then this is a godsend.
Reach Out Breathe
When you have to balance different tasks throughout your day, it's easy to forget to take a minute to yourself. Reach Out Breathe, new for the Apple Watch 2, guides you through a simple, short breathing exercise designed to center yourself. For people who suffer from stress and anxiety, it might even help derail negative thinking before it spirals out of control.
Fitwell: Personal Fitness And Nutrition Coach
If you're looking for a comprehensive fitness and nutrition app, then Fitwell is the way to go. It's like having a personal trainer on your wrist. The app first gets your stats, fitness level, and health goals. Then it designs a comprehensive workout and food plan designed to help you reach your peak fitness level. It guides you throughout the process, reminding you when it's a good time to eat or do one of the included workouts. The automatic tracking feature lets you know how far you've progressed toward your goals.
Lifesum Nutrition
Meal planning is a headache when you're eating for health. Fortunately, the Lifesum Nutrition app can take some of the legwork out of your diet. First, it understands your health goals. Are you eating to lose weight, gain weight, or just be healthier? It then offers up a meal plan, including recipes, that can help you along your health journey. The comprehensive database of recipes and multiple diet options make it flexible for everyone who wants to be more mindful of their nutrition.
Moodnotes: Thought Journal/Mood Diary
Do you want to keep track of how your mood fluctuates throughout the day, but you're not exactly the "dear diary" type? The Moodnotes app can help you track your temperament by just tapping your Apple Watch. You can even enter detailed notes if you want to get more info on your emotions.
Staying conscious of your emotional state can actually help you raise it. It's especially useful if you're undergoing a particularly stressful time in your life, such as starting a new job, going through a big move, or enduring a national election.
Best Apple Watch 2 Games
SongPop 2
The premise of this game is simple, but surprisingly addictive. It plays a short clip of a song, and you have to guess the artist as quickly as you can. You can compete against your friends, or against thousands of players who are also addicted to showing off their musical knowledge. The game stays exciting thanks to tons of available genres and a badge system that rewards you for guessing correctly.
Best Fiends
This is a beautifully animated iPhone game that is enhanced by installing the Apple Watch app. The game is a cross between a puzzler like Candy Crush and an RPG. You control a band of bugs who have to defeat "slugs" by solving puzzles. As the game progresses, your characters level up and become more powerful. On the Apple Watch, players can play a mini game to collect items that can help them on the iPhone game.
Lifeline 2
If you prefer a more story-driven game, get Lifeline 2. This is the sequel to the uber popular Lifeline game, which walked players through a fantasy story. It works like a "choose your own adventure" game, forcing you to make choices that result in different story branches. The game plays out in real time, so you'll be notified throughout the day when it's time to make a new choice. It's not just a fun, unique game in its own right — it's a creative way to use the Apple Watch for storytelling.
Trivia Crack
Do you regularly yell at Jeopardy contestants for their ignorance? Then you should play Trivia Crack, the best trivia game you can get on the Apple Watch 2. The hundreds of thousands of questions in multiple categories — including entertainment, science, history, and beyond — will keep you guessing and learning. You can either test your wits against strangers or your friends. "You can message your friends within the iPhone version, so you can brag about your trivia smarts without ever leaving the app."