Logan Strain June 9th, 2016
Does your bathroom scale just tell you your weight? No offense, but that's a bit like having a phone that just makes phone calls. Today's scales aren't just there to remind you of how much damage your cheat day did to your weight loss goals. They're like an entire fitness lab that's small enough to fit inside the pizza box that contained your cheat day meal.
Modern Bluetooth-connected scales can tell your BMI, body mass percentage, muscle mass, and more. There's even one model that has a pregnancy mode.
If you want to upgrade your scale, get one of these high-tech fitness assistants.
Fitbit Aria Bluetooth Scale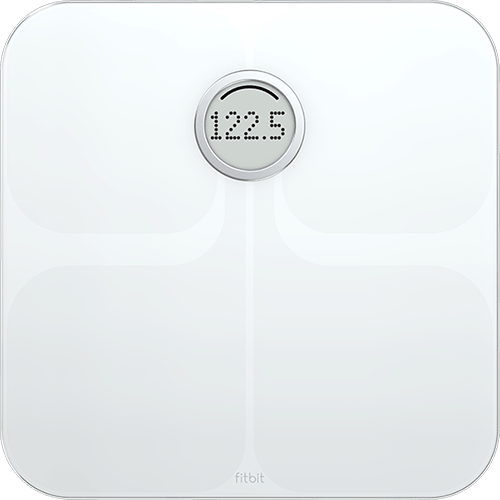 If you already love your Fitbit and want to get a compatible scale, then the Fitbit Aria is an obvious choice. You don't have to log your weight manually any more —
since it syncs with your Fitbit, tracking your weight is as easy as stepping on a scale.
In addition to your weight, it also provide data on your lean mass, body fat percentage, and BMI.
If you and your partner have Fitbits, there's a feature that allows you to create multiple accounts. It detects who's who automatically, so it doesn't mistakenly think your weight is wildly fluctuating throughout the day.
Withings Smart Body Analyzer
Do you have a Withings fitness tracker instead? The Withings Smart Body analyzer is the perfect pairing to help you reach your fitness goals.
It syncs with compatible Withings devices and calculates your BMI. But it also records your heart rate and gives you a quick weather update every time you step on the scale. The weather report includes an air quality report, so you can know if you should keep the workout indoors that day.
Garmin Index Smart Scale
This gives you a whole database of body info. Every time you step on the scale, you can learn your weight, BMI, body mass percentage, water percentage, muscle mass, and bone mass.
Tanita RD-901 Bluetooth Body Composition Monitor
Looking for something a little more high tech? The Tanita RD-901 provides that clinical level of accuracy you're looking for.
The RD-901 boasts that it's the "world's first dual frequency consumer scale." It uses Bioelectrical Impedance Analysis, a common method for estimating body composition, which works by sending a safe, low-level electrical pulse through your body. By measuring how much resistance the charge receives, it can give estimate a ton of info about your body, including body fat percentage, body water percentage, muscle mass, basal metabolic rate, metabolic age, bone mass, and visceral fat.
It's as close as you can come to having to having training input from US Olympic Team scientists without actually qualifying for the Olympics.
QardioBase
If you're a little turned off by how, well, square all these scales look, then you might be more interested in QardioBase, which boasts a sleek, circular white design. If Steve Jobs-era Apple ever produced an iScale, it probably would have looked a lot like this. Even the way it displays weight data is charming: your stats are displayed in the center of the scale in simple, pixelated green numbers. When you move towards your fitness goals, a simple smiley face appears.
As a bonus for expecting mother the QardioBase Bluetooth scale also includes "pregnancy mode," which is designed to help expectant mothers track their progress.
Weight Gurus Smart Scale
Do you want a Bluetooth scale that offers a full set of features, but doesn't eat up much of your paycheck?
The Weight Gurus Smart Scale tracks weight, body fat, lean mass, water weight, and bone mass. But while many scales cost more than a hundred bucks, you can usually find this one on sale for $59.99. Since it's compatible with FITBIT, Apple's Health app, and Google Fit, you probably already have the app you need to start using it, too.
WiTscale S200 Bluetooth Scale
If you're the "no frills" type, then the WiTscale S200 Bluetooth scale is practically made for you. It's designed to basically do one thing: calculate your weight and sync it to your phone. This minimalist Bluetooth scale is even cheaper than the Weight Gurus model. It will set you back only $29.99.