Logan Strain June 3rd, 2016
I enjoy running, but I enjoy it more when I have music to pump me up. I don't have any data to back this up, but I'm convinced that "B.O.B." by Outkast shaves at least a few seconds off of my pace.
But this leads to a practical problem. Namely, how do you go about actually listening to your music while you're running? I first tried basic off-the-shelf earbuds, but those are designed with the assumption that you are going to, at most, walk at a brisk pace. For me, all it takes is a firm jostle during a sprint for one of the earbuds to pop out of my ear. Then, I tried old school, surround-the-ear headphones. They were easy to keep in place, but wearing them trapped my ears in two tiny saunas.
The obvious middle ground is running earbuds. But how do you pick which one will actually enhance your morning runs? There are three main criteria by which you should judge running earbuds:
1) Stability (Do they stay in place?)
2) Sound quality (Can you hear that thumping bass?)
3) Functionality (Can it do something besides just play tunes?)
Here are cool earbuds you should check out if you need some music to reach your second wind.
Tribe Bluetooth Headphones, $24.99
If you're looking for something simple, good, and not particularly flashy, then the Tribe Bluetooth Headphones are your best bet. They feature basic a black and white design, and the long-lasting eight hour battery life works well for anyone who has a tendency forget to charge their earbuds in between runs.
Best For: Runners who want simple, high quality earbuds they can get under thirty bucks.
Jabra SPORT PULSE Wireless Bluetooth Stereo Earbuds, $199.99
Looking for something a lot more complex (and pricey)? The Jabra Sport Pulse is more expensive, but it also gives you a lot more options, more durability, and more functions. It comes with four different sized earbuds to help slide into your ear more comfortably, and it features an in-ear pulse monitor. Is that strictly necessary when you can wear one on your wrist just as easily? No, but it's still pretty cool.
Best For: Runners who don't mind spending extra for ultra durable, multi-functional earbuds.
GranVela D700 Bluetooth 4.1 Earbuds, $39.99
Unlike other running earbuds, the GranVela running earbuds don't rely on in-air rubber "blades" that hold the headphones in place. Instead, they feature "ear hooks" that are designed to slide into your ear more snugly. Depending on what you're comfortable with, you might find the ear hooks to be more stable when you're running. The sound quality isn't spectacular, but it's a simple, reliable set of headphones.
Best For: Anyone who wants a comfortable set of earbuds without the rubber blades.
SoundWhiz Wireless Running Earbuds, $79.99
One of the big selling features of the SoundWhiz Wireless Running Earbuds is the level of control you have right on your ear. Though the earbuds are small and lightweight, you can turn up the volume, skip a track, answer or end a call, or even activate your phone's personal assistant. No need to pull out your phone to make these adjustments while in the middle of a run.
Best For: Someone who wants to pump up their music or answer a call without having to reach for their phone.
Cobra Wireless Workout Earbuds, $79.95
You'll notice that the Cobra Wireless Earbuds are a little bit bulkier than your typical running earbuds. But for a little extra mass, you get a lot more cool audio technology. It includes noise-cancelling technology to drown out the world while you find your stride, and EDR audio technologies to deliver richer sound and deeper bass.
Best For: Runners who geek out over audio equipment.
Mpow Cheetah Bluetooth 4.1 Wireless Earbuds, $29.99
The Mpow Cheetah is another competitor for the runner/audiophile category, except they cost much less. They stay in place by hooking over the ear and can play music for eight hours before needing to be recharged. Despite being a bit cheaper and not having all the fancy technology of the Cobra model, reviewers still rave over the sound quality.
Best For: Runners who geek out over audio equipment, but are on a strict budget.
ANKOVO Wireless Running Earbuds, $89.99
The Ankovo running earbuds are simple, lightweight, and feature great sound. The tips of the buds are magnetized, so you can just connect them and wear them around your neck when you want to pop them out of your ears. While they are sweatproof and perform well for workouts, you'll notice that they don't include rubber blades. So, these may not be a good fit if you have a lot of trouble keeping your earbuds in place during a vigorous run.
Best For: Runners who value simplicity above all other considerations.
Zone Wireless Running Earbuds, $69.95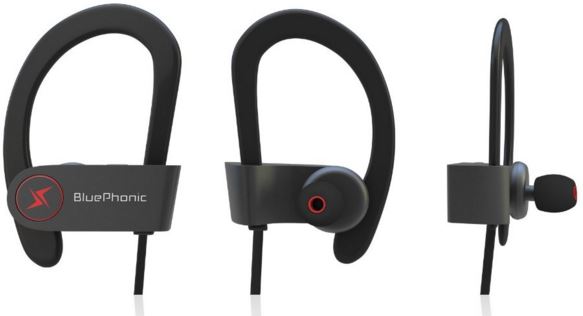 Remember that kid in high school that seemed to be pretty good at every sport they picked up? Zone Wireless Running Earbuds are a bit like that. They're ultra stable, featuring both an in-ear nub and an over-the-ear loop to secure the earbuds in place. They also have pause, play, and answer buttons to give you instant access to your phone or MP3 player functions.
Best For: Runners who want a well-rounded set of earbuds.
Skullcandy Chops In-Ear Buds, $49.95
Looking for something that's a little more stylish? The Skullcandy Chops Earbuds come in a variety of colorful colors, and even the over-the-ear hook has a slick design. The sound quality is pretty good, so long as your music doesn't rely on bass that drops to the floor.
Best For: Someone who wants to match their running earbuds to their running shorts.