Rebecca Paredes November 14th, 2016
When I first set up my Pebble Time Round, the most difficult part wasn't configuring the app or learning how to navigate the smartwatch — it was deciding which watchface I wanted to use.
The options for the best Pebble watch faces felt endless: did I want something simple and minimalistic, or something flashy and unique? Did I want my watchface to display just the time, or to display my steps, battery life, and even the weather?
Fortunately, it's easy to switch between watchfaces once something new strikes your fancy. Right now, I'm using Plane because I like being able to see the time, date, battery life, and distance travelled at a glance. But my favorite has to be Crush 'Em — it displays a tiny Godzilla that stomps a city as it tracks your steps throughout the day.
Here are some of WearableZone's top picks for the best Pebble watch faces on every Pebble. Did we miss your favorite? Tell us about it in the comments.
Pebble Watch Faces For Personality
Tinyheads
Have you ever wanted to walk around with a pixelated head on your wrist? What about a customizable pixelated head? Rock on with your bad self with Tinyheads, a watchface that makes it easy to create your own Pebble Time Round BFF from a selection of hair, eyes, noses, and mouths. Display the time by flicking your wrist, or choose analog hands to be displayed over your Tinyhead.
Mario Time Watchface
Do you miss the days of old, when video games were simpler and two-dimensional? Are you a total pro at Mario Kart and want to wear a subtle reminder of your total dominance? Now you can carry around Mario on your wrist and watch him jump every minute. This Pebble watchface can also display the weather and your watch's battery level, and it vibrates when it disconnects from your phone.
One Day - One Hero
Celebrate a new superhero every day with One Day - One Hero. Each Pebble watchface displays the analog time, as well as a different superhero (and supervillain) logo from both Marvel and DC. Unite the universes with Superman, Captain America, Deadpool, and Wonder Woman, among others. The best part: you don't even have to wear super-spandex to rock this watchface.
Waniwatch
Do you want something simple, but awesome? This unassuming watchface will show you the date and time — plus an alligator. After all, why not? Waniwatch tells the world, "Hey, world. I care about sensible things, like the date and time, but I've got some interesting stuff brewing under the surface." You know what else hangs out just under the surface (of the water)? Alligators. Wear your spirit animal.
Pebble Watch Faces For Minimalism
Offset
Sometimes, simpler is better. Officially designed by Pebble, this watchface has a white background and a dual analog/digital display. This one is not yet available on Pebble 2.
Minimalist Weather
There's definitely more than meets the eye with this straightforward watchface. It displays the forecast and lunar phases, and it will show the weekend forecast if there's no rain during the week. It also saves battery while your watch is at rest, which is a huge perk with the Time Round.
Minimalin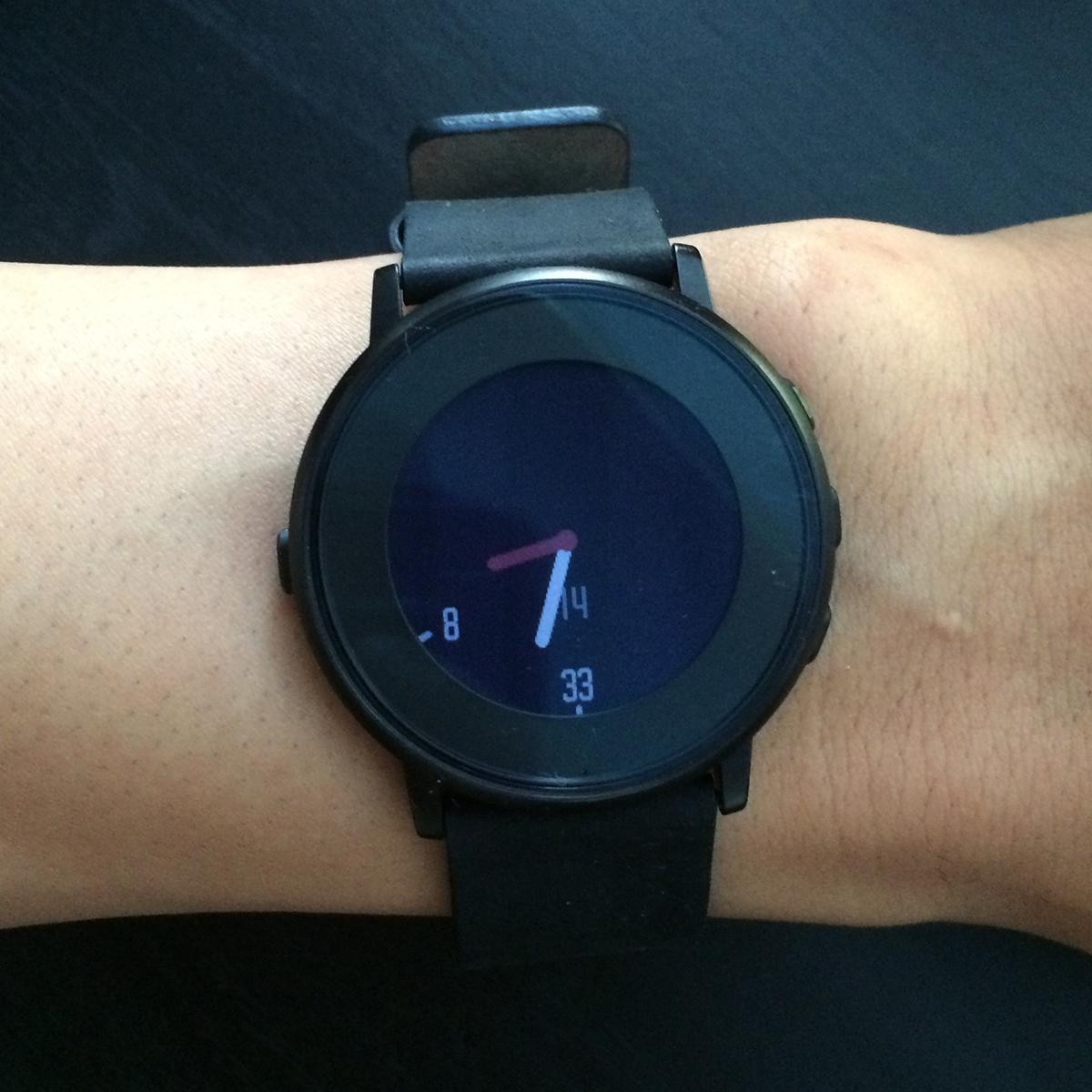 Enjoy fully customizable Pebble watchfaces with Minimalin, an open source project with configurable colors, date display, weather conditions and temperature, and a Bluetooth disconnected icon. You can also select a rainbow minute hand, which adds some splashy color to the chic design.
Sliding Text
Developed by Pebble, this watchface displays the time in white text on a black background. It's simple enough to preserve your battery, but eye-catching enough to make a statement.
Planetarium
At first glance, Planetarium looks simple — but it's actually a complex watchface that displays the current state of our solar system. You'll be able to view the time along the watchface's border, and it updates every hour with new planet calculations. You can also configure it to display stars and different animations.
Pebble Watch Faces For Impressing Your Friends
Fisheye Weather
As a Pebble Time Round exclusive, this watchface is total eye candy. It displays a fisheye view of the current weather, as well as the time, date, and temperature.
Pebill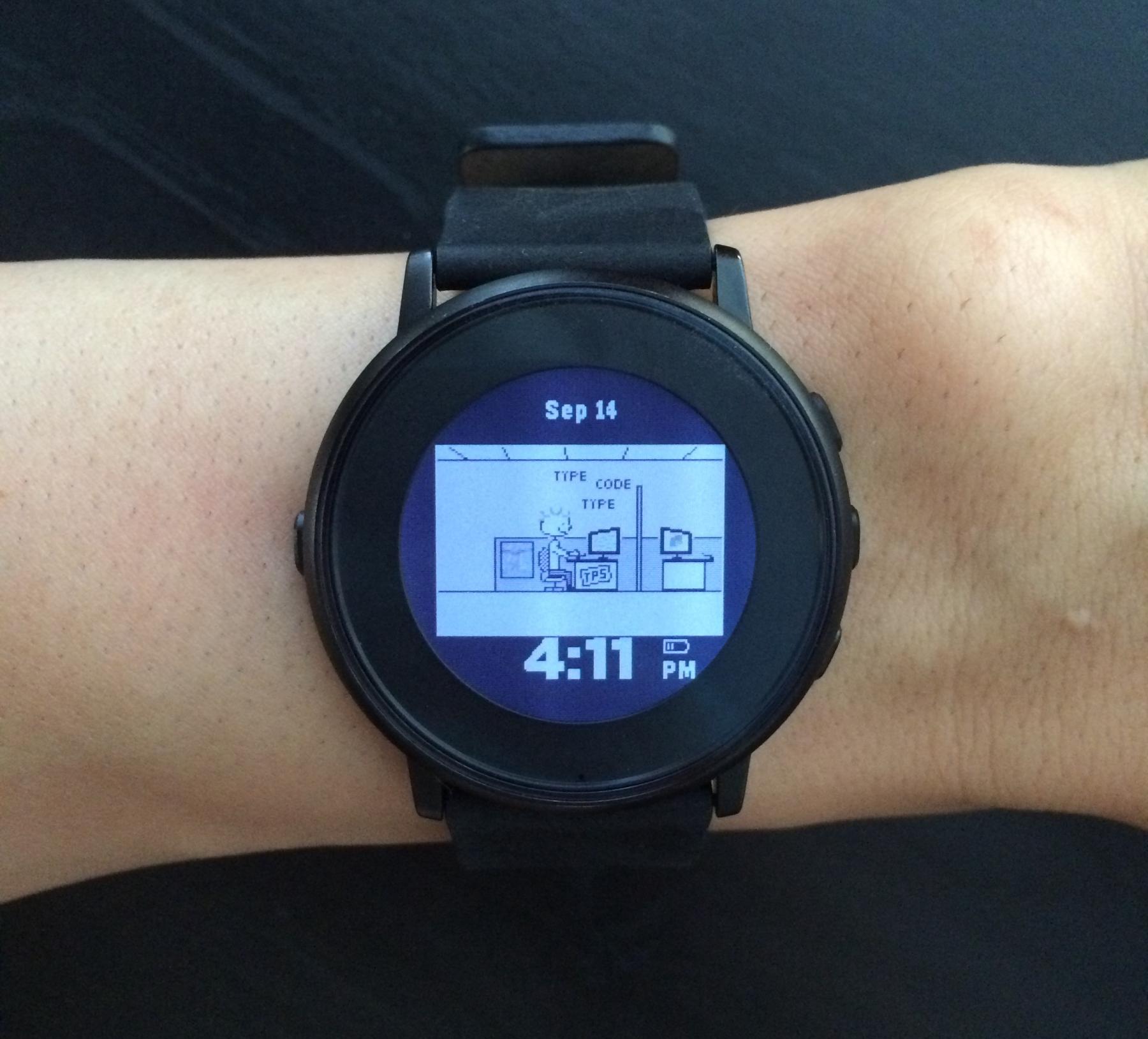 Like a Tamagotchi for Pebble Time Round, Pebill is a virtual buddy for your smartwatch. He goes to work, celebrates holidays, and lives a virtual life inside of your Pebble — and all you have to do is feed him every few days. You can also view the date and time from your watchface while Pebill is slamming his keyboard at work.
Pebble Fighter 2
For Street Fighter II fans and MMA enthusiasts alike, Pebble Fighter 2 features two animated fighters: Ryu and M. Bison. This watchface also boasts some clever design features, like displaying the current battery level through M. Bison's health bar.
Creepy By Dalpek
Do you want to unsettle others? Creepy is an analog watchface that looks deceptively innocent — it has a red background, gold watch hands, and a white skull at the top. But when you shake your wrist, a spider crawls across the watchface. Terrifying? Absolutely.
Small Lake House
View the time and date below a serene lake house setting, which changes every hour with a new scene. This watchface hits the sweet spot between simple and serene, and you can feed your inner god complex by watching digital people live their lives. Pebble 2 users, you'll have to wait until this watch face is available.
What are your favorite Pebble watch faces? Let us know in the comments below!