Shane Landry February 1st, 2017
A triathlon will test the limits of both you and your gear in not one, not two, but three grueling disciplines. Choosing the best triathlon watch can have a big impact on your training and results by providing necessary metrics in real time, guiding your recovery period, and inspiring vital motivation along the way.
But what makes a triathlon watch the best? Let's dive in and take a look at some of the best triathlon watch models on the market today.
What Makes The Best Triathlon Watch?
App Support
The greatest smartwatches don't work alone. All-in-one apps like Garmin Connect and Suunto Movescount provide a host of features to help you meet your goals, get training advice, have more fun, and even avoid injury.
Alerts, Reports, and Training Programs
Running too fast? Swimming too slow? Bobbing around too much? (Not kidding, it's a thing.) The best triathlon watches provide real-time alerts to correct mistakes and log not just what you do, but how you do it. Then they deliver goldmines of data in easy to read reports, complete with graphs. No engineering degree required. Some smartwatches can even track your VO2 max, a great performance parameter. The K'Track Athlete even tracks your lactic acid level.
Training for a triathlon will take months. It doesn't matter if it's your first time and you thought "swolf" was an extinct breed of shaggy mammal, or you are an expert trying to wring every ounce of progress from your sweat-soaked shoes with your bare hands. You can input your goals, and these devices will help you construct a training plan with individualized advice. When you think about how much a coach would cost, that benefit alone can offset the price of the watch.
Recovery
If we get too focused on performance numbers, we lose sight of the fact that we don't get better by working out — we improve by resting from working out. Whether it's breaking between sets or getting enough sleep at night, the best triathlon watches provide recovery features to keep you from over (or under) training. If you want additional support for resting up, check out the best wearables for recovery after a long, grueling workout.
Social Media
The same training routine gets monotonous. Garmin Connect and Suunto offer heatmaps that show you the most popular tracks for different sports, allowing you to quickly discover new routes or train with the locals when you're traveling. With other training apps, easy access to social media sites lets you find new training partners or compete with friends. Don't underestimate the value of variety in your training program.
Not every feature is available for every watch, even within the same brand, and some features only work with the right sensors, especially for bikes. Always double-check your product sheet before plunking down your hard-earned cash.
Heart Rate Monitors
According to this research letter, wrist-mounted monitors are not as accurate as chest strap monitors. That's important to know. If you're a veteran athlete, you may be prone to overtraining — but an accurate heart rate monitor can help keep you in check.
Also, if you've mastered the basics of running, biking and swimming, now is the time to fine-tune your strengths. One of the best ways to get there is by accessing the advanced data points that require a chest strap monitor.
If you're a first-timer, a chest strap monitor is strongly recommended, but you might be okay without it. It's less expensive without one, and you aren't fine-tuning yet. However, it's still an excellent investment. Finding enough hours in the day to train for a triathlon is tough for anyone's schedule, but a more accurate heart rate monitor will ensure you make the most of every minute by pushing hard enough — without overdoing it.
If you exceed safe heart rate levels, you risk serious injury, so you need to know precisely when to back off for safety's sake. Plus, not all wrist-based heart monitors can track your heart rate in the pool. Whatever you choose, remember that heart rate is a key component to your success.
The Best Triathlon Watches for Veteran Triathletes
Garmin Forerunner 920XT With Tri-Bundle: $599.99
Outstanding overall performance and great for running form: The Forerunner 920XT tri-bundle is loaded with features to help you identify where you can improve in glorious detail, and it excels at coaching you on your running form. It will measure your ground contact time by breaking down how balanced your left foot is compared to your right. It can detect how much you're bobbing and combine that with your stride length into a vertical ratio. There's even a metronome to help with cadence. If running form problems have been holding you back, this watch could be the coach you need. As an added bonus, the battery has some serious staying power with up to 40 hours in UltraTrac mode, 24 hours in training mode, and four months in watch mode.
Suunto Spartan Sport Ultra HR: $749.00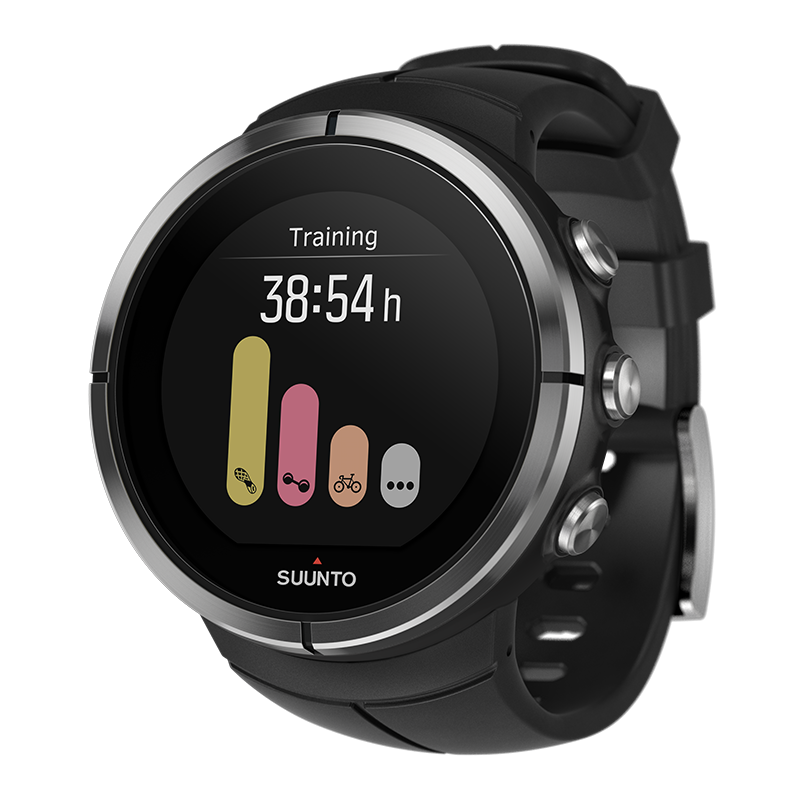 Excellent recovery features, durable, and getting some serious updates: Because overtraining is a common problem for veteran triathletes, it's great to see that the Spartan Sport Ultra HR has some competitive features to help you get enough rest. You can log how you feel after every workout, view the trends, and get advice. The screen, with its incredible 320x300 resolution, is protected by a sapphire crystal material for added durability. The water resistance is good down to 100 meters, so you can exercise in everything from light rain to biblical floods.
The Spartan line has also gotten several updates to both its software and firmware, such as the recent addition of GLONASS satellite support for better GPS accuracy. The battery life is up to 18 hours at "best" GPS accuracy, 26 hours at "good" GPS accuracy, 65 hours at "okay" GPS accuracy, and 15 days in time mode.
The Best Triathlon Watches for First-Timers
Garmin Vívoactive HR: $299.98 (With Chest Strap, Recommended) or $249.99 (Without Chest Strap)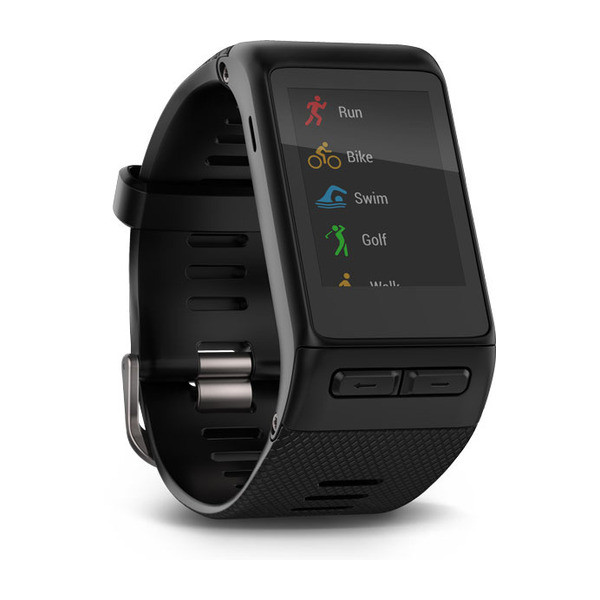 All the basics, plus some advanced features at an affordable price: The Vívoactive HR is a great fit for those cutting their teeth on their first tri. It logs all the key aspects of training, like distances, intervals, pacing, and more — and it includes a few nice features that you don't typically see on a device in this price range. For example, the Vívoactive HR measures your swimming efficiency through your swolf score, can handle open water tracking so you can take training out of the pool, and offers customizable interfaces. All that, combined with some coaching advice from Garmin Connect, provides everything you need plus room to grow. The battery is good for up to eight days running 24/7 heart rate monitoring without GPS, or up to 13 hours in GPS mode.
TomTom Multisport GPS Watch With Chest Strap: $199.99
Simple, affordable, upgradable: There is something comforting about this TomTom's simplicity. The display is big and easy to see, and you can navigate menus with — count 'em — just one button. It can track swimming stats at the pool, but be aware it doesn't have the ability to track in open water. It comes with a bike mount and a convenient charger for your desk, perfect for people who double their work commute as a bike training session. If you also want a speed/cadence sensor and an altimeter, you can purchase the $299.99 accessory kit version, or buy them as an upgrade later if you decide triathlons are officially your thing. The choice is yours. The battery will last for up to eight hours with GPS and heart rate monitoring, or 10 hours with just the GPS.
Investing in the best triathlon watch for you can make a huge difference in your success and enjoyment. But, if you decide that a full-blown smartwatch isn't the right choice for your budget, check out the best budget wearables of 2016.
What qualities do you think make the best triathlon watch? Which watch or brand is the best in your experience? Let us know in the comments below.