Rebecca Paredes September 29th, 2016
No matter which wearable I use, I always run into the same issue: I've yet to find a fitness tracker that comfortably fits under my boxing hand wraps. I love the convenience of wearing a Fitbit Charge HR throughout the day and straight into my workout, but it's thick and bulky enough under my boxing gloves that I feel like I've tied a tourniquet around my wrist.
Fortunately, workout tracker technology can meet a variety of needs. For my purposes, a clip-on wearable makes more sense — that way, I can float like a butterfly and sting like a bee without worrying about smothering a wrist wearable. Whether you're a runner or a powerlifter, you can customize your fitness needs with a variety of workout tracker apps and device styles.
Here are our top picks for workout trackers. Did we miss your favorite? Let us know in the comments below!
Fitlist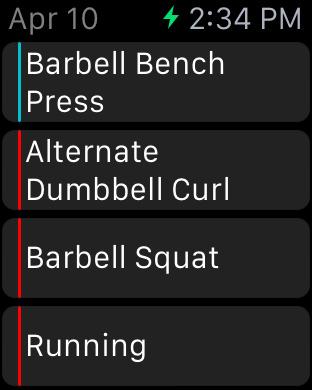 Free, Apple Watch: Fitlist logs each exercise while you work out. It's compatible with a range of exercises, including bodybuilding, circuit training, crossfit, and running. The workout tracker app gets bonus points for its ability to share your workouts with friends, coaches, and trainers — and if Fitbit has proven anything, it's that people love incorporating a social component into their fitness routines.
JEFIT
Free, Android Wear: JEFIT is a simple workout app that allows you to track your workouts and progress, create routines, manage your stats, and sync your data. Access an exercise database to create custom fitness routines, or access over 1,300 free exercises for all of your swole needs. While the mobile app is highly rated, keep in mind that this is the first version of the Android Wear product, so certain functions may be limited.
MapMyFitness
Free, Android Wear, Apple Watch, Pebble: This multi-tasking workout tracker app has a little bit of everything. It's compatible with Fitbit, Adidas miCoach, and a range of Garmin devices, among others. On Pebble watches, working out with MapMyFitness works like this: when you open the MapMyFitness app, Pebble's display will show you distance, time, and split pace. On mobile, you can log and record over 600 activities, including cycling, yoga, and gym workouts.
Nike+ Running
Free, Apple Watch, Garmin, TomTom, and more: Back in 2015, Nike announced that its app would be compatible with a wide range of smartwatches, so odds are high that you can enjoy the Nike running community regardless of your device. But if you want to enjoy on-screen workout tracking, the app is preloaded onto the Apple Watch Nike+, which displays your progress, run reminders, and the ability to connect with friends, among other features.
Google Fit
Free, Android Wear: Google Fit is designed to give you instant insights as you run, walk, and ride. It works with your device to measure your speed, pace, route, elevation, and more, and you can set goals based on your steps, time, and more. As a bonus, it aggregates info from other apps, including MyFitnessPal and Nike+.
What is your favorite workout tracker? Did we miss your favorite? Tell us about it in the comments below!