Logan Strain July 11th, 2016
My wife recently complained that a mobile game she's been playing, Disney Tsum Tsum, was getting to her. It's a fast-paced puzzle game where you have to connect little circles that look like Disney characters (called "tsums") in a race against the clock.
"It's gotten to the point where I see tsums connecting when I close my eyes," she said.
"I have something similar going on from playing Dark Days," I said. "Except when I close my eyes, I see a black, grotesque demon that charges at me."
"Oh," she said. "I like mine better."
Dark Days for the Samsung Gear VR is part of a high-tech revival of a game format that used to be popular on PCs in the 80s and early 90s, but mostly died out with the rise of consoles: the Point and Click adventure. Some of the classics in this genre are The Secret of Monkey Island, King's Quest, and Leisure Suit Larry. These games challenged players to solve puzzles in graphic environments to achieve particular goals.
In Dark Days, produced by Parallel Studio, the goal is to escape a room that you're trapped in.
Dark Days puts you in the first-person perspective of Jade Lacroix, a psychologically troubled writer who hasn't healed from the loss of her partner. You hear her voice describe her story while you look through her eyes via the Gear VR. When she's not describing her anxious thoughts or talking through events in the game, she's usually ready with a snarky quip or self-deprecating remark.
On her way to Las Vegas, she stops at a creepy motel in the middle of Death Valley. From there, you learn — through the intentionally not-totally-coherent plot — about the disappearance of a girl, a government conspiracy, a giant crater, and Jade's inner demons. The developers describe the game's story as "somewhere between Twin Peaks and The X-­Files."
You progress through the five "Episodes" by solving puzzles. Frequently, you're trapped in a small space and need to find an object that will help you get to the next area, like a key. Alternately, you have to look at and remember clues that help you escape. You move from space to space by looking at the floor and "clicking" on an orange arrow that pops up. When there's an item of interest, you can "look" at it to have Jade describe it or its significance to you, or you can pick it up so you can use it.
When it works best, it's massively engrossing. You move around your room like a detective trying to make sense of a crime scene, scanning every surface for a clue or an object you might have missed. The VR enhances the experience, as you literally have to tilt your head up and down in order to thoroughly examine something like the inside of a closet for anything useful. After struggling for minutes, the moment when everything comes together and you realize what you have to do next makes you feel massively clever.
But when it doesn't work, it feels more like a "where are my keys, I know they're around here somewhere" simulator. There were times when I swore that I had examined every square inch of a room, and considered whether every possible object and image was a clue — and still couldn't find the one thing I needed to move past the room. After searching a room for a few more minutes, I finally learned the final part I needed was underneath a box or tucked away somewhere hidden. But I suppose the number of those moments you have will depend on how clever you actually are.
There's an interesting twist to these challenges that make them more tense.
While you're trying to solve these puzzles, you're stalked by a black, twitchy, gangly, bug-eyed, horned creature that makes unnerving hissing sounds. If you catch sight of the monster, that's your cue to run and hide in a closet or under a desk. You have to switch from being a high-minded detective to feeling like a jackrabbit outrunning a hawk. If it catches you, game over.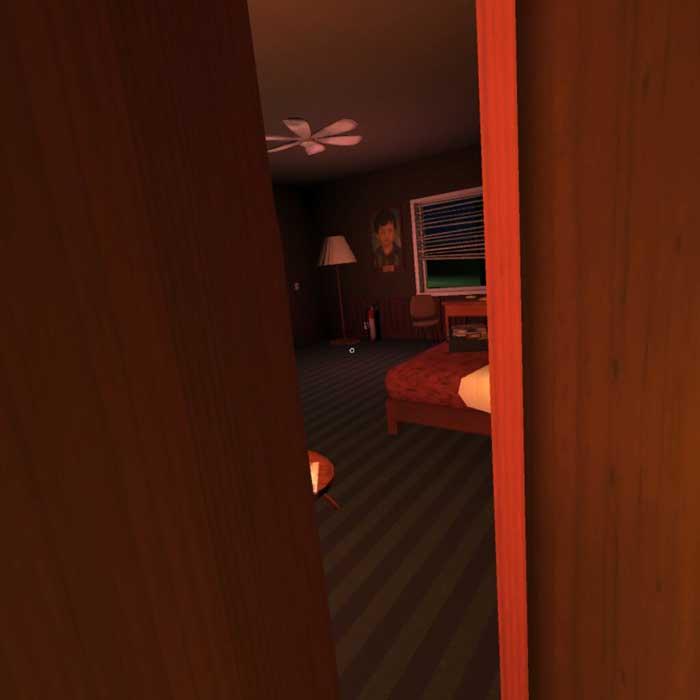 The design of the creature is one of the most impressive parts of the game. It's genuinely uncanny. For most of the game, I dreaded having to look at it. Not just because it meant that I had to run and hide, but also because it's so ugly and weird. Never knowing when it's going to pop up next gives every gaming minute an extra edge.
Parallel Studio obviously took a lot of care in designing the soundtrack. It's subtle and easy to ignore while you're scrounging around for clues or keys, but matches the eerie mood of the environment well. And if you catch sight of the monster, the soundtrack suddenly shrieks and becomes more tense while it hunts you. Just as a score enhances the scenes of a movie, the tone of the music enhances the action in the game's VR environments.
The animations of the other characters are pretty stiff, and their designs are simple. They reminded me of the baby from the 1988 Pixar short film "Tiny Toy." That was impressive for its day, but looks primitive now. But since we're in the pioneering stage of VR gaming, it's easy to give the game some slack on this point. Considering that the game likely pushes my Samsung Galaxy S7's hardware to its limit, the creepy aesthetic of the graphics are well put together — if a little lo-fi.
Dark Days is a fun game in its own right. It combines eerie environments, challenging but not-too-challenging puzzles, and good old-fashioned jump scares that are made even more terrifying by the clever, interactive soundtrack. I enjoyed a few hours of next gen media entertainment for $7.99, so I got my money's worth — especially considering that's less than the price of a movie ticket.
But Dark Day's other virtue, as good as it is, is serving as a baseline for what's possible. As game developers get a better grip on the graphical challenges, narrative possibilities, and interactive experiences of virtual reality, games will only become more immersive. It's a smart download if you want to get a better sense of the directions that mobile-based VR games can go — that is, if you're willing to put up with seeing demons in dark hallways for a day or two after you finish it.