Logan Strain July 8th, 2016
In 1970, author Alvin Toffler published the book Future Shock, which made him famous as a pioneering futurist. He died last week at the age of 87. Future Shock argued that we were living in a time of such rapid technology change, it's literally changing society into something that's barely recognizable from the near past. As a result, we're living through the awkwardness of a culture shock. He defined "future shock" as "the dizzying disorientation brought on by the premature arrival of the future."
Of course, if Toffler thought that change was dizzying in the second half of the 20th century, it's a shame we won't get to hear what he would have thought about the coming technological changes. If previous technologies were a merry-go-round on the dizziness scale, emerging technologies are more like the 20G Centrifuge that NASA uses to train astronauts.
Countless innovations are changing how we live. But in our opinion, these emerging technologies are going to have the biggest impacts on everyday life.
Self-Driving Cars
The first big breakthrough in the the development of the carriage was making the horse unnecessary. The next one will make the driver unnecessary. The coolest thing is that self-driving cars aren't a speculation of futuristic automotive technology. They're real, and they're on the road right now. Tesla vehicles have an "autopilot" mode, which allow drivers to let their their car's cameras, radar, and ultrasonic sensors take the wheel. When autopilot is engaged, Tesla explicitly says that it "requires drivers to remain engaged and aware when Autosteer is enabled. Drivers must keep their hands on the steering wheel."
However, that didn't stop this driver from being caught literally asleep at the wheel.
Testing of self-driving cars is accelerating, so more of us might doze off on way home from work. Earlier this year, a fleet of self-driving trucks successfully drove themselves across Europe before finally arriving in the port city of Rotterdam in the Netherlands. A report from BI Intelligence estimates that 10 million self driving cars will be on the road by 2020.
It probably won't be long before you can call an Uber and the car that arrives won't have anybody in the driver's seat.
Additive Manufacturing
Additive manufacturing is perhaps the closest we'll ever come to making a real life Star Trek-style replicator.
The classic example of additive manufacturing is 3D printing. The basic idea is that you can take something from concept, to 3D computer image, to real object with incredible speed. Custom objects can be created at assembly line speed.
A common technique is sterolithologithy, which creates objects with a laser that hardens a resin.
This process has countless applications, but some of the most promising are in the field of medicine. For example, the nonprofit network Enabling the Future uses 3D printing technology to create low-cost prosthetics. All over the world, people with missing limbs are unable to get custom prosthetics, either because it's too expensive or it's simply not available in their area. But since 3D printed prosthetics are affordable and highly customizable, more people can get prosthetic hands and legs.
Artificial Intelligence
It seems that every year, the number of tasks that "only humans can do" shrinks just a little — even writing. Narrative Science's Quill can analyze data sets and turn them into readable reports and articles.
Since titans of industry are going all in on artificial intelligence, we're going to have to get used to losing ground to the machines. Google is developing a neural network that has a human-like short term memory called DeepMind. It had its first major victory this year when a software program powered by DeepMind beat the world's reigning Go champion.
Late last year, Toyota announced a one billion dollar, five year research project into AI. This year, entrepreneurial polymath Elon Musk announced OpenAI, a project dedicated to developing an open-source and friendly artificial intelligence.
If you want a clearer idea of what the future of artificial intelligence means for humanity, you can't do any better than WaitButWhy's comprehensive posts about the subject.
Virtual Reality
2016 is the year that virtual reality made the switch from promising concept to a real product you can buy at your local electronics store. In the past few months, we saw the release of Facebook's Oculus Rift, as well as Steam's HTC Vive — the two headsets that are leading the charge for affordable, high-end virtual reality experiences.
Anyone who's tried VR knows that the powerful 3D, 360 degree illusion is more immersive than any other media experience. Just watching a short video and playing a free game is enough to get excited about its possibilities. And considering that this is just the first generation of VR hardware, the possibilities are innumerable. According to a report from Greenlight VR, retailers will sell one million mobile VR headsets (excluding cardboard viewers) in 2016. That's predicted to rocket up to 122 million by 2025.
But the potential of VR is much bigger than short 360 videos, games, and other recreational distractions.
For example, the Institute for Creative Technologies (ICT) is using virtual reality to help treat war veterans with Post-Traumatic Stress Disorder (PTSD). Their system, called Bravemind, is being used in over 60 sites, including Veteran's Affairs hospitals. It works by exposing the veterans to the wartime conditions in Iraq and Afghanistan in a safe and simulated environment while being guided by a therapist.
According to ICT, Bravemind "has been shown to produce a meaningful reduction in PTSD symptoms. Additional randomized controlled studies are ongoing."
CRISPR
CRISPR is something out a sci-fi fantasy. It empowers scientists to edit DNA with almost the same ease and precision as editing text on a Google Doc.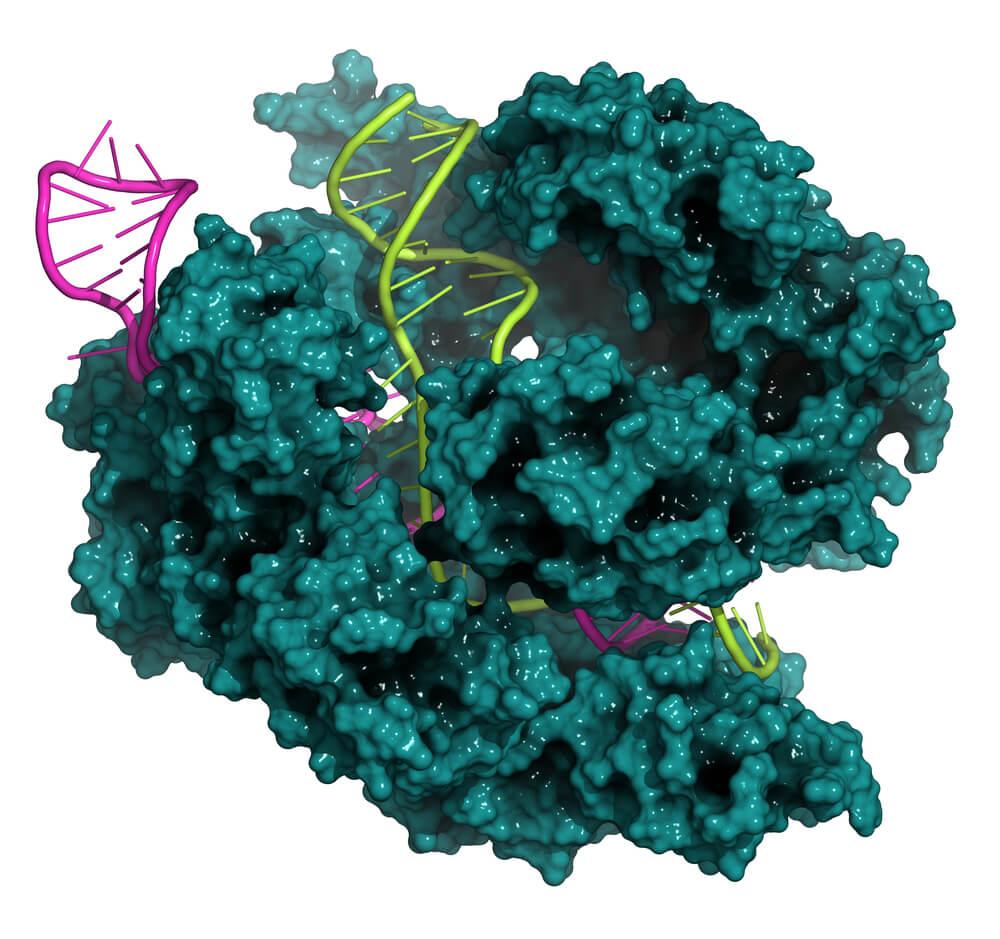 CRISPR (Clustered Regularly Interspaced Short Palindromic Repeats) isn't actually a new discovery. It's a DNA-based defense mechanism used by certain bacteria. It describes when a particular DNA sequence is copied repeatedly, and unique sequences are placed in between the copies. These repeated DNA sequences are actually copied from viruses, and are used by the bacteria to recognize a viral attack. The attacking viruses are destroyed by enzymes called Cas (CRISPR-associated proteins), which can very precisely snip DNA.
More recently, biologists have figured out how to use the CRISPR system to locate a particular DNA sequence in a organism and replace it with a different one. Theoretically, one could use CRISPR to modify any living organism's DNA — and yes, that includes humans. This opens the door to human genetic modification. It might also cure diseases that, currently, people must live with for life. For example, scientists recently used CRISPR to successfully combat the virus that causes herpes, which infects an estimated two thirds of people worldwide.
Thanks to CRISPR, herpes and other viral diseases might join smallpox and polio in the history of long-conquered epidemics.