Rebecca Paredes March 31st, 2017
After three hours of a grueling uphill hike, you reach the summit and stare out at the endless green bounties Mother Nature has laid out before you. The sight is exhilarating — almost as exhilarating as it'll be to lord your crazy-high step count over your friends.
You glance down at your wrist to check your steps and secure your place as supreme Weekend Warrior … but instead of your trusted Fitbit, you see nothing but a naked, suntanned wrist.
You fall to your knees and soulfully cry, "I lost my Fitbit!" If a person takes 20,000 steps and never gets a chance to sync their data to their fitness tracker, did it ever even happen?
Don't let a lost Fitbit ruin your fitness goals. We've rounded up some of the top-rated apps you can use to find your device, come hell or high water. Now you, too, can become Liam Neeson and recreate the plot of Taken, but with a Charge HR.
How Can I Find My Fitbit?
Device Finder For Fitbit, $2.99
iOS: All Fitbits use Bluetooth to sync to your phone or computer. Find your lost Fitbit with Device Finder, which detects Bluetooth signals within 100 feet of your location. After you've installed it on your smartphone, enter a room and wait 10 seconds for the app to detect a signal. Can't find your device? Move to a new room and repeat the process. Note that this app won't be able to find a lost Fitbit Zip.
Bit-Finder Geo, Free
iOS, Android: Bit-Finder uses GPS signals to help you find your device when it's within range, but you should download this app even if you aren't searching for a lost Fitbit. By selecting your device in the app, you can turn on geo-tracking, which will keep tabs on your Fitbit's last known location. You'll even get a notification when your phone loses track of your tracker!
Fitbit App, Free
iOS, Android: This is the lowest-tech method you can use to find your Fitbit, but if you're pressed for time, you can try this option: check your Fitbit app to see the last time your tracker synced. If it recently synced, it may be located within 15 feet of your phone or computer.
Bluetooth Finder, Free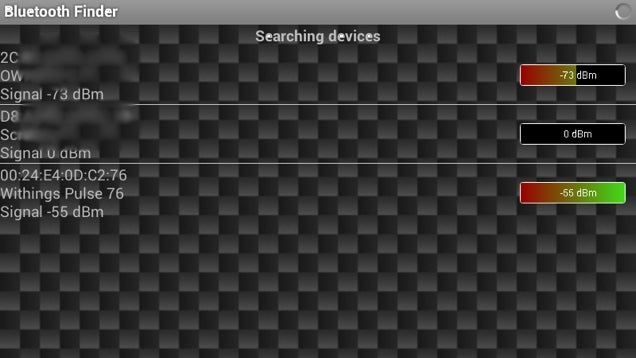 Android: This app isn't specifically for Fitbits — it'll help you find any Bluetooth device in your area. The closer you get to the device, the stronger your signal will be. The signal strength is updated every one to 10 seconds, and you'll be able to view the device's name within the app. So, as long as you're patient, you should be able to locate your device (along with any other Bluetooth-enabled tech in your area).
BTLExplorer, Free
iOS: Like Bluetooth Finder, this app isn't Fitbit-specific. Instead, it lets you see a full list of Bluetooth-enabled tech in your area. But since you can view the device names within the app, finding your lost Fitbit is as easy as following the signal strength readings.
Fitbit Finder, $4.99
iOS: Designed to work with the Fitbit Flex, One, Surge, Charge, Charge HR, and Force models, Fitbit Finder scans for Bluetooth signals within your area. It's designed to help you track down your device by guiding you toward stronger signals. As an added bonus, it offers an audio component to better make you feel like a Fitbit bounty hunter.
LightBlue Explorer - Bluetooth Low Energy, Free
Like other apps on this list, LightBlue Explorer - Bluetooth Low Energy isn't specifically designed to be a Fitbit finder. It simply connects you to all devices in your area that use Bluetooth 4.0. In LightBlue Explorer's central mode, users can scan for surrounding Bluetooth Low Energy devices and potentially find their lost Fitbit. Once you connect to a device, you can view all of the its profiles and characteristics to make sure the app has found your specific Fitbit.
Options Beyond A Fitbit Finder
If none of these apps helped you find your missing tracker, there are still other options. Fitbit has a tremendous support system through its customer service lines and online community. Fitbit's warranty doesn't cover lost or stolen items, but some members of the company's community have resolved their problems just by speaking with representative. Some customers have received discount codes and even replacement devices, depending on the circumstance. The company's customer service number is (877) 623-4997.
Have you used one of these apps to find your Fitbit? Tell us about it in the comments!