Rebecca Paredes June 16th, 2016
There's a certain type of person who would prefer minimalist Fitbit Flex over the full-color screen of the Fitbit Blaze, or even the heart rate tracking capabilities of the Fitbit Charge HR. That person is me — budget-minded, easily distracted me.
The wearable tech industry is exploding with tons of exciting features for fitness trackers that can do everything from improve your golf swing to use GPS to track your children. And while a fitness tracker with the ability to replace your smartphone sounds super cool, the reality is this: after spending time with a Fitbit Charge HR, I'm ready to downgrade.
Specifically, my eyes are set on the Fitbit Flex, the low-hanging fruit of Fitbits. It's simple, minimal, and it does everything a basic fitness tracker should do — with the added benefit of having access to Fitbit's user-friendly app.
Disclaimer: I'm not interested in heart rate tracking and I don't need phone notifications on my tracker, which eliminates the extra features of the Charge HR and Alta. Obviously, if those features are more your style, the Flex is not for you.
But if you just want a fitness tracker that is comfortable enough to wear to bed, can blend into any outfit, and encourages you to move around throughout the day, then the Flex is perfect. Here's why.
Fitbit Flex Is Customizable
The Charge HR is available in six colors, and you can get Fitbit Blaze wristbands in fancy options like leather and steel — but the Flex can fit into an even wider range of wristband styles and designs because you can physically pop out the tracker.
If you're interested in a fitness tracker that doesn't look like a fitness tracker, you can just pick up a ribbon or double leather wristband for your Flex. Alternately, you can treat yourself to something from Tory Burch and feel properly glamorous.
Plus, have you seen the recently announced Fitbit Flex 2? It's even thinner, and it can pop into a wider range of fashion-forward wristbands and necklaces. The Fitbit Flex lights are displayed in a single line along the tracker — no screens required.
There's a lot to be said about a fitness tracker that seamlessly blends in with any outfit. Sure, the heft of a black band wrapped around your wrist isn't a big deal while you're working out, but a fitness tracker that can actually match your outfit without screaming "HELLO, FITBIT HERE" makes wearing the Flex throughout your day far more reasonable.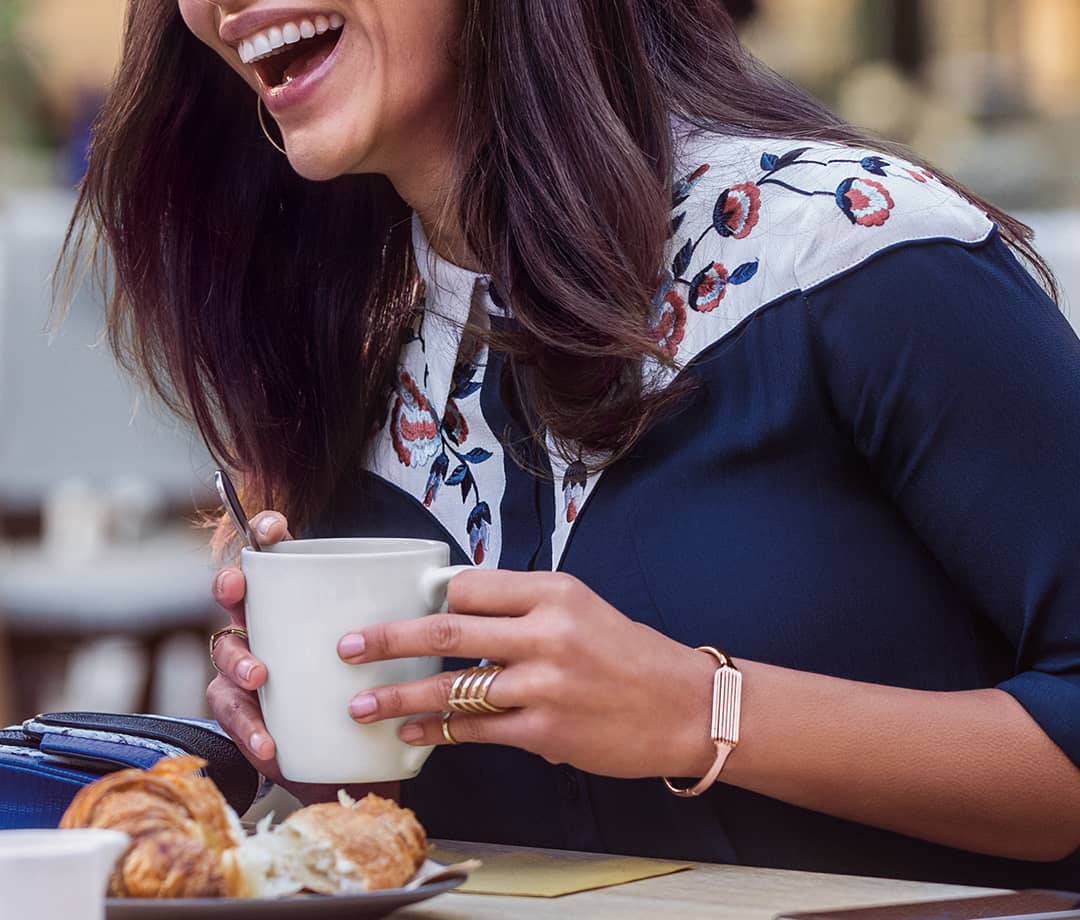 All-day wear is even more possible with the Flex because it's so comparably small. The Fitbit Alta is 0.61" wide, but the Flex is a hair thinner at just 0.6". While both trackers are excellent options, the thinness of the Flex means that it's easier to wear it and forget about it — as opposed to the bulky Fitbit Surge. At a whopping 1.34" wide, it's the equivalent to strapping a calculator to your wrist, which is a big deal if you have baby deer wrists like mine. (Or, you know, you don't want to look like an accountant from 1996.)
Fitbit Flex's Features Are Minimal
I'm all about reducing the amount of notifications I receive and the amount of time I spend looking at a screen, and Fitbit Flex's sliver of a screen is right up my alley. It communicates your health stats in the form of a series of five dots, and you tap on the screen to view how close you are to your goal.
Here's exactly what those lights mean:
Fitbit Flex Lights
Step goals: Each light represents how close you are to hitting your daily step goal. If you want to hit 10,000 daily steps, then one solid light means that you're 20% of the way to meeting your goal.
Sleep: While the Flex automatically tracks the quality of your sleep, you can also put it in manual sleep mode by rapidly tapping the screen. Manual sleep mode will tell you how long it takes you to fall asleep once you view your stats in the Fitbit app.
Silent alarm: Like other Fitbit wristbands, you can set a silent alarm through the app, and your Flex will gently vibrate in the morning. When your alarm goes off, the center light will flash as the device vibrates.
Charging: As your Flex charges, each light will indicate how close it is to a full charge. Five lights mean that it's ready for use.
Updating: If your Fitbit Flex lights are cycling back and forth (and your tracker isn't responding to taps), an update may have failed. Check your Fitbit app for information about updating.
Fitbit Flex Instructions
Your Flex may not have all the wild and crazy features of the Blaze or Surge, but that's okay if you're looking for a simple tracker. Here's what your Flex tracks:
Steps
Distance
Caloric burn
Sleep quality
Number of times awoken
Active minutes
You don't have to do anything to track your sleep or active minutes — due to its three-axial accelerometer, the Flex will automatically detect that you're at rest or actively moving, respectively.
Simply set up your tracker with the Fitbit app (or using Fitbit Connect on your computer), set your goals, and go about your day. Not sure where you're at with your step goals? Tap on your Flex to see your progress. Once you've hit your goal, your Flex will start vibrating, which is Fitbit's version of a happy dance.
Fitbit Flex Is Budget-Friendly
So, this is really my biggest motivation for using the Fitbit Flex. You can find the Charge HR and Alta on sale for around $130, and the Surge is pretty consistently in the $200 range. But the Flex? You can find it for as low as $69 online, which is way more reasonable for a powerful sleep tracker and pedometer.
After all, you can find a pedometer for as low as $5 (or free, if you have an iPhone), so you're really paying for the Flex's sleep tracking features, the app, and the convenience of wearing it on your wrist. If you have to have a Fitbit, the Flex is minimal, powerful, and potentially fashionable.
Looking for something even more inexpensive? Check out our list of budget wearables for 2016. Are you a fan of the Fitbit Flex? Tell us why in the comments.