Logan Strain July 28th, 2016
Do you need to pour three cups of coffee down your throat before you can even open your emails in the morning? Do you have difficulty resisting delicious cookies, even when you pray to see a small number on the scale every time you step on it? Once the afternoon rolls around, are your powers of concentration somewhere between "a toddler" and "a toddler surrounded by strobe lights?"
Your cognitive problems might not signal a prematurely aging brain — they might mean that you just aren't getting enough sleep. However, thanks to Fitbit's sleep tracking feature, you can better understand how much sleep you get every night, and how restful your sleep actually is.
Here's how Fitbit's sleep tracker works, and how you use it to make the most of bedtime.
What Fitbit Sleep Tracking Actually Tracks
The Fitbit sleep tracker logs the time you fell asleep, the time you woke up, the amount of time that you were actually asleep, the amount of time you were "restless," and the amount of that time you were walking around, not actually sleeping like you were supposed to.
Your Fitbit calculates your "Sleep" state by measuring how much time you were actually motionless while lying down. "Restless" measures how often (and how long) you transitioned from being motionless to moving to a different location. You might not even be aware you're making these movements. It's possible you're tired because you're unknowingly tossing and turning through the night. "Awake" means that your Fitbit detects that you're moving more than an unconscious person should.
How Does It Actually Know That You're Asleep?
All wrist-based Fitbit trackers assume that you're asleep if you haven't moved for one hour. It also takes into account minor movements that a person might make while asleep (such as rolling from your side to your back.) If you happen to be stationary for a long period of time (such as during a Netflix binge), you Fitbit tracker might incorrectly record that as a sleeping period. However, you can delete these false positives on your app.
You can also track your sleep with the clip on Fitbit One, but you'll have to do it manually. When you're ready to fall asleep, place it on your wrist and hold the button for a few seconds. It will go into sleep mood and start a stopwatch. When you wake up, hold the button again to turn off sleep mode.
The Difference Between Normal And Sensitive Sleep Settings
You have two settings to choose from: "normal" and "sensitive." In normal mode, only big movements count as being "awake." In sensitive mode, even smaller movements count as being awake. This might be helpful to people who have a sleep disorder and want better movement tracking.
To change your settings in the Fitbit app for iOS or Windows 10, go to Account > Advanced Settings > Sleep Sensitivity.
Viewing The Sleep Data In The Fitbit App
The Fitbit app can help you turn into your own personal sleep scientist. Whenever you sync your Fitbit tracker with your smartphone, it includes your latest sleep data.
Simply press the sleep tile, and you'll see your sleep data for the last few days.
Select a day to get more granular data about the quality and duration of one specific night of shut eye.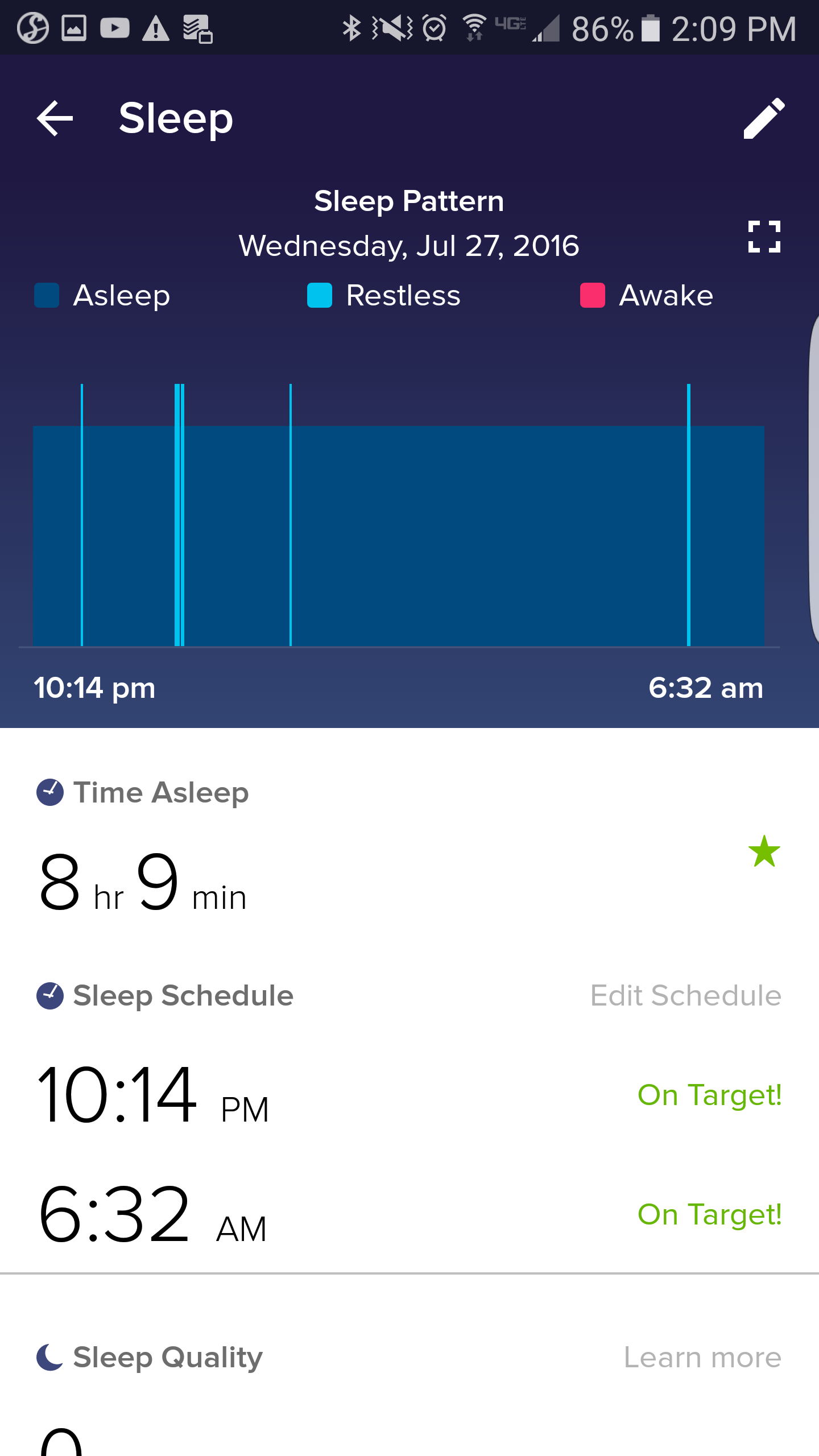 Changing Your Sleep Goal
Looking to encourage yourself to get a little more shut-eye at night? You can set goals for going to sleep and waking up at certain times. You can also set a reminder to help you know when it's time to start winding down.
Logging A Nap
If you have a wrist tracker, naps can be automatically logged as long as the nap lasts longer than an hour. If you only take a 20 minute power nap, then you have to log it manually.
Setting An Alarm
When it's worn on your wrist, your Fitbit tracker can help you wake up in the morning — without an audible alarm. When you set your alarm, the Fitbit vibrates at the given time to gently wake you up.
The Fitbit Sleep Tracking Lawsuit
You might have heard about the ongoing lawsuit regarding the Fitbit sleep tracking.
The lawsuit, which was first filed in May of 2015, alleges that the sleep function "does not perform as advertised." Interestingly, in June of 2016, Fitbit expanded its sleep features with the help of sleep scientists from Stanford, Johns Hopkins, and the University of Arizona. It's not known how long Fitbit had been planning these new features, but it's possible they worked with sleep scientists in order to reestablish their credibility.
In July of 2016, a judge ruled that the case can go forward in response to Fitbit's attempt to have it thrown out. That doesn't mean that the case necessarily has any merit, only that Fitbit must defend its sleep feature in court.