Conor Hockett January 6th, 2017
Voice control systems like Amazon Alexa and Google Home have been one of the hottest topics at CES 2017, but this technology often overshadows another useful form of device interaction — gesture control.
Gesture control provides many of the same functions as voice control, and one wearable in particular wants to capitalize on the power of simple movements.
The Hug smartwatch lets users control connected gadgets like VR headsets, smartphones, drones, and more with hand gestures. Shoot zombies in 3D space, change the song on your Samsung, dim the lights in your bedroom — it doesn't matter. With its contextual intelligence, the device instinctively understands what the user wants to get done.
"We want people to experience a smartwatch in a completely new way," said Raj Neravati, Hug's founder and CEO.
Xbox Kinect and Wii offer gesture control within the gaming world, but Neravati said capabilities are limited by the sensors and cameras within each system. Hug can recognize everything you want to do through your hand movement.
For all the hand talkers and fidgeters out there, don't worry. Users must extend their arm into a neutral, 90-degree position in front of their body before gesture control activates. This feature also only comes into play when Hug syncs with another device, and it only pairs with one device at a time to prevent multiple results from the same movement.
"We had to go haptic because we don't want you to have normal hand movements get in the way of the device," Neravati said.
Gesture control might be the most intriguing aspect of the Hug, but personal safety was actually Neravati's inspiration for the device.
Because assailants often take your phone first — or prevent you from getting to it altogether — Hug offers a multi-faceted safety solution that's enabled through the watch. Here's how it works:
When you feel threatened, users can either push the side button or discreetly shake their wrist to request help
Once you signal, a list of pre-designated friends and family receive an email, SOS message, and your GPS location in real time
If friends and family aren't close by, the device also sends a notification to the nearest member of the Hug family
The nearest cops and hospitals are also available on a map of your location, which is available to anyone who responds to your SOS
"All of this happens in under 30 seconds," Neravati said.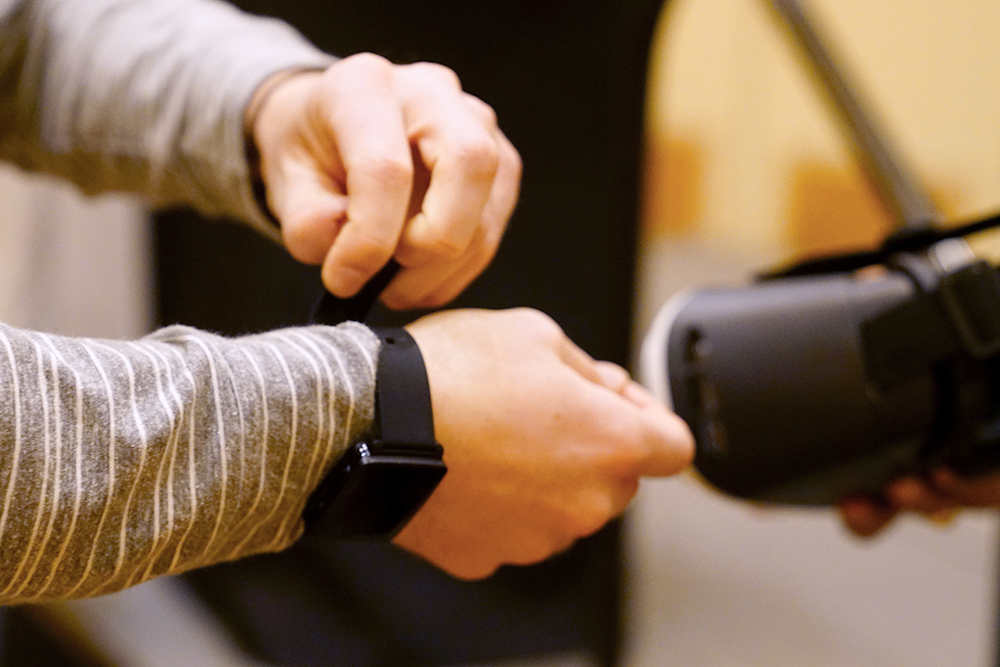 Beyond its unique features, Hug also includes common smartwatch functionality, such as an optical heart rate sensor, activity tracking, music controls, smartphone notifications, and more. In terms of specs, Neravati also said the watch has a 1.46-inch display, weighs 46 grams, has a battery life of up to three days, and is compatible with both Android and iOS devices.
Hug will launch on Valentine's Day at a price of $99.