Amica Graber May 4th, 2016
Yuval Noah Harari, a professor at the Hebrew University of Jerusalem, has a stark imagining of the future. Professor Harari told The Telegraph that humans will transform themselves into gods within 200 years by integrating our biological bodies with machines.
"It will be the greatest evolution in biology since the appearance of life," Harari says. "Nothing really has changed in four billion years biologically speaking. But we will be as different from today's humans as chimps are now from us."
Will it really take 200 years to become Terminator-like entities? Maybe not. The term "cyborg" was coined in 1960 by scientists Manfred Clynes and Nathan Kline. Unlike a robot or android, a cyborg is made out of biological and nonbiological matter, i.e. bionic limbs, a robotic eye, etc.
Although we don't have any demigods flying over skyscrapers, cyborgs do exist. Here are some amazing examples of those who have already hacked their bodies with machines.
Kevin Warwick
In 1998, professor of Cybernetics Kevin Warwick became one of the first cyborgs after having a radio frequency ID implanted in his arm. The implant enables him to turn off lights by clapping, and can even be controlled by his wife's brainwaves.
Neil Harbisson
Neil Harbisson was born completely colorblind. In 2004, he found a doctor who was willing to attach an antenna to his skull, which would allow him to listen to color through bone vibrations. Harbisson says he has developed the ability to hear color, and it's enabled him to experience the world in a completely new way. As the antenna is permanently attached to his skull, he had to battle the UK Passport Service to allow him to have the antenna in his passport photo. He won the case, and became the first "legal" cyborg. He works as an artist, creating sonochromatic portraits of sounds.
Jesse Sullivan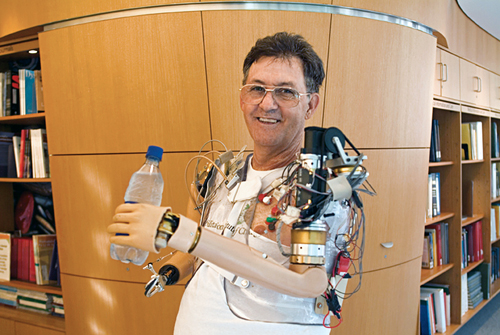 Jesse Sullivan lost both of his arms after being electrocuted. He became one of the first recipients of bionic prostheses, which can be controlled by his brain.
Moon Ribas
Moon Ribas is a dancer who had an implant installed in her elbow. The implant vibrates every time there's an earthquake. She describes it as a second heartbeat.
Jerry Jalava

This Finnish computer programmer has a prosthetic finger which doubles as a flash drive.
It's pretty crazy how we can augment our bodies with technology, and we haven't even begun to test the limits of cybernetics. Will we eventually become robots? Or will singularity knock us out of the running before we become one with the machines? Tell us about it in the comments!