Conor Hockett January 7th, 2017
Due to the growing popularity of voice-enabled systems like Amazon Echo and Google Home, hearables are in high demand at CES 2017. One device in particular stands out for its versatility within the health and fitness marketplace.
Kuai's multi-sport headphones combine many of the best features of both fitness trackers and smartwatches into, essentially, a standalone device.
Many fitness wearables rely on digital screens and corresponding apps for feedback, but Kuai's earpieces deliver stats and smart voice coaching audibly throughout your workout.
"When you're doing extreme exercises, having to carry a phone is very inconvenient — even at the gym, it's very inconvenient to need a phone," said Carlos Marco Rider, CEO of Kuai. "So for us, the best thing was to have everything [you need] on one device."
The Kuai headphones function through a simple a set of controls in which you push a button, go through menus, and then select the specific feature that you want. Marco Rider said the company looked into using voice controls, but when you're out of breath or swimming, it's harder to communicate through voice.
"Other devices have buttons in very awkward positions where it's very difficult to operate when you're moving," he said. "We use two joysticks — one controls the sport settings, the other controls the music settings. It's extremely easy to use [this method] when you're underwater, running, and during other exercises."
For those who prefer visual representation of their workout progress, Kuai does offer several options. Using BLE and ANT+ technology, the headphones can provide feedback through a smartphone, smartwatch, bike computer, and treadmill screen.
The earphones store this data until they're connected to a computer through a micro-USB. From there, the information syncs to the cloud, where it's accessible through Kuai's app.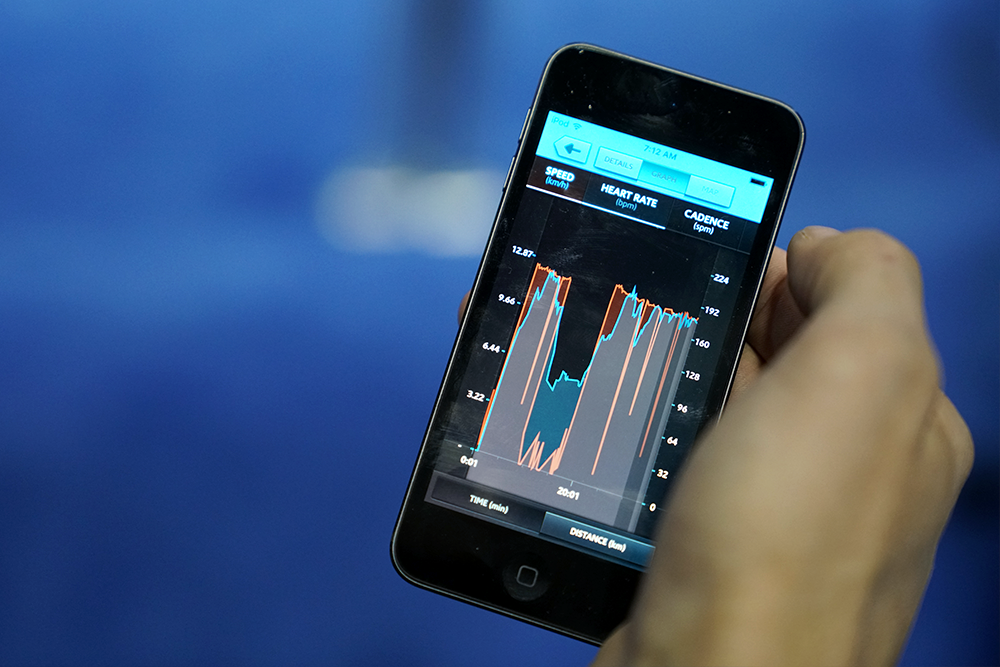 Through the app, users can also designate what metrics they want audio updates on during their workout, download exercise programs, choose the intensity level, and configure other personalized data like heart rate zones.
"You can set up parameters through triggers like voice alerts," Marco Rider said. "Things like, I want my heart rate to be between here and here, my speed to not go below this amount. So every time you go above or below those parameters, the device will actually tell you that you're not doing the exercise correctly."
To supplement all the features, these in-ear headphones have a battery life of up to seven hours, 8GB of memory, and are waterproof down to three meters (just under 10 feet).
Marco Rider said mass production of the device starts next month, and the company expects to go to market in March. The earphones will start at $159 for the sweatproof version, while the waterproof version will sell for $199.