Conor Hockett April 27th, 2017
Travis is a language translator device at its core, but throughout our conversation, co-founder and CEO Lennart van der Ziel made one thing clear — the product encourages "conversation across languages," not "merely translation."
This might seem like a small distinction to some, but to van der Ziel, it's what separates Travis from other translators. To truly remove language barriers between people and have them interact, van der Ziel and his co-founder, Nick Yap, understand the need for a stronger human connection.
Understanding someone certainly plays a part in forming that connection, but communication happens with more than just words. That's why Travis is designed to be held naturally in your hands or to be placed on the table. This placement allows users to have a normal interactions with others, complete with hand gestures, eye contact, and other nonverbal cues.
After one press, Travis starts listening to your conversation and responding to your commands. Its voice interface certainly holds an advantage over the ili wearable translator, but how does its language software stack up?
Travis supports translation in up to 80 languages, depending on the mode. Ili currently supports three: English, Japanese, and Chinese.
"We've seen others make an assumption that translating between English and a few foreign languages is enough — it's not," van der Ziel said. "The world has 7,500 languages, with more than 20 major ones where English is the [third most-spoken language in that country]."
A Language Translator Device You Can Use Anywhere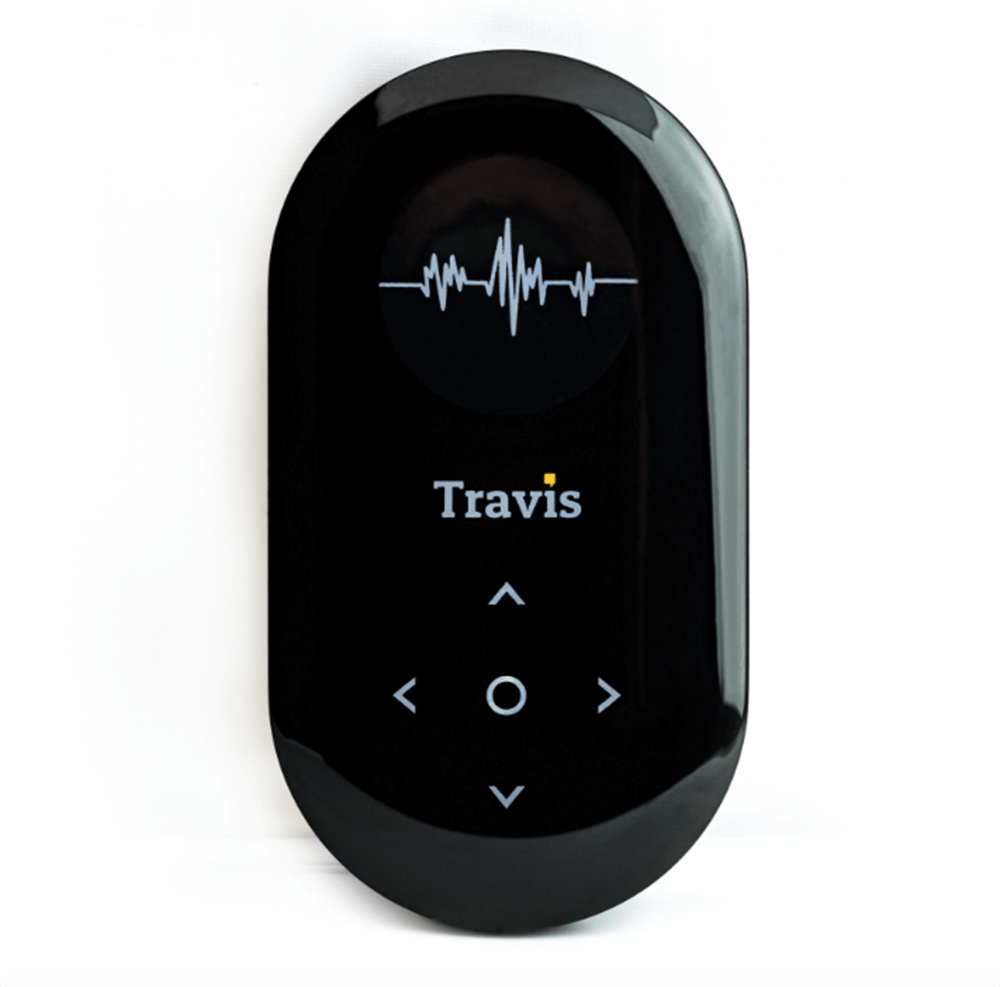 Travis has an online and offline mode, which produce translations differently. When there's a WiFi or 4G connection, the device pulls translations from various online engines, analyzes them, and then delivers the best one. In offline mode, Travis references its onboard translation library.
The device supports 80 languages in its online mode and 20 in its offline mode. Regardless of which mode you're in, van der Ziel said Travis' translation process takes around two seconds to complete.
To supplement its translation software, the device also has a dual, noise-canceling microphone, built-in speakers, an audio jack, Bluetooth compatibility, and 12-hour battery life.
These features help Travis pick up conversations, but there are other tools in the pipeline that will refine its translation methods.
As part of Travis' Indiegogo campaign, van der Ziel said the team is crowdsourcing data — such as street language, informal lingo, and professional jargon — from early adopters to help the device pick up on speech patterns. All of this data will feed into the machine learning algorithm and AI, which will improve Travis' accuracy over time.
As of now, a user sets two languages within the settings — their native tongue and another language they want translations from. Users can also program Travis to detect when they land in a new country via GPS, and the device will automatically ask to update their language settings. As cool as that feature is, van der Ziel hinted that changing the settings might not even be necessary down the road.
"In the future, there's a possibility that all languages will be automatically detected, removing the need to set languages," he said. "We are always [trying to simplify our] user interface to maximize user experience."
Early adopters can buy Travis the Translator for $149 through Indiegogo. It has an estimated shipping date of September 2017.