Amica Graber April 26th, 2017
In a world of wearables and VR, cyborgs don't seem that far fetched — especially considering that they already exist. Although most are quick to think of Arnie's lone red eye, twinkling ominously from behind a steel cheekbone, the reality is far more humdrum than you might expect.
"Cyborgs" have been around since 1960, when Manfred E. Clynes and Nathan S. Kline jotted down the term in an edition of Astronautics. While they banded around big words like "exogenous components," "cyborg" really meant anybody who meshed their body with technology, including amputees with prosthetics.
Recently, the word has been adopted by a ramshackle band of body modification enthusiasts, technophiles, and a smattering of college professors who have been using their own bodies as the beta phase for new inventions.
Magnetic fingers, flash drive fingertips, LED lights, and a variety of modified computer chips have all been making the rounds in the cyborg community. Devotees often perform DIY surgeries with vegetable peelers and sewing kits to bring their ideas to life. Medical ethics committees have been unsurprisingly reticent when it comes to green lighting experimental procedures. Undeterred and unanesthetized, the cyborg community has found allies among tattoo artists and piercers, who already have experience tinkering with the human body.
The cyborg movement is still new, and it's growing. WearableZone spoke with one prominent early adopter to find out what the future of cyborgism looks like.
Feeling Tremors From The Earth
Spanish artist Moon Ribas had no interest in technology up until her college years. While studying at Dartington College of Arts in the UK, a choreographer's curiosity prompted her to experiment with wearables. At first, she donned a pair of kaleidoscopic spectacles to warp her perception of shape and movement. Then came a gauntlet-style glove that could measure the speed of everything around her.
But it was a cybernetic implant in Ribas's arm that would become her pièce de résistance and the future focal point of her work. The implant allows Ribas to feel every earthquake in the world by vibrating when it detects seismic shifts on the Earth's surface — which, as you might imagine, is rather frequently.
"It's almost constant," she tells me over our Skype interview. "Every 10 minutes. Sometimes less. Sometimes 20, but it's always there."
Ribas cofounded the Cyborg Foundation with the world's first officially recognized cyborg, Neil Harbisson, in 2010. Now they've started a collective in London called Cyborg Nest and will start to sell cybernetic implants that will allow you to choose an additional sense. But you can leave your neon dreads and platforms at home, this cyborg movement is all about getting closer to nature.
Moon Ribas presenting at TED
"We've always promoted that everyone can develop their own sense, and how they want to perceive," Ribas says. "We're going to offer the senses, and people will be able to implant it. The first sense we're creating is the sense of north. It will vibrate every time you face north, so in time you'll have a sense of orientation like some animals, like sharks and birds have."
In keeping with the natural theme, Moon Ribas recently went to the Garrotxa Volcanic Zone Natural Park in Spain to perform a dance in celebration of Earth Day upon an extinct volcano.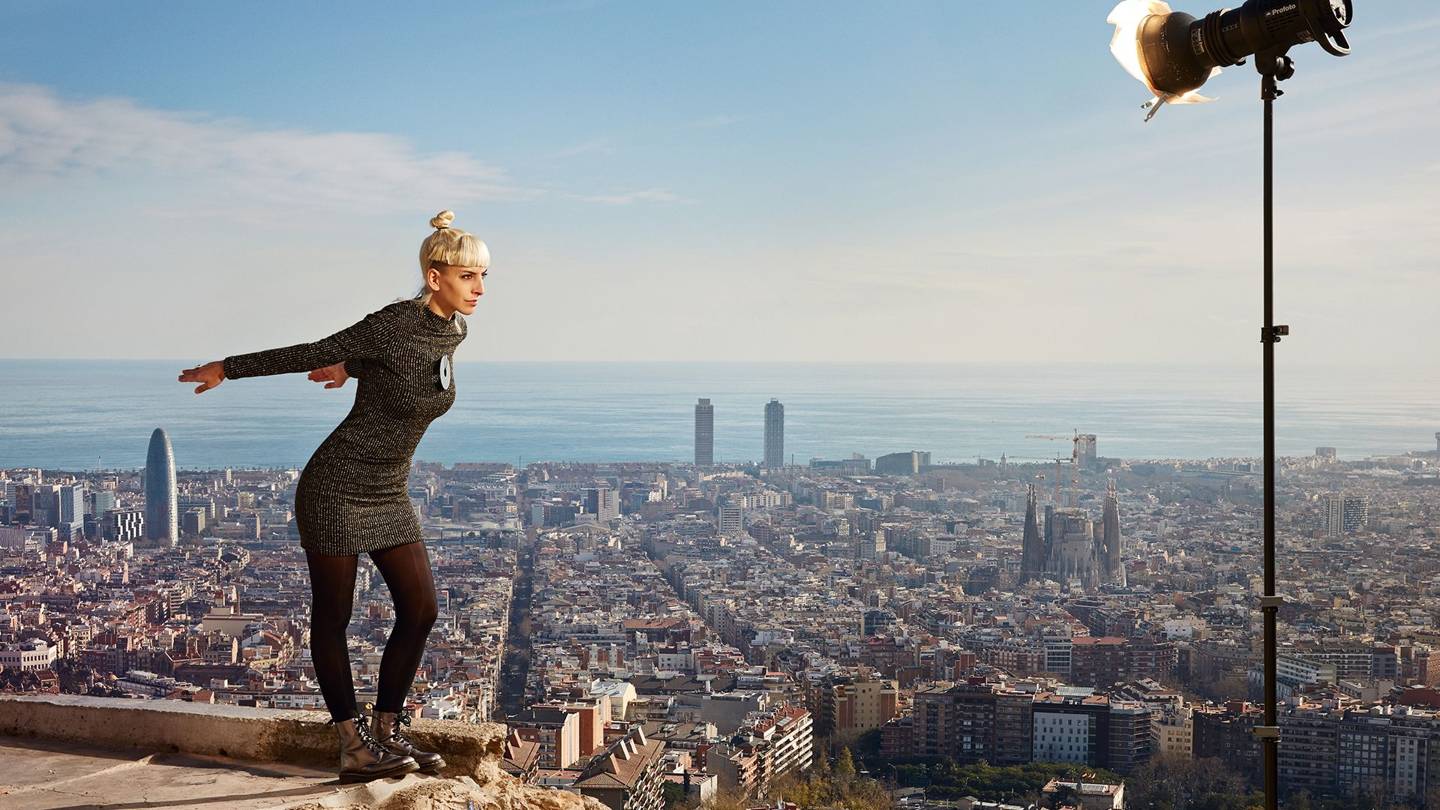 Becoming a cyborg could bring us closer to the natural world — but what does it mean to be part machine? Ribas and I discussed cyborgism, the human experience, and the upcoming launch of her implant, North Sense.
First of all, I'd like to talk about your cybernetic implant and how that works.
It's connected to online seismographs, so a data server where all the seismographs go. Every time there's a new earthquake, I get a vibration in my arm. Depending on the intensity of the earthquake, the vibration is stronger or lower.
But now my current project is to move the vibrations into my feet. It feels more natural. So I want to add not only when, but where. I would like to divide the feet into zones, so I'll know if there's an earthquake in Australia or America. Depending on the vibration, I'll feel in the zone in my feet — the zone in the planet.
© Will Clapson
When most people hear the term "cybernetic implant," they think about the human experience integrating with machines, whereas you've taken the concept and used it to have a deeper connection with the natural world. Was that a conscious decision or something that came about organically?
It came organically. I've never been interested in technology. When I was a teenager, I never played video games, or cared about phones. I was never interested in that. I found it a struggle at the beginning of how to mix technology and art. Technology felt distant, and cold. But when I started mixing cybernetics with the human itself, that's when I found it more natural.
Now that I'm a cyborg, I don't feel closer to machines. I actually feel closer to Earth, and to nature and animals. I can feel my planet everyday, and I relate to animals because they can also feel this natural phenomena intensely. I think if we extended our senses to understand our planet better, then maybe our behaviour [towards it] would also change.
In a previous interview, you mentioned that bone conduction is already being used by cetaceans to communicate with each other, and Google is working to bring bone conduction to the mass market with Project Aura. Do you think in the next twenty years humans will grow closer to nature as we learn these new senses?
I hope so. I think it can create empathy towards nature and animals ... Some things that we believe are science fiction already exist in nature. I think we can get inspired by all the species that already live in this planet and how they perceive it. Some animals can perceive ultraviolet. Immortality already exists in nature because there's a jellyfish that never dies. Animals can do amazing things. If we could apply just a tiny bit of how they perceive the planet to ourselves, our perception would change a lot.
To live with this permanently must be challenging. Is that part of the process? Is the idea of pushing your body's physical capabilities part of it, or is that secondary?
It's definitely secondary. It's always about the mind and perception. In order to do that, I have to put something in my body. I never think about the physicality. Maybe I should think about it! I always start with "I want to perceive this!"
At the beginning, it was just wrapped [around my arm] and then it evolved. I think a lot about the sense, but not the organ itself! Now that I'm moving it to my feet, I have to think more about how it will work with my body. But I think this is always a consequence. First you have to think about the mind, and the senses — and the body comes after. I see it as my expression.
You founded the Cyborg Foundation in 2010, and one of the main issues was the idea of cyborg rights, especially when technology moves faster than the law. Tell me a bit about that.
I think cyborg rights need to protect the freedom of designing our own bodies and our own minds. We don't need to be the same body that we are born with. We can evolve during our lifetime. We don't have to wait for natural evolution. That's exciting, and I think the laws have to be suitable for these desires.
We had to fight more when Neil [Harbisson] wanted to implant his antenna, and the medical ethical committee said no, and they said no for the same reasons some years ago they said no to transgender people. It always takes time. People need to adapt to it. There's computers that can operate themselves. There are self-driving cars. These technologies are in our lives, but we don't know how to deal with them.
Do you think your implant could be developed to alert people of earthquakes in their area? Are there any signs ahead of time that they're about to occur?
Earthquakes are unpredictable. We haven't learned to live with this because earthquakes have always been in our planet — they're a natural element. We have to learn to live with it. It's not predictable.
But I know that elephants can perceive infrasound through their legs. So they can feel a bit before the earthquake comes. In Thailand, there were no elephants hurt because they already predicted [the tsunami] some seconds before and ran away. A few seconds — but it could save a lot of people. Perhaps infrasound could help. But then you have to be in the zone, so it's complicated.
So what are your plans for your next project? Are you going to move away from earthquakes?
Yes. I want to go to space with my sensors! I want to perceive the seismic activity on the moon. The earthquakes on the moon are less frequent, but last longer. I want to perceive the moon quakes. It will allow me to be here and in space at the same time. We can use our senses to enter space and become sense-tronauts.
What emerging technologies are you most excited about?
3D printers, and when we are able to print living organisms and DNA. Central Saint Martins in London is already offering a Masters in new materials. Also the idea that our devices could be recharged from our own bodies; all of this will change the practical application of cybernetics.
Are you looking forward to when a doctor can install an implant for you and it's a bit easier than what you have to do now?
It's not that painful. It's like a piercing. When it's under the skin, it's not a big deal. It's very fast. With Neil, it was complicated because it was inside the bone and he needed the doctor. But under the skin, it's not a big deal.
And when are you releasing North Sense?
People can pre-order it, and in autumn, people will be able to have it.
Ideally, how many senses would you offer? Which ones would you like to release first?
I always like senses related to natural elements or something that doesn't come from people. It helps you understand the planet in deeper way. As an artist, my path is about movement, and how I can use movement in a deeper way. For me personally, it's all related to movement. The North Sense is really nice. Then something about the air. And space. It fulfills me, also.
Header Source © Lars Norgaard
#MESACYBORG from Vitor Freire on Vimeo.