Logan Strain April 25th, 2017
The past year has seen the rise of the fitness smartwatch. Unlike fitness trackers, these devices are full-fledged smartwatches that use a diverse range of apps to help you live your life outside of the track. They're designed with a fitness focus, so you can get comprehensive data about your workout sessions.
We're going to take a look at two major players: the New Balance RunIQ and the Apple Watch Series 2 Nike+. Here's how these two powerful, high-priced smartwatches stack up.
New Balance RunIQ vs. Apple Watch Nike+: Design
The New Balance RunIQ more closely resembles a classic smartwatch: it's round, minimalistic, and features three buttons on one side.
On the other hand, the Apple Watch Nike+ is more futuristic. It's rectangular and features one side button and a twisting knob that helps you navigate the watch's features.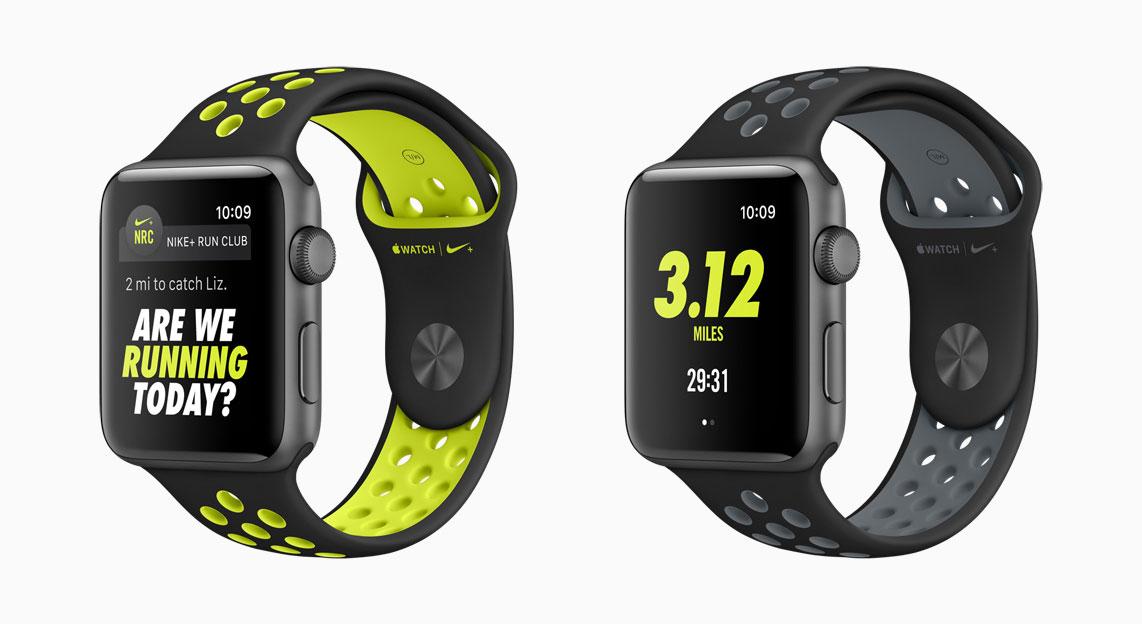 The RunIQ comes with a simple black perforated silicone band, while the Nike+ edition of the Apple Watch comes with a more attention-grabbing neon yellow and black perforated band.
Both watches are touchscreen displays. However, the Apple Watch has a sophisticated 3D Touch feature, which can detect two different degrees of pressure.
To the naked eye, the display on both smartwatches is very bright and clear. Technically, however, the New Balance RunIQ has a better resolution. It displays 400 x 400 pixels on its AMOLED display, compared to the Apple Watch's 390 x 312 display.
New Balance RunIQ vs. Apple Watch Nike+: Features
Both smartwatches give you access to a wide range of apps. The Apple Watch Series 2 runs on WatchOS 3 and the RunIQ was recently upgraded to Android Wear 2.0.
The RunIQ's core feature is an app that gives you four tracking views when you go on a run: the main dashboard displays your distance and time, a heart rate monitor tracks your heart rate range, a cadence view tracks your steps per minute, and a tracking view displays your lap speed. You can also access your music by pulling down a tab. If you want to leave your phone at home during your runs, you can store your music on the watch itself.
The Nike+ gives you two exclusive Nike-themed watch faces that include a complication that directly launches the Nike+ Run Club app. The app, which comes pre-installed, allow you to track your runs, see your running history, and connect with friends who also use the app.
New Balance RunIQ vs. Apple Watch Nike+: Battery And Price
For general use, the Apple Watch has a battery life of 18 hours, while the RunIQ lasts a bit longer at 24 hours. In either case, you should expect to have to charge them every day if you want to wear them daily.
Interestingly, the Apple Watch handles workouts better than the RunIQ. While working out, the Apple Watch can last up to eight hours, while the RunIQ only lasts five. That's barely longer than an average marathon time.
The Apple Watch Series 2 Nike + will set you back either $369.99 and $399.99, depending on the size you get. The RunIQ retails for $299.99.
New Balance RunIQ vs. Apple Watch Nike+: Bottom Line
If you want a top of the line smartwatch that also provides you with some nice fitness-focused features, then the Apple Watch Series 2 Nike+ is the way to go. But if the price is too steep, or you just prefer an Android Wear watch, then there are far better options out there than the New Balance RunIQ. You might pick up the the Polar M600 or the Moto 360 Sport instead — they don't have the RunIQ dashboard, but that alone isn't worth the New Balance RunIQ's $299.99 price tag.