Rebecca Paredes December 15th, 2016
At the Virtual Reality Summit in San Diego on Thursday, Dr. Sung-Hoon Hong, Vice President of Samsung Electronics, revealed details about two new virtual reality head-mounted displays. One VR headset, the Samsung Gear VR 2, "will be presented in a short time" — and the other will build upon technology from Magic Leap and Microsoft's HoloLens.
"Samsung is building two VR engines," Sung-Hoon said. "We have enhanced the rendering engine," and Gear VR 3 could be ready in the near future.
Details were sparse about the new Gear VR 2, but Sung-Hoon heavily discussed Samsung's move into augmented reality. "AR has much better business development for Samsung. That's what we are aiming for," he said.
Improving Upon HoloLens And Magic Leap
Sung-Hoon reflected on the recent news that Magic Leap had lost top executives and was way behind its vision of augmented reality technology — but all is not lost. Samsung's own AR glasses will build upon lessons from prototypes by Microsoft HoloLens and Magic Leap.
There are four levels of augmented reality technology, Sung-Hoon explained. Samsung is aiming for level three: technology that allows users to interact with virtual experiences in the real world. It's like playing Pokemon Go and finding Pikachu in a tree — but you're able to move the leaves of the tree aside to reach Pikachu, Sung-Hoon explained.
"My team is developing a light field engine," Sung-Hoon said, which could be used with Samsung's holograph technology. "Samsung's hologram technology is really, really realistic. It looks really touchable."
Samsung is emphasizing collaboration as the technology is developed. The company observed prototypes from Magic Leap and HoloLens, and Samsung is considering a collaboration with Magic Leap. "There is a possibility to partner there," he said.
Making The Move Into Augmented Reality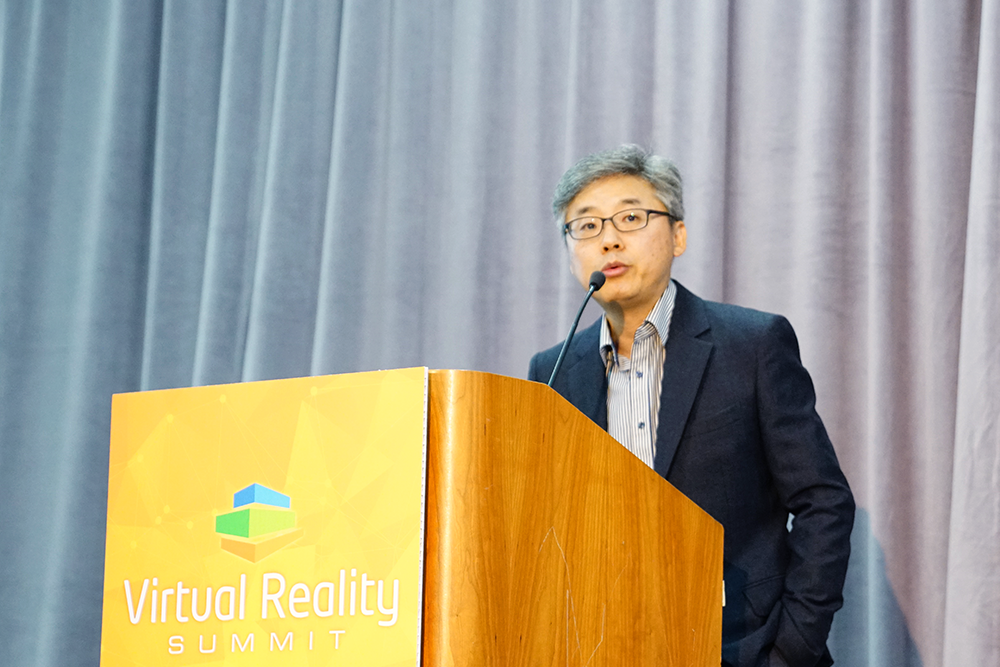 For Samsung, developing its own, more successful version of Google Glass makes sense. The company is heavily developing the artificial intelligence (AI) in its smartphones, envisioning personal assistants that can seamlessly (and virtually) help us navigate the world around us. Think Siri, but on steroids.
Sung-Hoon shared an example: he wanted to buy a gift for his wife. With the artificial intelligence Samsung seeks to build, he will open his phone, talk to its AI, and have the technology open his apps and select gift options available nearby — without ever using his phone's data.
It's a wild vision — and it becomes even wilder with augmented reality. In a world with properly implemented AR, Sung-Hoon could interact with AI, select an item, and purchase a gift directly through his head-mounted display. Sung-Hoon said that he expects Samsung to unveil the technology at the 2017 Mobile World Congress in Barcelona, Spain.
While details about Samsung's upcoming AR and VR headsets are still bare, Sung-Hoon reiterated one point during his keynote address: Samsung wants to speak to people, startups, and established companies who are making big moves in augmented and virtual reality technology.
"We really want your help," he said. "If there are any good ideas to make AR glasses, we want to talk to you."
According to Sung-Hoon, Samsung is going to change — but "this is the time to be changed."