Rebecca Paredes October 27th, 2016
For nearly 40 years, China has strictly adhered to a one-child policy. But this year, the law was relaxed: as of January 2016, parents can now have two children, a move that seeks to deal with the country's aging population. Journalist Mei Fong summarized the decision by stating that China has "too many men, too many old people, and too few young people."
This has resulted in one clear side effect: as Sara Naab, Director of Marketing at Track Fertility, stated at the Wearable Technology Show on Oct. 4, "There's a big flood into the industry of people who want to have that second baby."
The pregnancy app industry and wearable technology are poised to solve an overwhelming series of problems for parents across the globe. Consider India, where Naab stated the low sperm count is almost at an epidemic level. "We have a ton of users on our sites — Indian guys — asking questions about their sperm," she said.
For both men and women, reproductive technology could make it simpler and safer to conceive. Here's what four innovative reproductive technology companies are developing for future parents.
Best Pregnancy App And Wearable Tech Options
Bloomlife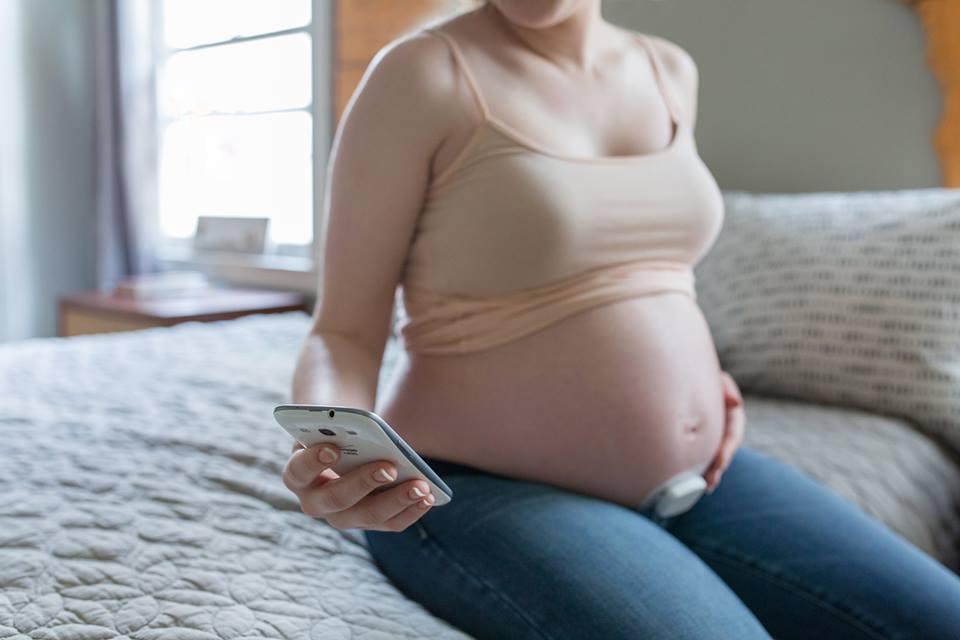 For expectant mothers, Bloomlife makes it easy to understand contractions. It's a rechargeable sensor that snaps into a small adhesive patch. It lasts up to seven days on a single charge. Mothers can stick the sensor below their belly button and wear it during the day or night, and their data is recorded in the Bloomlife app. Parents are able to view each contraction as it occurs, and Bloomlife automatically calculates the frequency, count, duration, and time between contractions.
CEO Eric Dy stated that pregnancy is "nine months of teachable moments." The system costs $29 per week, and after the baby arrives, parents can return Bloomlife in the same box in which it arrived.
Hatch Baby
Ann Crady Weiss recognized the need for Hatch Baby when she was worried about her newborn's weight gain. "I couldn't tell how much breast milk she was getting, and I was worried about whether I was producing enough," she says on Hatch Baby's site. Her product was born after realizing that she could solve her problem with "technology and smart design."
Hatch Baby is a smart changing pad that is designed to help new parents track their baby's growth, feedings, diapers, and sleep directly through their smartphones. The app gathers historical data so parents can see their baby's growth week over week, and it even tracks diaper changes to share with pediatricians. Hatch Baby is available in four colors for $249.
Ava
Ava is a fertility tracking bracelet that's intended for one purpose: it identifies an average of five fertile days per cycle, which can "double your chances to conceive every month." CEO Lea von Bidder said, "A big chunk of our customer base isn't even women who want to get pregnant, but rather just women who want to better understand their body and their cycle."
When a woman wears Ava at night, the device tracks their resting pulse rate, skin temperature, heart rate variability, sleep, breathing rate, and movement, among other measurements. In a year-long study at the University Hospital of Zurich, Ava identified an average of 5.3 fertile days per cycle with 89% accuracy. Ava lasts 12 hours on a single charge, and it costs $199.
Trak Fertility
At the Wearable Technology Show, Trak Fertility was the only device that was designed specifically for men. "Men are often not given a full evaluation to understand why they have a low count or what they can do about it," Naab said. "There's often not a lot of doctors who are trained in understanding male reproduction."
Trak Fertility is an FDA-cleared device that helps men understand their sperm counts. After loading in a few drops of sample, the Trak Engine spins to isolate and quantify sperm cells like a lab-grade centrifuge. Trak reports that men with sperm concentrations 55M/mL or below may take longer to conceive, and men with sperm concentrations at 15M/mL or below should consult a physician.
Trak works with an app to evaluate fertility risks and provide personalized tips to improve sperm health over time. While the Trak system costs $199.99, the app is free for users who want to learn more about improving their reproductive health.
The Impact Of Wearable Reproductive Technology
At a panel during the Wearable Technology Show, Naab and von Bidder shared the stage with Dy and Weiss. "There's men up here doing women's health because men are becoming more engaged in the family process and more active in things that are traditionally for women," Naab said.
Naab also suggested why most pregnancy app options and wearables appeal strictly to women. "Women internalize fertility more because we can experience the symptoms," she said. "Men don't have the biofeedback that we get."
But the presence of pregnancy wearables designed specifically for men is promising: both parents are empowered to learn more about their bodies in order to improve their chances of conceiving.
"I think that is a very exciting development in the market," Naab said.