Conor Hockett April 6th, 2017
The creators of Ripple understand how you feel. After one look at their strange, slightly eerie contraption, you are probably wondering exactly what I was — why would anyone wear that thing?
But after hearing why this four-person research team decided to create their unorthodox device, and what they hope to achieve with it, everything started to make more sense.
First off, Ripple is meant to be outlandish. The device's flamboyant design aims to attract attention. In fact, it relies on it.
Ripple isn't like a traditional wearable that tries to improve connectivity and facilitate interaction among your devices. It wants to do the exact opposite.
"We envisioned Ripple as a statement of how, yes, we want to move away from this digital world and, yes, we want people to express themselves more, and that's OK," said Maria Apud Bell, Ripple's Design Researcher. "We kind of exaggerated everything."
The device's primary goal is to encourage face-to-face conversations between people — even if that means sparking them in an unusual way.
How Ripple Works
Apud Bell and the other researchers chose to target women with Ripple as a form of empowerment. Since dating stereotypes suggest that men normally start the conversation, the team wanted to change the dynamic. By wearing the device, women are seeking out conversations and promoting dialogue on their own.
With the device around your shoulders, Ripple's two right-angled cameras and computer vision monitor the people around you. These instruments evaluate how someone is looking at you based on factors like facial movement and eye recognition.
When Ripple detects interest, it sends a ripple down your back. Once you feel this signal, you face the people around you until the device indicates who the interested party is through a tap on your chest. Ripple senses your reaction when you look at them though heart rate, sweat patterns, and other biofeedback.
If the device thinks you share those feelings of interest, its tentacle-like tubes start to move around in a flirty dialogue, which the other person will undoubtedly notice. The idea is that this demonstration will spark a conversation.
"What we want to do with Ripple is visualize your underneath thought to the outside world and kind of reveal your feelings, so it's meant to be outstanding," said Huishan Ma, Ripple's Creative Designer. "We were inspired by nature — you see peacocks open their feathers to try and impress their mate. We were thinking animals are already doing this for flirting, so how about humans?"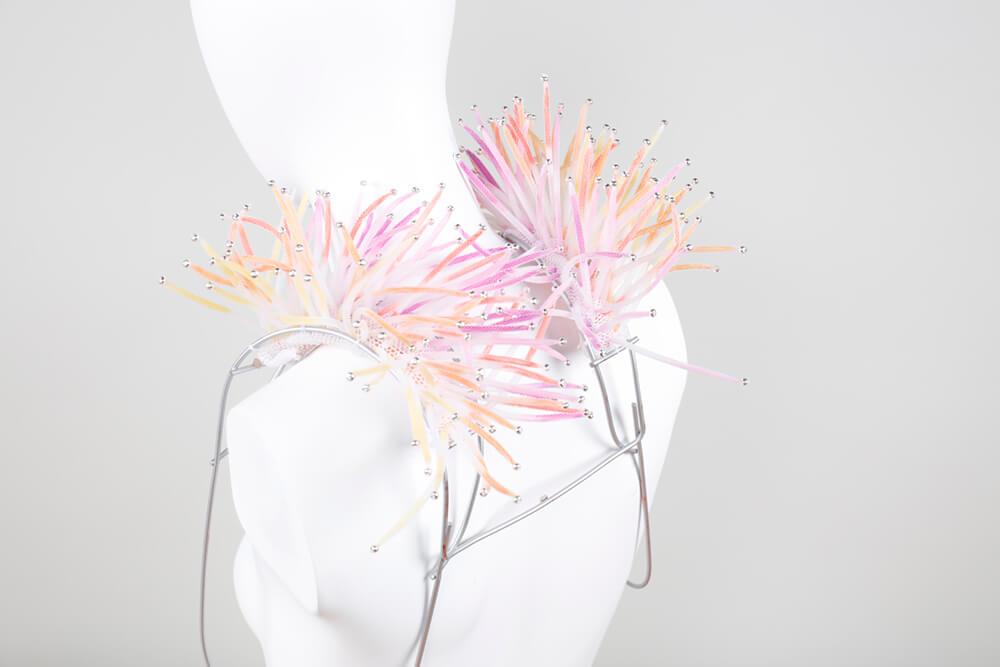 When you wear something reminiscent of a sea anemone, you're probably going to draw a lot of attention. So, how does Ripple distinguish between looks of interest, curiosity, and confusion?
Apud Bell said the team combined existing research on human interaction with their own experimental studies to make the device as accurate as possible, but she acknowledged that there will always be some inconsistencies when you try and measure attraction. But if a false reading leads to a conversation, so be it.
"It's not only about someone looking at you," she said. "It has to do with the amount of time you look at them and how many times you look back at them. So, a lot of things, but at the same time, we're aware that it's impossible to tell with 100% accuracy that someone is interested. But that's the same with humans — you kind of guess, but you never know for sure. This is just another tool to help you with that."
Can Ripple Become Mainstream?
You probably won't see Ripple on the market in its current form.
Apud Bell said the above model was specifically designed as a statement piece for special events, but interest from the public has made the team rethink their strategy. As of now, the plan is to exhibit Ripple in different places as the team works on redesigning the device's aesthetics to be more discreet for people today.
There's no timetable for this process, so details like price and availability are still in the works.
While the design might change, Ripple's premise will not.
"We want to move away from this dystopian future where we're not going to be able to communicate face-to-face anymore," Apud Bell said. "We're thinking about Ripple as a tool to deviate from the current trend that we're seeing, so that at the end, we're more into face-to-face interactions. Maybe we don't even need Ripple at the end anymore."
Would you ever wear a device like Ripple? Let us know in the comments!