Conor Hockett May 4th, 2017
Because of Apple and Samsung's rivalry within the phone industry, it's natural to compare the two companies across multiple product lines. But when you start talking about fitness wearables, one brand still serves as the baseline for such comparisons: Fitbit.
With its ever-evolving line of activity trackers and fitness watches, Fitbit has a stronghold over the wearables market in the eyes of many consumers. It's a reality that all companies face when trying to market a new device — even one with the brand recognition of Samsung.
The struggle for supremacy only intensifies when two fitness trackers come out around the same time. So begins the Samsung Gear Fit 2 vs. Fitbit Charge 2 debate. Both devices were released within a few months of each other in 2016, and consumers were left trying to figure out which one was better.
That's where we come in. WearableZone has reviewed both devices extensively, and we've identified their specific strengths and weaknesses. Here's everything you need to know before deciding which fitness tracker to buy.
Samsung Gear Fit 2 vs. Fitbit Charge 2: Features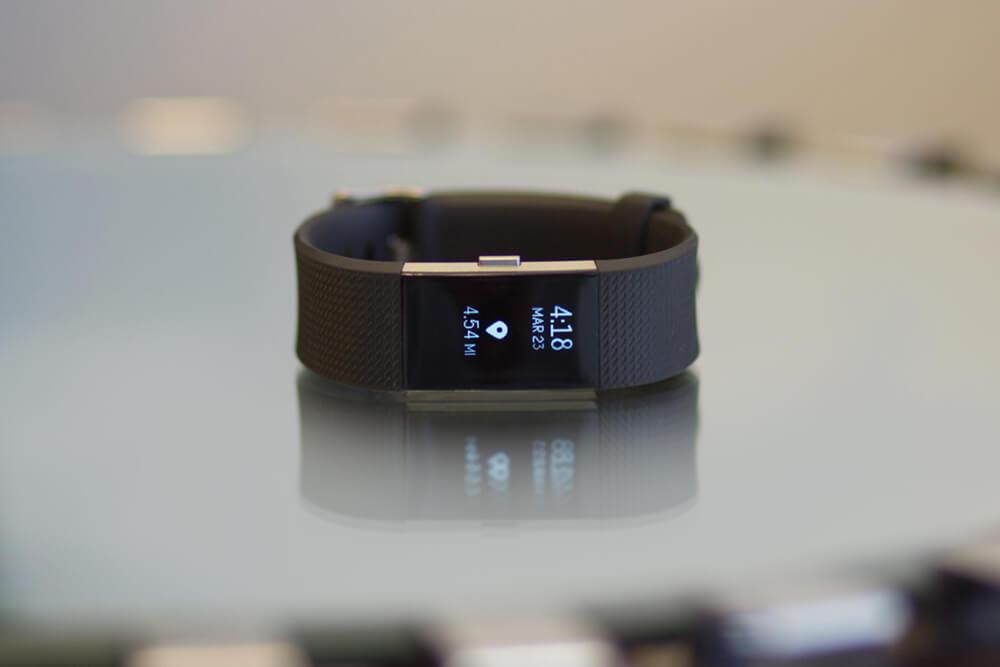 In terms of activity tracking, each device holds a different advantage. Both trackers give real-time feedback on steps and floors climbed, but the Fitbit Charge 2 also measures active minutes and hourly activity. The Samsung Gear Fit 2 has built-in GPS, so its distance measurements are more reliable.
The Gear Fit 2 offers more multi-sport options than the Charge 2, but the majority of these are just gym exercises. Walking, running, and cycling workouts are available on both trackers. In case you forget to manually start an activity, each device also has automatic exercise detection.
Samsung's device holds an edge in the workout department simply because of its built-in GPS. The Gear Fit 2 takes longer than other trackers to locate your position at times, but it delivers accurate route maps, pace, and distance stats. Unfortunately, you can't monitor your position on the device in real-time, but your route displays as part of the tracker's exercise recap and within the Samsung Gear app post-workout. The Charge 2 has "connected GPS," but you must carry your phone with you to receive any feedback.
Both trackers include an optical heart rate sensor, but the Charge 2's Pure Pulse heart rate technology is much more accurate. It tracks your heart rate at five-second intervals throughout the day, while Samsung's device monitors your heart rate at 10-minute intervals. The Charge 2 and Gear Fit 2 both measure heart rate at one-second intervals during workouts, but surprisingly, that's where the latter struggles with its heart rate accuracy the most.
Cardio Fitness Score is an appealing feature found on the Charge 2, but not on the Gear Fit 2. Similar to Garmin Vivosmart 3's VO2 max, this score offers a way to gauge your overall fitness level against people your same age and gender. Fitbit calculates your Cardio Fitness Score — which is an estimate of your VO2 max — based on your resting heart rate and information within your profile.
Verdict: The Charge 2's Cardio Fitness Score and heart rate accuracy win out over the Gear Fit 2's built-in GPS.
Samsung Gear Fit 2 vs. Fitbit Charge 2: Design
By no means is the Charge 2 ugly, but after one look at the Gear Fit 2, all comparisons go out the window. Samsung essentially put a phone screen on its latest fitness tracker, and the result is beautiful. The device features a 1.5-inch Super AMOLED display and has 432 x 216 screen resolution.
Fitbit might be a well-recognized brand, but the company is also known for producing simple, somewhat bland designs. Most of its devices have a monochrome screen and a relatively blocky display, including the Charge 2. The Gear Fit 2 features a curved display, which mirrors the shape of your wrist and makes it much more comfortable fitness tracker.
The two devices operate differently as well. Samsung's latest tracker has two buttons along the right side of the display, but it is touchscreen-enabled. The Charge 2 includes one button — which controls several functions — along the left side of the display, while the screen itself responds to taps, not touches. Neither device has an always-on display, but both feature a auto-on setting that causes their screens to light up when you turn them toward you.
Verdict: The Gear Fit 2 enjoys a runaway victory here.
Samsung Gear Fit 2 vs. Fitbit Charge 2: Notifications, Battery Life, And Price
While the Charge 2 supports text, call, and calendar alerts, they weren't very reliable during my testing period. On the other hand, the Gear Fit 2 provides notification support on par with a smartwatch. It displays full text messages on-screen and even previews some images from your favorite apps like Instagram and Snapchat.
The Gear Fit 2 lasts around three to four days per charge — about average for a fitness tracker — and up to nine hours with the GPS enabled. I typically got up to a week of use out of the Charge 2, which is even longer than the five-day battery life Fitbit advertises. Both devices take just over an hour to fully recharge.
Prices change all of the time on third-party sites like Amazon, so for the sake of the argument, we'll go off of what's listed on each company's website. Both the Gear Fit 2 and Charge 2 recently had their prices slashed down to $129.99.
Verdict: Any advantage here depends on which features you value more.
Samsung Gear Fit 2 vs. Fitbit Charge 2: Bottom Line
There's a reason the Samsung Gear Fit and the Fitbit Charge 2 are two of our highest-rated fitness trackers — they are pretty solid across the board. Each device has certain advantages, but you really can't go wrong with either one.
But fine, you're looking for a recommendation, so here it goes: if you are runner or cyclist who wants pace, distance, and GPS feedback from your exercise, I'd go with the Samsung Gear Fit 2. But if you value heart rate data over other metrics, I'd go with the Fitbit Charge 2.
Did we leave something out of our comparison that you want to know? Tell us in the comments!