Logan Strain February 8th, 2017
Tons of headphones claim to be "lightweight" and "comfortable." But can they survive the ultimate test: allowing you to doze peacefully while wearing them? Typical headphones are too bulky, making it impossible to sleep in any position except on your back. And even earbuds get pressed into your ear canal if you roll over to your side. So how are you supposed to listen to relaxing music or white noise that might help you drift off?
Fortunately, there are a few specialized sleeping headphones that can help you listen to audio tracks while falling asleep. Here are some of the best headphones that make it easy to soar off into dreamland.
1) Kokoon
The Kokoon headphones are slim, soft, and made of flexible fabric that conforms to the shape of your head. That makes it easier to forget the headphones are even there while you're trying to get some shut eye.
The Kokoon has a slew of additional features that are designed specifically for anyone who wants to improve their sleep quality. It actually monitors your brain activity with EEG technology, detecting when you fall asleep. It uses this information to slowly turn down the audio as you drift into unconciousness, so you can sleep soundly. It even includes a way to help you awake feeling more refreshed. It finds the lightest point in your sleep cycle to wake up, which decreases the odds of grogginess first thing in the morning. For data geeks, stats about your sleep habits are delivered to a companion app.
The Kokoon is available for pre order for $229. They are expected to ship in June.
2) Bedphones Sleep Headphones
Are you a fan of earbuds, but hate the discomfort of trying to wear them in bed?
The Bedphones are as slimmed down as your typical pair of earbuds. But there is one crucial design improvement for nighttime headphone users: they lie flat on your ears, rather than nestled inside your ear canal. That means you can roll over to your side without feeling like someone is trying to jab a cotton swab into your ear.
Since they're just a quarter inch thick, they're low profile enough to be unnoticeable while you're trying to sleep. The rubber coated ear hooks keep the headphones in place as you're tossing and turning.
They don't come with any fancy bells or whistles, but at $39.95 they are a nice affordable pair of sleep headphones.
3) Tellyphones
The Tellyphones are a pair of sleeping headphones cleverly disguised as a headband. You just slip the Tellyphones over your head and the flat speakers pump in your favorite tunes. The elastic headband ensures that the device stays in place regardless of how much you move at night.
They also include Bluetooth connectivity, so you can listen to your laptop or television. You can remove the headphones and machine wash the headband. For anyone who wants to be a stylish sleeper, the Tellyphones comes in one of five different colors: lavender, black, red, blue, pink, and gray.
4) CozyPhones Sleep Headphones
Think of the CozyPhones as a bare bones version of the Tellyphones. They don't have Bluetooth connectivity, but they still keep your headphones on your ears through a comfortable headband. They come in two different sizes: the "Original Series" and the even sleeker "Contour Series."
CozyPhones also has a line of fun headphones designed just for kids. They feature a unicorn, smiley face, hamster, and other child-friendly design.
5) earHero
What if you want to listen to music as you drift off to sleep, but you also don't want to block out all the other noise around you?
In that case, your best option will be the earHero headphones. The device is commonly used by police and security personnel so they can easily hear their environment and communicate via radio, but the company also sells consumer headphones for $149.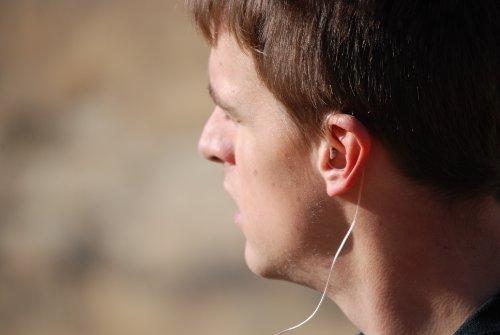 The device coils on the outside of your ear canal without blocking it, so your relaxing nighttime tunes don't interfere with your ability to hear. Plus the miniature, over the ear design means they are so comfortable you'll barely notice them.