Logan Strain January 12th, 2017
At CES this year, Sports Tracker, which is owned by Finnish company Amer Sports, came to show off their revamped app with the help of three gold medal Olympians: snowboarder Kaitlyn Farrington, hurdler Brianna Rollins, and diver David Boudia.
And Sports Tracker has a lot to show off.
The new Sports Tracker app has everything a goal-focused athlete can hope for without drowning you in too much data. Sports Tracker comes preloaded with 26 different activities. The activity list features common favorites like running, hiking, and cycling, but it also includes "motorsports," which I have to imagine is particularly difficult to track with a smartphone.
After a run, or any other activity, it compiles a convenient snapshot of your performance. To help you better remember each run, you can also add a photo. Or, in my case, an unflattering, mid-run selfie.
To keep you motivated, Sports Tracker includes a simple goal-setting system. Just set how often you want to do a particular activity, and you'll see your progress after every day.
The social features are robust. Not only can you share your runs with other people through Facebook, but you can see what runs other Sports Tracker users have made in your area (if they choose to publicly share them). If you love running around your neighborhood, this can give you a few new ideas about what route to run next.
Alternatively, if you feel like breaking new ground, you can use the route planning feature. While inside the app, you simply pick out any spot that's included in Google Maps and plot your route through the streets. It's an easy way to get an estimate of how long a particular run will last.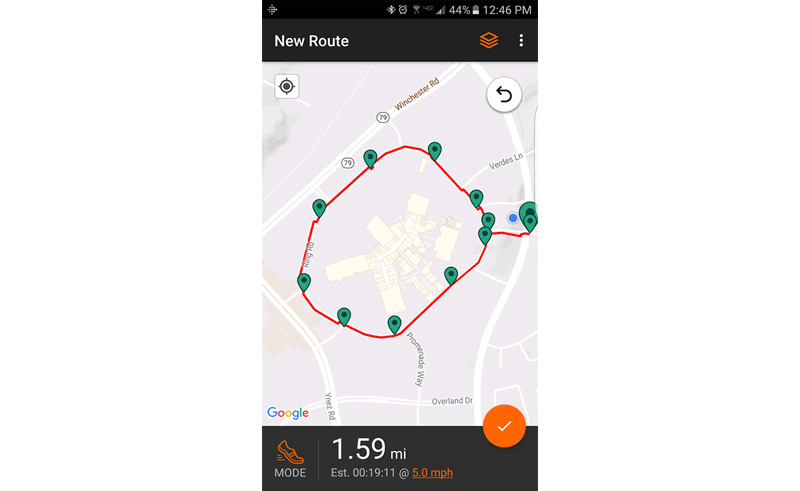 For the fitness data geeks, you can also dive deeper with more advanced data like cadence. But that's optional, and if you're only interested in more basic data, then that's all you'll see.
Most importantly, the app is cleanly designed and easy to navigate. It's simple to figure out what you should do just seconds after your first open it up.
If you have a heart rate tracker, such as a chest strap heart rate monitor produced by Sports Tracker's closely related sister company Suunto, you can also see how your heart reacted to the run.
Though Suunto has been around since 1936, their brand is less recognizable than Garmin in the world of high-end wearable and fitness tracking.
But with the recent improvements to the Sports Tracker app and the increasingly diverse selection of Suunto fitness watches, including the recently-announced Spartan Sport Wrist HR, it's clear that the company is making a bid for the wrists (and phones) of serious weekend athletes.