Rebecca Paredes September 1st, 2016
What if you could gain in-depth insights about your body composition with just the click of a button? The recently unveiled TomTom Touch promises to take fitness trackers to a new level — for the ultra-reasonable price of $129.99.
Recently released at IFA in Berlin, the TomTom Touch is the company's latest upgrade in its line of fitness trackers. A press release describes the device as "the first fitness tracker on the market that combines body composition analysis with steps, sleep, and all day heart rate tracking, right from the wrist."
Here's what it all means: you'll be able to view your body fat percentage and muscle mass directly from your fitness tracker, which can potentially help you understand how effective your diet and workouts really are.
This is what we know about the TomTom Touch, which will hit stores this October. Follow WearableZone for a full review!
TomTom Touch Review
Body Composition Analysis
In the olden days, we had to step on digital scales to view our body composition numbers. The Fitbit Aria, for instance, calculates your weight, BMI, lean mass, and body fat percentage using bioelectrical impedance analysis (BIA), which measures the flow of an electric current through body tissues.
Meet the #TomTomTouch. The first fitness tracker with body composition analysis. pic.twitter.com/cnsQlb0lWV

— TomTom (@TomTom) September 1, 2016
Similarly, TomTom Touch measures your body fat and muscle mass using BIA. To learn how swole you are, just hold down a button on the device for five to 10 seconds. BIA isn't as accurate as, say, hooking yourself up to electrodes in a lab, but it's way more convenient — and tracking your trends over time can give you a better grasp of how your fitness habits are impacting your health.
Smart Notifications
At this point in the game, smart notifications are a necessity for wearables. Fortunately, TomTom Touch covers its bases. You'll be able to view incoming call and text notifications from your wrist, and navigate through them on a touchscreen display.
Activity Tracking
You'll get all the fitness tracker basics with the TomTom Touch. Track your steps, active time, calories burned, distance walked, and sleep time. It also comes equipped with a built-in heart rate monitor that can track your ticker 24/7.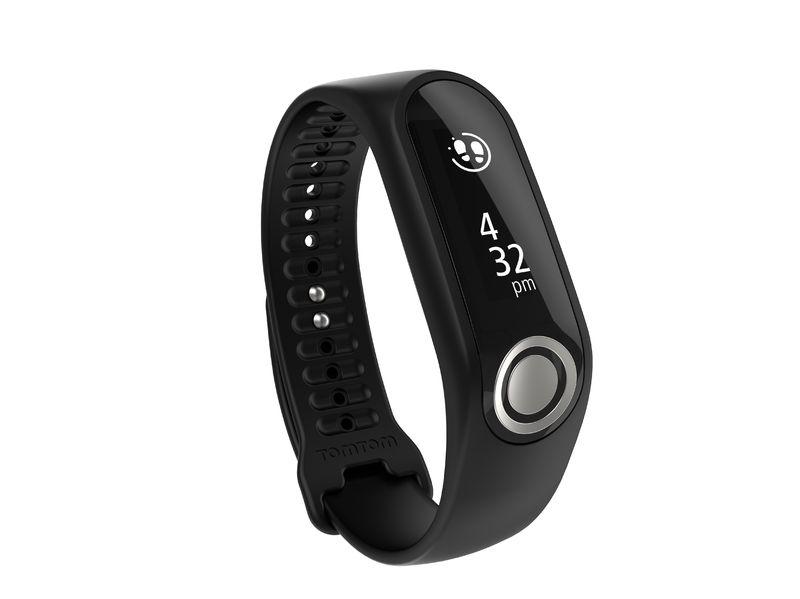 However, because nothing in life is perfect, keep in mind that the Touch is only splashproof — so, you won't be able to track your active calories in the pool.
Battery Life
The TomTom Touch lasts up to five days on a single charge, which is around (and even slightly above) the industry standard. For comparison, the new Fitbit Charge also lasts up to five days.
Design
While the TomTom Touch shares plenty of features with the new Charge, it looks way more sleek. It's reminiscent of the Fitbit Flex, or a thinner Garmin Vivosmart HR.
Our initial look at the TomTom Touch makes one thing clear: TomTom did plenty of things right with this device. Check back with WearableZone in October for our full device review!