Rebecca Paredes July 1st, 2016
If you're a swimmer, then all the hubbub about Fitbits and Jawbones and whatever other wearable sounds nice — but you know that those devices would just become water-logged wrist decoration during your workouts.
You need a waterproof activity tracker that is capable of dealing with every stroke, flip turn, and heart rate spike — and won't short-circuit in the pool. So, for all of you swimmers with chlorine-bleached hair and mega tan lines, we've compiled some of the most impressive swim trackers on the market to take your training to the next level.
Read on to discover which swimming watch is right for you!
Waterproof Activity Tracker: Individual Strokes
Swimovate PoolMate, $100-$240
Swimovate's PoolMate series offers an impressive range of specs: depending on the watch you purchase, you can track stroke type, length, and speed. As an added bonus, the PoolMate 2 can even track open water swims — most other swim trackers can't handle the GPS issues involved with swimming in a lake or river.
All PoolMates will track your laps, stroke, distance, calories, speed, and duration. The PoolMate Pro also tracks stroke rate and length, while the PoolMate Live displays data for each lap. Pick up the PoolMate HR ($240) if you want heart rate tracking on top of all those other features, but be warned: you'll need to wear a chest strap in order for it to work.
Garmin Swim, $149.99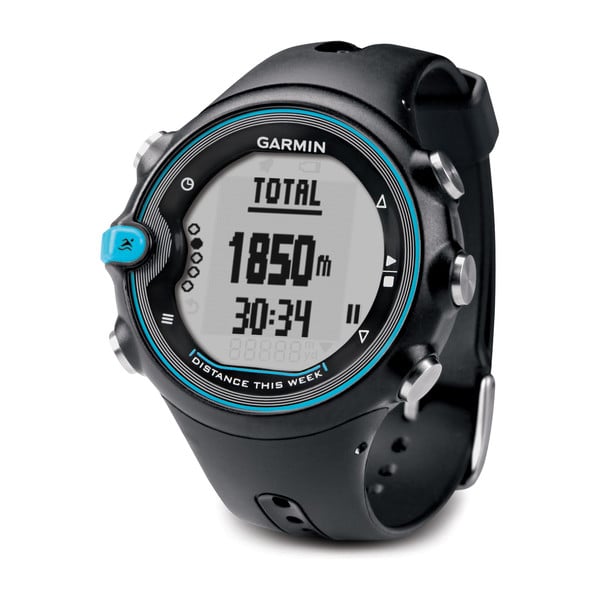 The Garmin Swim Watch promises to help you focus on your swimming training like a pro. Use it to track your distance, pace, stroke count, and stroke type — all you need to do is tell it the size of your pool. This watch gets bonus points for Garmin Connect, an interactive, online logbook that will let you view more detailed data about your workouts and swim trends. But most notably, you can log drills, like sets with the kickboard or pull buoy — something other waterproof activity trackers don't know how to handle.
Waterproof Activity Tracker: All-Day Wear
Misfit Speedo Shine, $79.99
The Misfit Speedo Shine is an ideal, budget-friendly choice for swimmers who just want to track the basics of their workouts — lap count and swim distance — while tracking their everyday activities outside of the pool, too. This waterproof activity tracker was designed to be worn both in the pool and on dry land, where you can track walking, running, cycling, and more. You can also monitor your steps, calories, and sleep, which are all accessible in the Misfit App. It's a bit barebones in comparison to other swimming watches, but it's a fair choice if you're looking for minimal features and maximum power.
Misfit Shine 2 Swimmer's Edition, $119.00
Not gonna lie: if you're choosing between the Speedo Shine and the Shine 2 Swimmer's Edition and you have an extra $40 to spend, the Shine 2 offers plenty of bang for your buck. You'll get all the swim, sleep, and activity tracking features of the Speedo Shine — plus vibration notifications, integration with other smart devices, and call and text alerts. It's more of a splurge, and the designs are virtually identical — but for the extra features, it's worth it to treat yo' self.
Garmin Vivoactive HR, $249.99
It costs a full Benjamin more than the Garmin Swim, but you get a host of extra features that make this device an all-in-one waterproof activity tracker. For swimmers, the Garmin Vivoactive HR tracks distance, pace, stroke count, stroke type, and even intervals. We like this wearable for its sleek design and insane specs: it's GPS-enabled, displays phone notifications, and can track a host of other sports like running, cycling, and even golfing.
Pick up the Garmin Vivoactive HR if you want a powerful wearable that will keep up with your multi-sport lifestyle — and track your heart rate.
Waterproof Activity Tracker: Wrist Heart Rate Monitors
Mio Fuse, $99.00
The Mio Fuse is a waterproof activity tracker that looks like a total eyesore outside of the water, but will work with you when you're in the pool. It will display your heart rate while you're swimming, although Mio's FAQ notes that you may have to take its accuracy with a grain of salt: changes in body temperature, like those that occur when you jump into a cold pool, can impact heart rate readings.
The Mio Fuse will also track your steps, calories burned, distance, pace, sleep, and goal progress — although sleeping with this behemoth may be tricky.
Garmin Forerunner 735XT, $449.99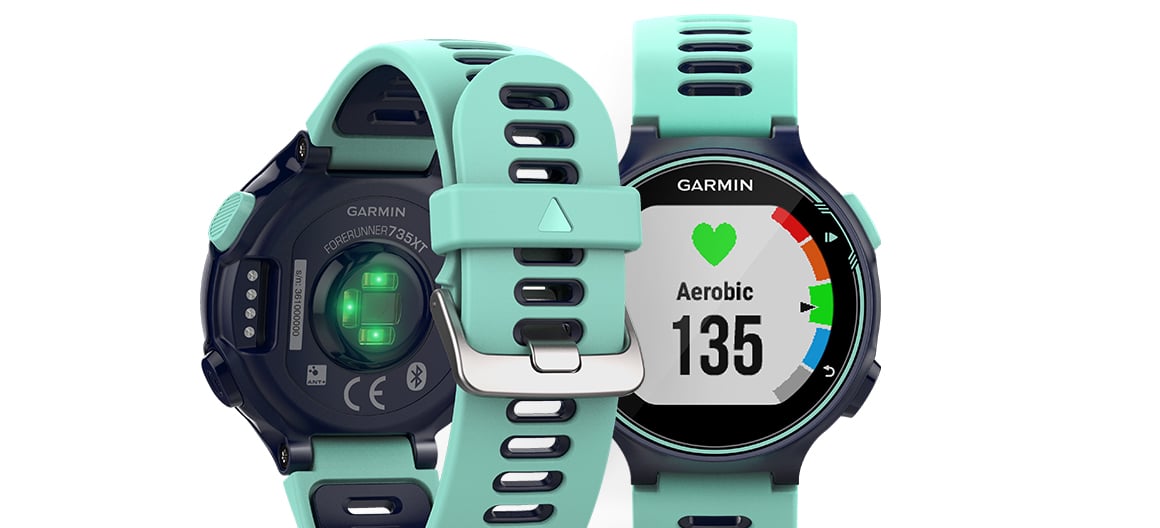 It's nearly $500, which makes the Forerunner 735XT the priciest watch on this list. But if you're a swimmer who is obsessed with performance data, it's a must-buy. You'll be able to track heart rate monitoring alongside advanced metrics like a recovery advisor, open/pool swim tracking, and even an underwater-specific heart rate reading. For the price, we'd expect nothing less. The Forerunner 735XT also features the best of Garmin's high-end trackers — including multi-sport tracking and oxygen consumption (VO2 max) — and the basics, like steps, calories burned, and sleep.