Rebecca Paredes May 20th, 2016
Sometimes, the seemingly endless possibilities of wearable technology linger with you. It's easy to look at something like Google's prototype for smart contact lenses and think, "Wow, the world will be so different in a decade." You feel part of something exciting, wrapped up in the futuristic potential of technology that revolutionizes healthcare, communication, and our society as a whole.
And other times, you see something really, really cool on the big screen and think, "I want that now."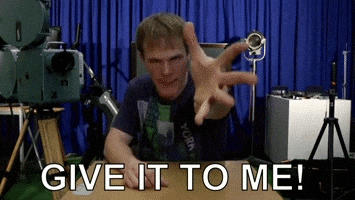 Movies have long featured incredible gadgetry that looks like a cyborg-enthusiast's fever dream. But with modern technological advancements like augmented reality and smart homes, much of the stuff we could only dream about in film is available for purchase today (or in development, at the very least).
Check out our list of five real-world movie wearables. Did we miss something? Tell us about your favorite wearable tech or cyborg gadget in the comments below.
1. Be A Spy With These Video-Recording Contact Lenses
In 2013, Sony filed a patent for a video-recording contact lens that is basically pulled directly from Minority Report and any spy movie ever. Because the device stores data and takes photos and video, it could potentially render smartphones null and void.
The contact lens is operated by blinking your eye. The camera features autofocus, auto exposure, and adjustable zoom. Plus, any video you record on the device can be stored and played back.
For now, let's ignore all the privacy concerns involved with this gadget and just focus on the good: one day, you might actually be able to capture moments from your life without needing to pull out your phone.
You could also be able to surreptitiously record nefarious goings-on and become a super cyborg spy, which is a pretty exciting possibility.
2. Use Your Wearable To Request A Self-Driving Car
There's a memorable scene toward the beginning of Total Recall where Arnold Schwarzenegger's character tries to hail a Johnny Cab, a self-driving car that's fitted with a smiling representation of a cab driver. But Schwarzenegger's character is running from the bad guys and has no time to shout an address at the driver, so he just rips the robot out from the front seat in a fit of adrenaline-fueled frustration.
It's an awesome scene — and in a few decades, it'll be part of our reality (minus the creepy robotic Johnny).
Google has a vision of roads that are filled with driverless cars. To start, the company's driverless car prototype is designed to take passengers where they need to go at the push of a button. The video is totally heartwarming — and reveals the ways driverless cars could benefit us in the near future.
Picture it: with computers behind the wheel, driverless cars could automatically adjust to prevent traffic congestion. You can already request an Uber from your smartwatch — what if you could request a nearby driverless car to get you to and from work?
With a self-driving car, you could spare yourself the mind-numbing hours wasted in traffic, and instead fill that time with more productive ventures — like sleeping. The project is currently being developed through Google's Self-Driving Car Project.
3. Turn Smartphones Into Wearables
The entire Back to the Future series is a national treasure, but the sequel — in which Marty McFly travels to a futuristic, nightmarish version of his hometown — envisioned more truths about modern wearables than anyone could have imagined.
While we're not quite at the point where we're talking through notification visors at the dinner table, the idea of integrating wearables with smartphone technology is literally something you can buy right now.
Wearables like the Fitbit Blaze allow you to receive notifications from your phone, and if you don't mind talking in the direction of your wrist, you can even call someone using the Apple Watch and Samsung Gear S2.
No word on Back to the Future's totally awesome food hydrator, though — we'll have to wait a while longer for that bit of tech.
4. Self-Tying Shoes: Nike Air Mags
Speaking of Back to the Future, the film's vision of self-tying shoes launched an all-out craze for Nike Air Mags. The shoes were initially designed in the '80s with a vision for what sneakers would look like in the future (i.e. 2015). Since then, the shoes have become a reality, a novelty, and a sign of what's to come in wearables.
In 2011, pairs of Nike Air Mags were auctioned off to support the Michael J. Fox Foundation for Parkinson's Research. Sometime this year, the shoes will allegedly be available for sale — and they'll come equipped with the power laces that made everyone freak out when they first saw Back to the Future II.
Can't wait until these shoes hit the market? Wearable technology has already found its way into footwear: Runsafer is a smart shoe that is equipped with sensors integrated into its sole. The sensors pair with a smartphone app to measure the runner's form, acceleration, and even location using GPS. Sure, it doesn't have self-tying laces — but it's still impressive.
5. Join The Internet Of Things With Your Own Robot Butler
The 1985 film Rocky IV is packed with memorable scenes: the demise of a boxing icon, the triumph of all-American grit … and Paulie's robot butler.
As a gesture of both his wealth and good faith, Rocky purchases a robot butler as a birthday present for his friend, Paulie. It's the weirdest and most hilarious part of the film, partially because of the campy techno music used to introduce the thing:
Robot weirdness aside, recent advancements in wearable technology point at exciting possibilities for robots in our homes. We've seen the idea of home robots before, reaching back as far as Rosie in The Jetsons, but wearables and the Internet of Things (IoT) make the future of robot butlers seem even cooler.
After all, the robot in Rocky IV, called Sico, is actually something you can buy right now. Sico costs $345,000, and it's the only robot to be admitted to the Screen Actors Guild — both equally impressive facts.
However, Sico is classified as a toy. If you want something a little more remarkable, the Internet of Things can help you out. IoT refers to a network of connected devices, and it's what could one day allow you to use your smartwatch to order a meal from Moley, your robot chef.
Or maybe you want to settle in for a Netflix binge and project the latest season of House of Cards on your wall — so you use your wearable to summon Tipron, a roving projector. After all, watching Netflix on a computer screen is so 2010. Why not just project onto the entire wall of your living room?
What movie wearable would you most want to own? Let us know in the comments!